In this Simple Traffic Review, you are going to discover what Simple Traffic.co is all about, how it works, the pros & cons, the pricing structure, whether or not it's a scam and even more.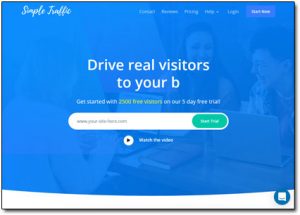 You see, we all know that traffic is the main bloodstream of any business whether it's an online business or offline business.
From newbies to advanced internet marketers, everybody is looking for traffic to their websites and offers.
Even the successful internet marketers and the so-called gurus are keen on getting more traffic, because…
More Traffic = More Money!
You might have a beautiful website with a great design & structure, selling an amazing product or service, and offering awesome bonuses for your offers, it doesn't matter or make any sense without any traffic.
Traffic plays a vital role in your success. That's the reason you can see a lot of products are launched online on a daily basis that claims to increase your traffic or claim to teach you on increasing your traffic.
Simple Traffic also claims to drive real traffic or visitors to your website. They also offer a 5-day free trial where you can get 2500 free visitors to your site. Sounds great, right?
But do you know what?
It's not just about driving any old traffic to your website or offer. It's about driving TARGETED traffic. That's what really matters!
So, can Simple Traffic drive targeted traffic to your website? and is it worth giving it a try?
Let's find out the answers to the above questions…
What Is Simple Traffic?   |   How Does Simple Traffic Work?   |   What Are The Costs?   |   Who Is Simple Traffic For?   |   Pros   |   Cons   |   Additional Insights   |   Is Simple Traffic a Scam?   |   Final Thoughts   |   A Better Alternative
What Is Simple Traffic?
Simple Traffic is a platform that promises to drive targeted traffic to your website, offers, and funnels for a cheaper price than elsewhere.
It was founded by Victor (Ascend Corporation) on the 8th of July 2019 and with the intention of providing traffic for the people who are on a budget and not able to afford Google, Bing, Facebook Ads, etc.
At cheaper rates, you can buy tons of traffic from Simple Traffic.
Driving traffic to your website and offers is the real challenge. Many people quit their online dream and online business because they are not able to drive traffic. They are not able to afford the price to drive traffic.
Based on my experience I do know one thing…
Without sufficient knowledge on Paid Traffic if you try paid ads you might lose money because it will take a lot of trial and error to find the right winning ad campaigns.
But it seems like Simple Traffic comes as the saviour for the people who can't afford a higher price for paid traffic.
The main question is… Is the traffic they are going to send is real traffic or bot traffic (fake traffic)? Let's find out…
They not only drive traffic from parked domains, but they also drive traffic from Link Shorteners and Monetized Sites.
Simple Traffic is going to drive cold traffic to your website.
What Is Cold Traffic?
The visitors who are not aware of your service or product, your brand, your solution, and who are not familiar with you are called Cold traffic.
If you have a YouTube channel, they also have a site called instantviews.co that can help you in getting more views and subscribers to your channel.
Where Does The Traffic Come From?
Below is the list of sites you are going to receive traffic from…
Parked Domains
rabudas.com
petitormestling.xyz
djaman.in
olibenelading.xyz
vedioes.com
Link Shorteners
Monetized Sites
amobil.online
arcadebomb.com
video-news.xyz
How Does Simple Traffic Work?
They are claiming that they have rented websites or parked domains that have huge amounts of traffic.
When a visitor visits these sites Simple Traffic analyze and check the visitor demographics to determine if it matches your chosen targeting.
Then visitors are forwarded to your website if they are a good match to your targeted demographics, device, browser, etc.
However, you can only add one link (website or affiliate link or landing/splash page) to your Simple Traffic account but you can change or rotate the links (as many links as you want).
Simple Traffic has a large domain network of these parked domains.
What Are Parked Domains?
Parked domains are the registered domain names without any services or linked with any services such as a website or email hosting service. These websites don't even forward the traffic to other websites.
Parked domains are also called "aliases". Parked domains are additional URLs that are not actively used or updated (not being used currently) but gets traffic. They just lead to the same page.
What Are The Costs?
They have 9 different plans you can choose from and the price ranges from $15 to $400 monthly.
Below you can find the plans, the number of daily and monthly visitors and the cost.
| | | | |
| --- | --- | --- | --- |
| Plan | Visitors Per Day | Visitors Per Month | Price Per Month |
| Huddle Plan | 500 | 15k | $15 |
| Crowd Plan | 1,000 | 30k | $28 |
| Club Plan | 1,500 | 45k | $40 |
| Festival Plan (HOT) | 2,000 | 60k | $50 |
| Community Plan | 3,000 | 90k | $70 |
| Metropolitan Plan | 5,000 | 150k | $110 |
| Global Plan | 7,500 | 225k | $160 |
| Cosmos Plan | 10,000 | 300k | $200 |
| Universe Plan | 20,000 | 600k | $400 |
Who Is Simple Traffic For?
For people with some experience in paid traffic and who are good at converting cold traffic.
Pros
5-Day Free Trial
30-Day Money-Back Guarantee
Low Cost
More Positive Reviews
5-Day Free Trial
I really appreciate the free trial and that shows the confidence of Simple Traffic in their service.
Many people prefer to have a look around the platform or the service before they make any payments.
Personally, I prefer to see what the service or the quality of training (mainly on the service-related offers) I get before making any payment (as you know very well nowadays there are many low-quality services offered online via too much hype).
Simple Traffic is offering a 5-day free trial and they are also promising you 2500 free visits to your site. 500 free visits per day for 5 days. That's good news and before investing any money you can try it out.
30-Day Money-Back Guarantee
Let's say, for example, you are happy with the results of the 5-day free trial and decided to go with Simple Traffic.
And you have chosen one of their plans and purchased it. But in the middle, you are not happy with the results you are getting then there is good news for you.
You have a 30-day money-back guarantee where you will get a full refund of your last payment back.
Low Cost
Compared to other paid traffic services the traffic plans offered by Simple Traffic is at affordable price. With as little as $15 per month, you can get 15K visitors to your link.
More Positive Reviews
On the Sitejabber and Trustpilot sites, there are a lot of positive reviews on Simple Traffic. See one of the positive reviews below: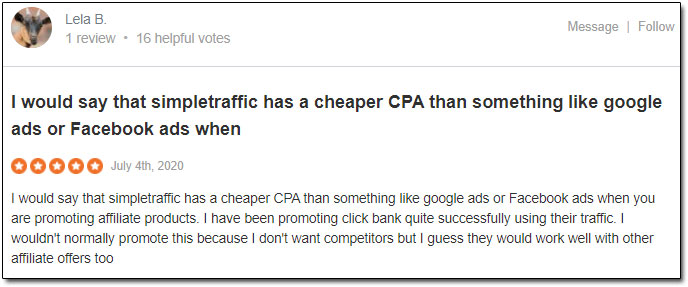 Cons
Complaints
Conversion Rate
Not For Beginners
Complaints
Although the number of negative reviews is less in numbers compared to the positive reviews on Simple Traffic, there are some complaints and questions on the generated traffic (real or bot).
And people complaining about higher bounce rates, conversions, bot traffic, etc. See the image below: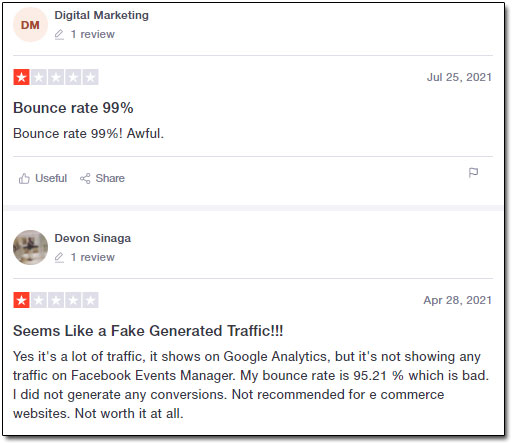 Conversion
The real challenge and question are on the conversion rate. It's not about the amount of traffic we receive it's about the quality of traffic that will bring more conversion.
In my opinion, the conversion rate might disappoint you and you need to work hard on converting this traffic.
Not For Beginners
For beginners, my advice is to learn about the free traffic generation methods first and drive some free organic traffic to your website and offers.
And after earning some money and learned the skills to convert a lead you can try paid traffic. But not in the beginning stage of your online career. Because you might lose money.
You Might Also Like:
Some Additional Insights
Below you can find some of my concerns related to Simple Traffic and some additional insights…
Will It Work For Adsense Sites?
If you are using AdSense I don't think the traffic generated via Simple Traffic is going to do any good because Adsense does not allow forwarded traffic.
Real Visitors Or Bots?
There are many websites that claim that they can send loads of traffic to your website but most of them are scams and they provide bot traffic which is of no use.
Actually, this traffic generated from bots instead of doing good to your website will damage your website (on the SEO part).
There are mixed results when I searched whether the traffic provided by Simple Traffic is real visitors or bots.
On the Trustpilot site and Sitejabbar sites, there are many positive reviews and some negative reviews about Simple Traffic. Some users claim that the bounce rate is very high more than 90-95%.
Some saying there is no conversion and some saying the tools they are using to analyze traffic are not showing the traffic from Simple Traffic as real visitors.
On the other hand, there are many positive reviews some reviews seem biased. So the bottom line is not everyone is going to get the same results.
No Guarantee On The Conversion Rate
Traffic targeted is not niche-based but based on geographic, browser, the device, etc.
I don't see any advanced internet marketers or experts recommending or using Simple Traffic.
If they generate awesome and potential traffic for sure there will be some recommendations (they also provide a 10% lifetime recurring commissions to their affiliates).
Quality Targeted Traffic or Poor Cold Traffic?
In my opinion, for niche sites and most of the affiliate offers just simply choosing the country, the device the visitors use and the browser they are using won't be sufficient enough to drive potential targeted traffic.
Cold traffic is what you get with Simple Traffic meaning you need to have the skills to convert this cold traffic into a lead or sales.
Instead of directing them to the affiliate offers or any post, you will be in a better position when you direct them to your landing or splash pages.
So that you can get them on your email list and you can provide valuable information and build trust and relationships. That will result in a win-win situation.
It's much easier to double your business by doubling your conversion rate than by doubling your traffic. – Jeff Eisenberg
Is Simple Traffic A Scam?
No, Simple Traffic is not a scam and it's legit. While doing my research I came across mixed reviews.
My advice is…
If you are looking for paid traffic you can give Simple Traffic a try and make use of the 5-day free trial. Use different tools to track and analyze the traffic you get. Mainly see the conversion rate, do some homework.
If you are happy about the results you can proceed with them.
On the other hand, if you are getting traffic but the conversion rates are very low and the bounce rate is very high then you need to give a deep thought before proceeding.
It depends on the individual experience and how it works for you.
Final Thoughts
Driving potential traffic to your site and offers will provide you with great conversion.
For example, driving a customer who is not interested or doesn't know anything about hockey to a website that sells hockey sports equipment is of no use.
It won't make any sense, all the customer is going to do is close the website.
If this is going to be the case with the maximum number of visitors you are going to get, it will result in a higher bounce rate. It's not good for your site's health and rankings.
There are some best-paid options to drive more targeted and potential traffic to your website and offers like Google, Facebook, Bing ads, etc.
However, I prefer free organic traffic. Traffic generated from Search Engines and this traffic are more potential and the conversion rate is higher and the best part is… It's free traffic!
It's not going to be an easy process to build organic traffic. You need to learn the skills of driving potential traffic and work on it. But it will drive potential traffic for years and for free!
All it takes is writing helpful content on your website and learning about how SEO works. Providing answers to the people's questions and addressing people's problems will drive potential and targeted traffic.
Writing helpful content is a skill and you need to learn it in the right way from the right platform.
You will get all you want in life if you help enough other people get what they want. – Zig Ziglar
Below is the platform where I have learned about driving potential and free organic traffic…
A Better Alternative
The sad truth is that unfortunately most of the programs promising to help you make money online are scams. I can say that confidently after exposing over 500+ of them here on this blog.
But the good news is that even though most of them are indeed scams, there are actually some very good programs in amongst them - some programs that can truly help you to earn money.
And out of all of the legit programs I've seen, the one I would recommend the most to anybody looking to get started online is Commission Academy. In my own opinion, that's the best place to start.
At Commission Academy, you'll be provided with everything you need (including the training & tools) to begin earning real money by promoting products or services for companies like Amazon online.
The best part is that there's literally no limit on the amount you can earn with it & the process is pretty simple which means that it's absolutely perfect for people that don't have much experience.
Some wealthy affiliates even earn as much as 5-figures per month... Or more!


I mean don't get me wrong, that kind of money won't just fall into your lap without doing any work... But the harder you're willing to work at it, the more you stand to earn with it.
So if you're looking to get started but don't know which route you should go down or which program you should join (and don't want to waste money on bogus things that don't actually work), then I'd highly recommend checking out Commission Academy first. You can learn more about it here.