Welcome to my Simple Wealth Creators review. The Simple Wealth Creators is a "system" that claims it can help turn your dreams into reality by enabling you to build a thousand dollar per-week income with very little effort, or at least so they say.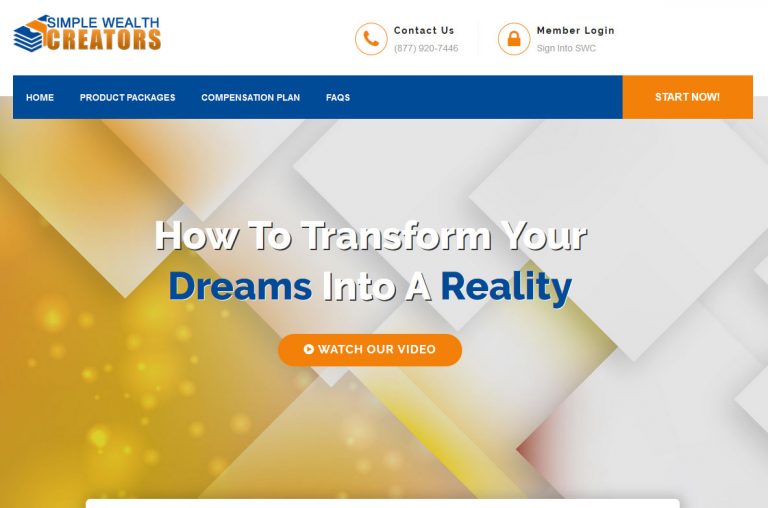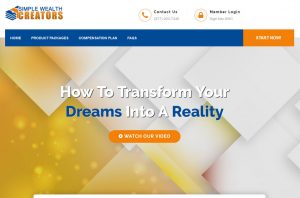 The program has been getting promoted very heavily by some "big names" throughout the online marketing industry but it's been getting some mixed reviews from its members which has left many people wondering is it really legit or is Simple Wealth Creators a scam?
Well, thankfully you've landed in the right place to find out because I've taken a look & in this review, I'm going to be sharing everything there is you need to know before you join.
What Is Simple Wealth Creators?   |   How Does Simple Wealth Creators Work?   |   The Compensation Plan   |   Is Simple Wealth Creators a Scam?   |   A Better Alternative
What Is Simple Wealth Creators?
The Simple Wealth Creators claims to be a proven system that can put thousands of dollars into your pocket each week without you even having to talk to anyone. It also claims that there's no selling, that it's not MLM & that it's totally automated…
But is any of that true?
Sadly, not really…
In fact after getting access to the system you'll only be to left to find out that pretty much all of those claims are false. To make money through the Simple Wealth Creators you'll be required to promote their "products" to other people, the company is an MLM & whilst they do have a phone sales team to help you make sales, the process is certainly not automated like they make out.
Notice how I put the word products in quotes above too – the reason for that is because whilst the Simple Wealth Creators do offer products as they claim it's clear that their primary focus is on the money-making opportunity & in my opinion the products are merely a cover-up for what's blatantly a multi-level money making scheme.
And remember how I mentioned above that they claim you don't need to talk to anybody to make sales? Well funnily enough one of their products is called "How to "Successfully" talk to prospects"… Need I say more! LOL.
How Does Simple Wealth Creators Work?
The Simple Wealth Creators basically offer three tiers of compensation packages, these are as follows:
Starter Suite – $597
Deluxe Suite = $2,097
Premium Suite – $3,597
To get started with the Simple Wealth Creators opportunity you must purchase one of these compensation packages – and take note that you cannot directly purchase any of their products without purchasing one of these packages (a sign that the money-making scheme is the main focus).
The website does claim that each compensation package gives you access to the products, but to find out more you're told to check out their product page which simply shows a generic list of the products that they offer. Nowhere on their website does it tell you what products each "Suite" package gives you access to, which is worrying especially since each package is around a thousand dollars difference in price.
The one thing they do put attention on though is how much money you'll make at each compensation package level, so let me run over that below:
Starter Suite – pays $350 commissions to you on each sale
Deluxe Suite – pays $1,400 commissions to you on each sale
Premium Suite – pays $2,450 commissions to you on each sale
So basically once you're a member of Simple Wealth Creators you'll have the opportunity to promote the company to other people & you'll be able to earn commissions on any sales that are made. This is where the Simple Wealth Creators' phone team comes into play, because once you've got somebody to enter their phone number then the phone team will take over & follow up with them to try & close the sale for you.
I'll admit that this is quite an effective means of getting people to part with their money as it's similar to how the Aspire & WiFi Millionaire programs operate, but would you really feel satisfied in the value that this company is giving to the people you refer? Especially since they could potentially be handing over a grand sum of $3,597.
Personally, I wouldn't…
But anyway the other important thing you need to know is that you will only be eligible to earn commissions on the packages that you have personally purchased. So as an example if you buy the Starter Suite for $597 but sell the Premium Suite to somebody for $3,597 you will not earn commissions on that sale.
It seems that's how they push people into upgrading – rather than been given access to valuable products that you would want to purchase, your given access to an opportunity that you feel that you must purchase in order not to miss out. A common scarcity tactic associated with a scam or pyramid scheme.
The Compensation Plan
One of the funniest things about this company is that they stress they are not an MLM which stands for multi-level marketing company. In case you don't know this basically means that the company pays out on multiple levels (hence the name), but for some reason Simple Wealth Creators explicitly state that they definitely do not.
However, if you take a quick look at their FAQ you will immediately see that they are in fact an MLM because they operate something called a "roll-up structure" which basically sends a portion of the commissions you make to other members above you as you can see below:

Would you really trust sending $3,597 (or even just the Starter Suite $597) to a company that is willing to try & trick you into thinking it's something that it's not? I know I wouldn't.
Anyway, with that being said the compensation plan is quite simple. You earn the commissions on the products you personally sell as mentioned above, then you also get passed up commissions from the people below you if you're the next person in line who's qualified on a sale that they're not.
So let's say you buy-in at the Premium Suite level & somebody below you that you referred makes a Premium Suite sale but they're only a Starter Suite member, you'll get the Premium Suite commission instead of them.
It's a simple compensation plan but it clearly highlights that the real reason people are purchasing these compensation packages is to make more commissions NOT to get the products that are supposedly associated with them which is very worrying & makes it borderline a pyramid scheme.
You Might Also Like:
Is Simple Wealth Creators a Scam?
Well there is certainly the potential to make money with this program I won't doubt that, but it won't come as easy or as automated as they make out it will because to make money you will be required to heavily promote the Simple Wealth Creators program onto other people.
Once any of your referrals have entered their phone number then the Simple Wealth Creators' phone team will take over and do the selling as promised but ultimately it looks like they're selling them thin-air because whilst there are seemingly some products available they don't really seem to be up to much & instead the focus is clearly pointed on the money-making opportunity.
So it's not necessarily a scam in the sense that it will take your money without giving you any potential to earn some back, but in my opinion it is a scam in the sense that it looks very much like just a money-making pyramid scheme which will eventually collapse.
Therefore overall I'm not going to be recommending this program to you because it just seems to be one of those "churn and burn" money-makers that everybody signs up to then jumps ship a few months later when the money stops coming in & I don't believe you'll find any real value in it.
Plus there's the huge potential that you'll end up losing money if you do sign up, and quite a lot too as the packages sold through this company certainly aren't cheap.
Verdict = avoid, avoid, avoid!
A Better Alternative
The sad truth is that unfortunately most of the programs promising to help you make money online are scams. I can say that confidently after exposing over 500+ of them here on this blog.
But the good news is that even though most of them are indeed scams, there are actually some very good programs in amongst them - some programs that can truly help you to earn money.
And out of all of the legit programs I've seen, the one I would recommend the most to anybody looking to get started online is Commission Academy. In my own opinion, that's the best place to start.
At Commission Academy, you'll be provided with everything you need (including the training & tools) to begin earning real money by promoting products or services for companies like Amazon online.
The best part is that there's literally no limit on the amount you can earn with it & the process is pretty simple which means that it's absolutely perfect for people that don't have much experience.
Some wealthy affiliates even earn as much as 5-figures per month... Or more!


I mean don't get me wrong, that kind of money won't just fall into your lap without doing any work... But the harder you're willing to work at it, the more you stand to earn with it.
So if you're looking to get started but don't know which route you should go down or which program you should join (and don't want to waste money on bogus things that don't actually work), then I'd highly recommend checking out Commission Academy first. You can learn more about it here.