SpareFare is a website that I discovered around a week ago when looking for a way to sell non-refundable flight tickets & it terms itself as being a "secure marketplace for travel reservations".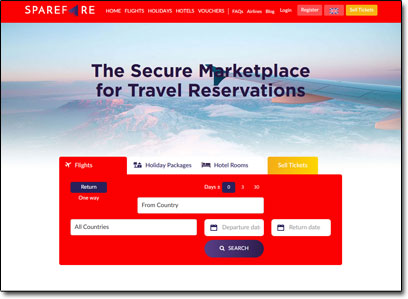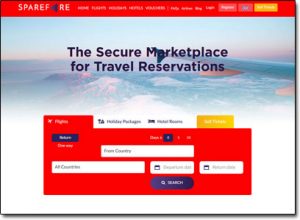 You could say it's kind of like eBay for travel & holidays.
But whilst checking it out & contemplating listing my ticket on their site there was one pressing question which was floating around in my mind which was "is SpareFare legit?"… And after doing some Googling it seemed many others had been asking the same question.
So now after actually using their website I've decided to put together this SpareFare review to answer that question once & for all. Plus I'll also be sharing details about my experience with them for anyone else looking to sell non-refundable flight tickets. 🙂
Is SpareFare Legit?   |   My Experience With SpareFare   |   Why I Decided To Withdraw My Listing   |   My Verdict
Is SpareFare Legit?
Yes, as far as I'm aware it does indeed seem so… The company checks out, there have been reports of sales & the SpareFare team seem to be actively responding to queries around the web.
However what I will say is that in reality, the website is fairly new, and whilst it's a pretty good idea & I commend the team for starting it up you have to appreciate that it's in its infancy and so sales might not yet be booming.
And not only that, but people don't really know at the minute that it's possible to buy second-hand flights like this… I mean I certainly didn't, and also I guess you'd have to be lucky to find someone wanting your exact flight on those exact dates/times…
So whilst I decided to list my ticket on there I wasn't really expecting it to be snapped up right away… And I think that's the attitude you've got to take with the SpareFare site as it is at the moment.
There's a high chance your ticket might not sell, but in my opinion, listing it there is better than doing nothing and letting it go to waste right?
Don't get me wrong though – I'm not knocking SpareFare at all… I think it's a great idea, and I think it will be a GREAT site once more people get to know about it & get to understand that it's actually possible to exchange non-refundable deals.
Oh and alongside flights they do also provide a marketplace for hotel rooms & entire hotel packages too (as shown in the screenshot below) which is pretty sweet:

I mean there didn't seem to be an overly large amount of holidays on there when I last had a browse, but I'll definitely keep on checking their site to see if any good deals come up because who knows, they may well do. 🙂
If you're tied down with work etc & struggle for holidays then again, it may be a little difficult to find a holiday that suits on their website (though not impossible)… However, if you're flexible it could potentially be a great way to grab a good deal.
Which brings me onto…
My Experience With SpareFare…
I came to SpareFare with the intent of selling my non-refundable flight ticket, but first I decided to search their site first to see what other people were selling & what was available… I'm not gonna lie here, there wasn't a great deal.
I searched for flights from "United Kingdom" to "United States" and set my criteria to allow for a window of up to 30 days but most dates still failed to yield any results and for those that did, only one or two flights came up.

The good thing though is that SpareFare have an alerting system, so if there isn't any flights available you can enter your email & get notified if something does happen to pop up.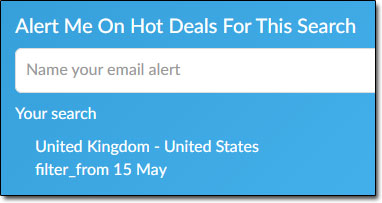 It was this lack of flights which caused me to question its legitimacy… So I did that same thing that you might have done – I went to Google and searched to try & find out if anybody had sold any tickets.
Some people said they'd listed theirs and had nothing, but some people did say they'd listed theirs and found a buyer.
I figured what the heck & decided to list my own… After all, it's non-refundable so I was gonna lose the money anyway… What could be the harm in trying to find a buyer and getting a little bit of money back for it?
So I did exactly that – I went through their process & listed my ticket which was pretty easy. What I noticed here though is that they have 2 ways you can sell your ticket – you can "post it yourself" or use an "assisted post".
I posted it myself (and it was super easy?) but I'll explain the differences between the two below:
Post It Yourself
This is the method I chose & it took around 5 minutes. I simply had to sign up for a SpareFare account, grab the details of my flight & enter them in. This included things like dates/times & the amount of money I paid (and the amount of money it costs to change the booking).
What I did notice though is there's no way to enter a price for how much you'd like to sell it for & that's because SpareFare does that on your behalf. They have some sort of algorithm that automatically calculates the price.
I can't complain though, I'd be willing to take anything rather than nothing, to be honest.
Assisted Post
This is a bit of weird option in my opinion because it includes you giving your airline login details to SpareFare. They'll then log in, get your flight info, create a SpareFare account on your behalf & list your ticket.
I guess it could help in the way that you don't have to mess around finding out what the change fees are etc & it's a little quicker, but honestly, I wouldn't be willing to give out my login details no matter how trustworthy the site was.
For example in my airline account, I have points which are essentially real money – so it's kind of like giving somebody access to a bank account in a sense. I don't know about that… Plus if you use this method they also take 10% of the sale amount.
As far as I can see this is how SpareFare are primarily earning their money (as I don't see any other monetization on their site) but I don't know… I don't really like it, I think they should do away with this & maybe just take a percentage of the final sale on all listings or something.
You Might Also Like:
Did I Sell My Ticket?
Well, the answer is no, I didn't – but I'll give SpareFare their due because I actually only listed it about 4 days ago so I wasn't expecting any kind of magic like that, but if it does sell I'll definitely update this post to let you know (now updated – keep reading).
And just in case you're wondering my flight is from London to New York at the end of December, so IMO it should be a pretty in-demand flight, the only problem though is that it's just a one-way… But like I say, we'll see what happens 🙂
The flight cost me ~£300 of the top of my head from the operator but has since gone up to ~£360 & SpareFare's pricing algorithm seems to have priced it for sale at £216 which I guess is pretty darn reasonable for anybody looking to go to NYC.
Unfortunately, though the change-fees on my booking were roughly £90, so I guess that would mean I'd still only get just over a £100 back.
Still though as I've mentioned a few times throughout this review something is better than nothing, right? I think that's the approach you've got to take with SpareFare & I do honestly think it's a really good idea… I just hope they get some traction with it & get more people listing/browsing.
Update – I Received a Bid, But Discovered a Few Problems & Decided Not To Sell…
So around 20 days after publishing my listing on SpareFare I discovered that somebody had actually made a bid for the flight I was selling… However, it was only really by pure chance I'd come across it since the email notification letting me know actually went into my spam folder (despite me previously marketing SpareFare mail as "legit").
Anyway, naturally, I was excited… Was I actually going to get some money back for my flight? And how much was I going to get?
I rushed straight into my SpareFare account without hesitation as I remembered that you were only given a time window of a mere 48 hrs to accept the bid & the notification had already been sitting in my spam folder for 24 of those…
However, unfortunately, this is where disappointment struck.
The reason I was disappointed was because as shown below, after the change fees were factored in I would only stand to receive £63.34 in return for the flight which I had originally paid ~£300 for: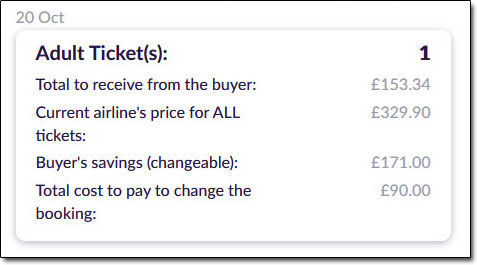 And don't get me wrong I didn't think this alone was too bad because like I mentioned a little further up in this post I definitely felt something was better than nothing… But the BIG problem, in my opinion, was the fact that SpareFare don't actually pay you this money until the flight is flown (unless you can transfer your entire airline account to the purchaser) as highlighted in the "bid notification email" they sent which I've shown below:

I totally understand that from the buyers perspective to protect them from getting scammed however from a sellers perspective, or my perspective – this meant I would have to be an extra £90 out of pocket for 2 months (to cover the change fee) & then hope that I eventually get the money back from SpareFare after the flight to cover it.
I decided that for a mere £60 the risk wasn't worth the reward in this instance, but I figured if the buyer was willing to actually pay the list price of the ticket rather than bidding less which would see me getting around £100 back, I might be down to do it…
So anyway from there SpareFare give you an option to either "Accept" the bid or "Reject" it, and if you choose to reject it then you're forced to enter a message as to why.
I spent 5 minutes or so typing up my explanation to the buyer & then went to reject the bid in the hope that they'd then come back and pay the listed price (which was just £40 more) but I accidentally hit "Accept" by mistake.
This is where I then ran into another problem because not only was there no confirmation saying "Are you sure?" but there was also no way to then edit it back to be rejected upon realising my mistake.
The buttons were so close it was easy to press one or the other, so there should definitely be some confirmation… However, by this point I was panicking a little bit because I didn't actually want the sale to go through, and the only way I could see to cancel it was to remove my listing.
So basically I did exactly that, I headed back to my listings & I clicked on "Remove" and to my surprise here once again there was no "Are you sure?"… The listing literally just disappeared after the click with no confirmation message or anything.
And then after all that hoo-ha I basically just came to the conclusion that in my opinion, it wasn't really worth it.
The process was tedious, I'd have to be out of pocket by £90 for a couple months and the technical issues or should I say user experience issues didn't really give me great faith in me getting my payment smoothly at the end of it all.
Sure – it's probably a great site for a buyer & it's also probably a great site for sellers if you're willing to go through the hoo-ha & put yourself out of pocket for a few months but for me personally, sadly I no longer rate it as high as when I first discovered it.
Still, though the concept's fair enough & at least it provides the OPTION to sell rather than being totally stuck with a non-refundable ticket. I'll leave my original verdict below, but just remember the below verdict was written prior to this update about receiving a bid & that my opinion has since changed a bit…
My Verdict on SpareFare – Good or Bad?
Well like I say it's not really booming at the moment so there doesn't seem to be a great deal of action on there but overall I definitely like the idea & I do believe that if it gets enough publicity it could be a good way to get rid of non-refundable flights or get cheap deals.
So yeah, even though I haven't yet sold my ticket (but it's only been listed for 4 days!) I will still be giving SpareFare a thumbs up and I do believe that if the team behind it keep on top of it then it could definitely be a go-to in the future.
If you've had any experience with SpareFare yourself though already then I'd also love to hear your opinions about it. Did you get a cheap deal? Did you manage to sell your flight? How much did you get back?
You can leave your comments below…
Hope that SpareFare review gave you a good insight into what you can expect though. 🙂