Tecademics is an internet marketing training course that was recently launched by a guy named Chris Record who claims that by following his course you can begin making money online & start living the laptop lifestyle.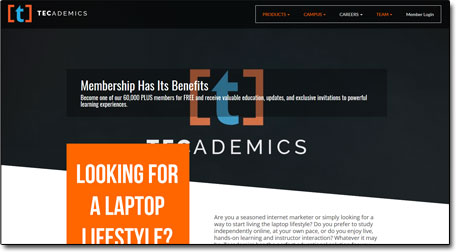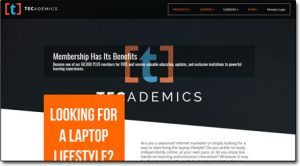 I've therefore decided to put together a review where I'll be taking a closer look at the company to find out what it's all about, how it actually works, whether there's any truth behind the Tecademics scam rumours & most importantly if you can really make any money as a result of following the training.
So if you've been thinking about getting involved with Tecademics then you can rest assured that you've landed in exactly the right place to find out everything you need to know about it before you sign yourself up.
What Is Tecademics?   |   How Does Tecademics Work?   |   What Are The Products?   |   The Compensation Plan   |   Is Tecademics a Scam?   |   A Better Alternative
What Is Tecademics?
As I briefly touched on above Tecademics is an internet marketing training course which has been put together by a guy named Chris Record & it's designed to teach you how to build an income by promoting products online.
It's fair to say that there's no denying Chris himself has found massive success online as his ventures have enabled him to purchase a very large luxury home, expensive sports cars & so on…
Basically, he's definitely the real deal & he knows his stuff when it comes to online marketing.
However the main part of Chris' success seems to have come from promoting MLM opportunities, and so you probably won't find it surprising to hear that Chris has incorporated an MLM style compensation plan into his Tecademics program.
This means that alongside learning through Tecademics you also have the opportunity to earn money by reselling the program onto other people, and in typical MLM fashion you also have the opportunity to earn commissions from the efforts of your downline too.
For a guru, this can potentially be quite lucrative, but typically when it comes to these digital-style MLM's as we've seen with Digital Altitude & MOBE (two similar programs) newbies rarely seem to find success.
The first bit of good news though is that in my opinion, Chris Record's Tecademics program is slightly better than those 2 other opportunities I mentioned above, however, there are a few bad points which I'll explain in a moment.
How Does Tecademics Work?
The good thing about Tecademics in comparison to its main rivals is that you can actually get started learning for free through what they call their Impact Series training module. Whilst it's clear that this module has been put together to push you towards buying their membership you're still provided with some solid, actionable training for nothing so you can hardly complain. ?
The Impact Series is basically training that's geared towards teaching you how to start your own successful eCommerce business – which rather than promoting other peoples products (like affiliate marketing) will teach you how to sell your own physical products through Shopify.
The training does go into quite a lot of detail & it takes you right through from sourcing products to launching your store & promoting it online. Promotion wise you'll learn about paid Facebook advertising, organic social media advertising, search engine optimization & email marketing – all of which are admittedly proven, solid methods of generating traffic online.
But as I say in reality this product has been designed to get you to buy into their program, which then consists of 3 paid products – so be aware that although this training is free, to get "the full deal" you'll be expected to whip out your credit card later down the line.
I'll talk in more detail about the paid products in just a second but it's also important to note that as I mentioned at the start of this review that Tecademics also run a business opportunity alongside the training through which you can earn money by referring other people into Tecademics.
But the most important part about this biz-opp is that similar to it's closest rivals Digital Altitude & MOBE, Tecademics is also a high-ticket opportunity – which basically means that their products are very expensive.
They actually range up to a whopping $10,000! But again just like it's close rivals this is also a pay-to-play program which means if you've started drooling over the potential commissions you could earn by reselling these products then just be aware that you first need to purchase them yourself in order to become qualified to resell them.
What Are Tecademic's Products?
The three paid products inside of Tecademics are as follows:
TEC (which stands for The Entrepreneurs Club) – $100/month
To be honest for $100 per month this is a product that in my opinion doesn't really give you access to a great deal. You'll basically get to watch weekly webcasts from "industry leaders" who'll share their internet marketing top-tips & alongside that you'll get access to a forum where you can chat with other members.
When you can get all that at Commission Academy for free, it just doesn't really cut it for me. If you were given access to maybe some additional tools or something (like landing page builders) then fair enough – but as it is I don't know, $100 per month just seems a little steep. I kinda fear that this is another program through which the products have been priced with the commissions in mind rather than the value they provide.
Impact Advanced – $2,000
Remember when I said above that you could get access to Tecademics to free? Well, you can, but you'll go in on the "Impact Series" course which is basically just an introductory version of Impact Advanced – so after going through your free membership expect to be asked to whip out your credit card & make payment for the sum of $2,000 to continue the course.
Don't get me wrong the course definitely contains valuable information & it's well laid out, but would I pay $2,000 for it? Honestly – no, not when with a little bit of searching I can get the same stuff for free elsewhere online. Sorry but it's true!
These days it's just so hard to put huge price tags on things online because with so many internet marketing blogs & forums there's no shortage of information so you literally are just paying for the privilege of having it laid out step-by-step.
Masters – $10,000
This gives you access to what Tecademics is calling their "College of Internet Marketing", and basically you get 120 hours of classroom-style training which can be completed over a 2-year period.
In my opinion, the price is insane – the only positive I can take away is that it covers 2 people, so if you find another person that loves to blow money you could potentially go halves & call it $5,000 each.
Will you learn a lot from it? Undoubtedly yes you will – but again this is something else where realistically you can get all the exact same information you will be taught through these lessons elsewhere online. Sure, this course will speed up your learning curve – but personally, I couldn't justify blowing $10k on it.
And in case you're wondering what it covers – the reason I didn't touch on that is that it basically attempts to cover everything there is to internet marketing, so you name it, it's included in the course.
Elite Fam Insider – $12,000
I know I said there are only 3 paid products & technically there is, this product basically just bundles all three of them together so if you have the money right from the start you can get Impact Advanced, Masters & a full year of TEC for $12,000.
You Might Also Like:
Tecademics Compensation Plan
Being honest, most people who are looking into Tecademics are looking to promote Tecademics itself because somebody's got them hooked on the idea of being able to sell high-ticket products & earn whopping $1,000+ commissions.
The problem is that like it's close competitors Digital Altitude & MOBE, Tecademics is a pay-to-play network marketing opportunity which means if you want to be able to earn commissions on any of the products then you must first purchase them yourself.
So if you're wanting to earn the big commissions by reselling the Masters course for example then you're going to firstly have to splash out $10,000 of your own cash in order to qualify yourself.
The compensation plan is admittedly lucrative, but to be honest a little weird…
You'll earn 40% on your personal sales (with a little catch explained below) which basically looks like this:
$40/month commission on the TEC membership
$800 for Impact
$4,000 for Masters
Then on the next two sales instead of getting 40%, you only get 20% and the other 20% goes to your upline (the person that referred you).
After reaching the 3rd sale you then get 40% commissions but every 5th sale from there on gets split with your upline again (meaning you only get 20%).
It's not massively complicated like some of the compensation plans I've seen but I think you'll agree that it takes a few minutes to get your head around how it works.
The one thing they do offer though is a pretty insane matching bonus, and I mean insane…
If you manage to hit $100,000 in commissions in your first 36 months then you get a 100% matching commission – which means you get another $100,000 thrown on top which I think you'll agree is pretty nuts.
But on top of that if you also hit $1,000,000 in commissions in your 36 months then again you get another 100% matching commission which this time would see you getting another $1,000,000 thrown on top!
Crazy right?
Is Tecademics a Scam?
To be honest no, Tecademics isn't a scam – but with it being a high-ticket network marketing opportunity that pushes you into buying products which in my opinion are clearly overpriced it isn't something I'm going to be recommending.
The other problem I have with Tecademics is that from an opportunity point of view programs like Digital Altitude & MOBE have sales teams that contact your prospects & help nudge them into buying the higher-priced products which is why some people have found success.
With Tecademics there's none of that so you'll be left on your own to try & sell $10,000+ products – do you really think you have the ability to not only work at promoting the program but also work on selling the products to your referrals too?
I will say though that in comparison to the other high-ticket network marketing opportunities out there I do feel that Chris Record's Tecademics program definitely provides much better training, and training that you can actually take away & use to build a standalone internet business if you like. Basically you're not as heavily pushed into reselling the program itself.
So overall whilst I don't believe Chris' program to be a scam, due to the things I've mentioned above it won't be something that I'll be recommending you to try because I feel like the investment required is just way too high.
A Better Alternative
The sad truth is that unfortunately most of the programs promising to help you make money online are scams. I can say that confidently after exposing over 500+ of them here on this blog.
But the good news is that even though most of them are indeed scams, there are actually some very good programs in amongst them - some programs that can truly help you to earn money.
And out of all of the legit programs I've seen, the one I would recommend the most to anybody looking to get started online is Commission Academy. In my own opinion, that's the best place to start.
At Commission Academy, you'll be provided with everything you need (including the training & tools) to begin earning real money by promoting products or services for companies like Amazon online.
The best part is that there's literally no limit on the amount you can earn with it & the process is pretty simple which means that it's absolutely perfect for people that don't have much experience.
Some wealthy affiliates even earn as much as 5-figures per month... Or more!

I mean don't get me wrong, that kind of money won't just fall into your lap without doing any work... But the harder you're willing to work at it, the more you stand to earn with it.
So if you're looking to get started but don't know which route you should go down or which program you should join (and don't want to waste money on bogus things that don't actually work), then I'd highly recommend checking out Commission Academy first. You can learn more about it here.