The Income Formula is the name of a new money-making program which has been launched by Eric Hammer & it claims to provide you with a technique allegedly known as the "reverse launch jacking" method.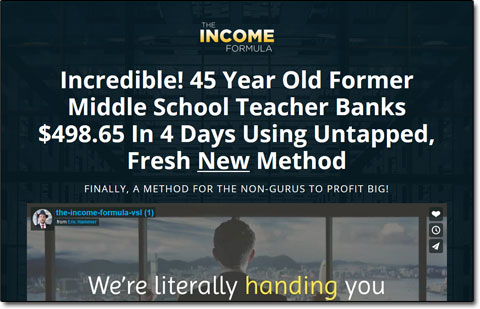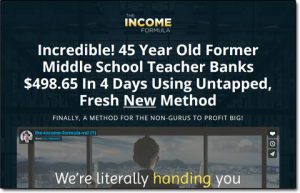 Eric claims that his new reverse launch jacking method is like nothing you've ever seen before & he claims that you can use it to earn as much as $498.65 in just a few days even if you're brand new…
But is it legit? Or is The Income Formula a scam to avoid?
Well, I'm really glad that you came here to my review of The Income Formula first before you handed over your cash & signed up to it because I can immediately tell you right from the off that it's nowhere near as great as it seems.
What Is The Income Formula?   |   How Does It Work?   |   What Is Reverse Launch Jacking?   |   The Costs   |   Is The Income Formula a Scam?   |   A Better Alternative
What Exactly Is The Income Formula?
The Income Formula is the name of a new online money-making training program & it claims that it'll be providing you with access to a method named reverse launch jacking which can supposedly see you earning a lot of money quickly from home.
Eric Hammer is the man that's behind the program & he claims that his new reverse launch jacking method that he'll be teaching in the program is literally like nothing you'll have ever seen before.
You're led to believe that you'll be able to use his method to promote products or services as an affiliate & he claims that because it's so powerful you could even earn as much as $498.65 in just a few days.
Plus on top of that, he also claims that you can do it you're totally new, inexperienced or haven't yet had any success… Apparently (according to him) his system will be the system that changes all of that & "finally helps you achieve success".
But will it? Or will it just be another system that sees you spending money & getting nothing in return?
Well, unfortunately, whilst there is some substance to his program the harsh reality is that it isn't really any different to any of the other hyped-up money-making programs that have come before it.
Yes, it's "possible" to make money with his method, but it's unlikely that you will… Instead, the only person that'll likely be making money from the whole thing is Eric & he'll be doing that at your expense.
You'll see what I mean as I explain in greater detail how it all works below…
How Does The Income Formula Work?
So basically The Income Formula program is a program that's geared around affiliate marketing – however rather than just teaching affiliate marketing properly (like Commission Academy does for example) it basically tries to make you think you'll be getting access to some sort of "secret shortcut".
You see everyone wants to make money & everyone wants to make it quickly… But unfortunately, that's not how it works.
Yes, you can make good money online, but in order to do so, you must be prepared to put in the work to make it happen. If there was really any shortcuts then everybody would be doing it, nobody would be left working a job.
But as long as there are people looking for shortcuts there will be people claiming to provide them & one of those people is Eric Hammer, the man behind The Income Formula system.
He claims that he has a method known as "reverse launch jacking" which can see you making as much as $498.65 in just a few days…
But I can tell you with 100% that it's just hype. It's no different to any of the other programs that promise similar things… You pay your money to find out what the secret is, then you just get left to find yourself disappointed that it doesn't really work.
So What The Heck Is Reverse Launch Jacking Anyway?
If you happen to buy into The Income Formula program (which I don't recommend) then you'll be left to discover that "reverse launch jacking" basically consists of creating video-based reviews.
So you'll publish a video which reviews a product or service, then you'll recommend something to the people watching the review via an affiliate link so that if they click it & make a purchase, you get paid.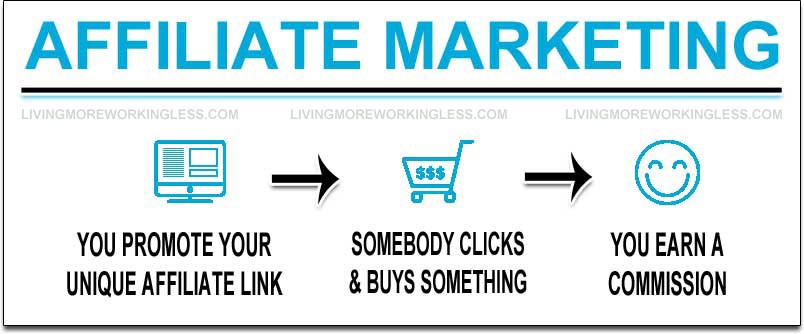 The method itself does technically work but it's nothing new, and to be honest, the training inside of The Income Formula doesn't really go into enough detail for you to actually see yourself earning money with it.
But the reason Eric calls it "reverse launch jacking" is because you'll basically be creating videos with animated talking-head spokespeople using other peoples reviews (also known as stealing).
So not only will you probably struggle to see success but you'll also probably land yourself in a lot of legal trouble at the same time too.
It's safe to say I don't recommend doing that… Instead, like I mentioned earlier in this review you should just give up on the shortcuts & follow a proven program that teaches the proper methods like Commission Academy.
You Might Also Like:
It's Also Pretty Darn Expensive…
The sales page promotes the program as only costing $8 to $10 and for such a seemingly small fee you may be tempted to just think "what the heck" and try it out anyway even despite what I've said above…
But $8 to $10 is NOT the real cost.
Instead, the system actually costs hundreds of dollars, but you'll only be able to find that out after the initial purchase as the rest of the costs involved all come in the form of expensive upsells.
The grid below highlights all of the additional upsells (and downsells) that you'll be presented with inside: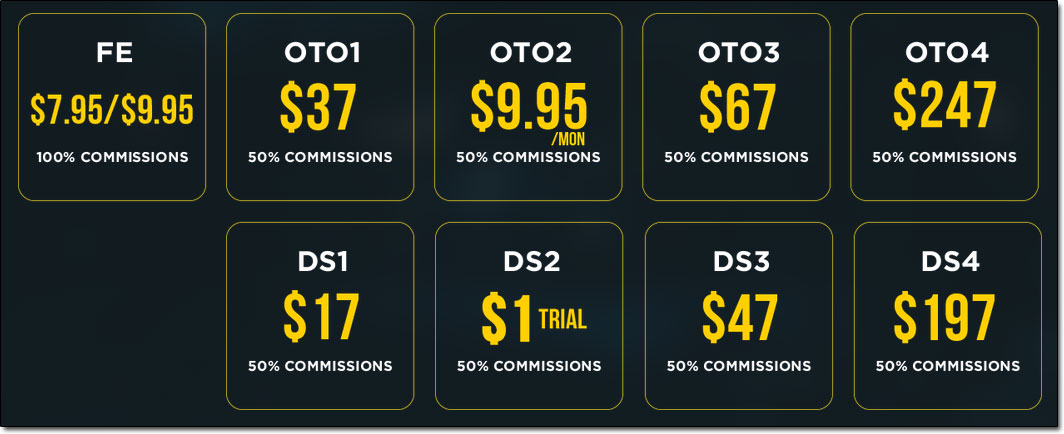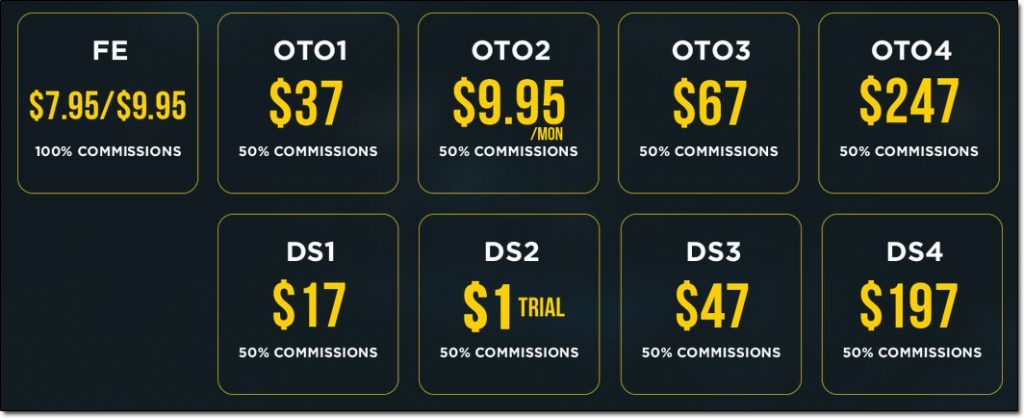 Which brings me onto…
My Verdict – Is The Income Formula a Scam?
Well, it's not really a "scam" as such since you do actually get access to some training in return for your money… But it's unlikely that you'll actually find yourself making money with it & so, therefore, in my opinion, it is pretty misleading.
You certainly won't make $498.65 in just a few days like you're led to believe you will… And as mentioned in the previous section of this review the creator isn't totally upfront about the full costs involved either.
So overall whilst it's not a scam I believe it's more geared towards making its creator wealthy at your expense rather than actually being set out to help you to make money like it claims it is.
I, therefore, won't be recommending it.
Instead, if you truly want to stand the best chance of finding success with affiliate marketing I would suggest you stop looking for shortcuts or tricks & simply join a proven program like Commission Academy.
Or alternatively, you could browse other methods aside from affiliate marketing here.
But whatever you decide to do I just sincerely hope that my review of The Income Formula here has given you a good insight into what you can expect from the program & I hope it's helped you to save your cash.
Feel free to leave any questions or comments below. 🙂
A Better Alternative
The sad truth is that unfortunately most of the programs promising to help you make money online are scams. I can say that confidently after exposing over 500+ of them here on this blog.
But the good news is that even though most of them are indeed scams, there are actually some very good programs in amongst them - some programs that can truly help you to earn money.
And out of all of the legit programs I've seen, the one I would recommend the most to anybody looking to get started online is Commission Academy. In my own opinion, that's the best place to start.
At Commission Academy, you'll be provided with everything you need (including the training & tools) to begin earning real money by promoting products or services for companies like Amazon online.
The best part is that there's literally no limit on the amount you can earn with it & the process is pretty simple which means that it's absolutely perfect for people that don't have much experience.
Some wealthy affiliates even earn as much as 5-figures per month... Or more!


I mean don't get me wrong, that kind of money won't just fall into your lap without doing any work... But the harder you're willing to work at it, the more you stand to earn with it.
So if you're looking to get started but don't know which route you should go down or which program you should join (and don't want to waste money on bogus things that don't actually work), then I'd highly recommend checking out Commission Academy first. You can learn more about it here.