The Midas Legacy is an appealing new income-generating opportunity that is based upon magic words & as a result it has got many people talking & created a lot of hype.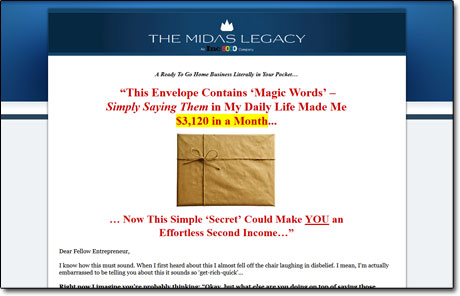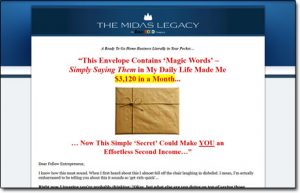 Today, we have come up with an honest The Midas Legacy review to help our readers make the right decision as to whether or not to join.
There are various reviews already written about this program but most of them have been written with a certain pre-determined approach.
After proper investigation, we are finally ready to present an unbiased The Midas Legacy review to reveal exactly what this program is and how it works and if there is a real chance of generating some passive income.
What Is The Midas Legacy?   |   How Does It Work?   |   Is The Midas Legacy a Scam?   |   A Better Alternative
What Is The Midas Legacy?
Jim Samson is the person behind The Midas Legacy – a secret-looking package that costs $37. The website grabs your attention with the help of a highly effective advertisements.
The page features a closed package and the promotional phrase suggests that the package contains some sort of magic phrase that helped Jim to make $3,120 in one month. Though it seems stupid its aim is to simply intrigue the visitor to keep them reading…

Jim tells you that there is allegedly a secret way to earn instant money without having to struggle any more. Then he tells you that The Midas Legacy is not an MLM nor a Pyramid Scheme and that it has nothing to do with gambling or mass marketing…
Then he comes to the point by telling you that this method requires you to just press 5 buttons and your bank account will start accumulating more money than ever before. This claim reminds us of Richard Matheson's short story "Button, Button".
Jim Samson is trying to make you believe that this is some sort of a smart process that works like Robin Hood – grab from the rich and distribute among the poor. In the case of The Midas Legacy Jim tells you that the rich know the real secret to accumulate more wealth instantly. But the poor remain sceptical and they don't even try such methods…
However, the poor have a strong wish to become rich but nothing happens if you just keep waiting for a miracle. Then Jim, while developing his hypothesis, wants you to believe that there is a real working method to earn instant money like a millionaire.
But is there actually such a method? Could you really make money as easily as Jim claims? Well, let's take a closer look into how it works to find out…
How Does The Midas Legacy Work?
The Midas Legacy is basically the creation of Jim's own fantasy. We have investigated this program and found that this person is an impressive storyteller.
He makes you believe in something secret… For instance, he tells that he served a bank where he stumbled upon a precious secret. He says that banks process scores of secret transactions. Just pushing 5 buttons directs those transactions to your bank account and the money is credited to your account in minutes.
As you will likely agree through, this is simply too good to believe! The banks invest millions of dollars to ensure security and this man allegedly came up with a cheat code. Why did any other bankers fail to notice it? And if they do know about it then why don't they just quit the job and use this magic trick to accumulate thousands of dollars every month?
Jim tells us that he was forced to resign but until that time he had extracted the codes he needed to redirect these secret transactions.
Basically, Jim is trying to link his story with the transaction-confirmation code which you either receive via email or text message. But it doesn't make sense because these days banks use One Time Password (OTP) and this password is delivered to the authorized account holder in two parts. One part is sent via email and the other part is sent via text message.
Jim also says that he conducts a screening test before sharing this 5 letter code. It makes us laugh! Why is Jim revealing this secret when he could keep the code and continue generating money for himself?
When you share a secret, it obviously becomes common and the concerned authorities will do anything to immediately counter such vulnerability. Jim also claims to be the founder of The Midas Legacy secret organization. This really is a cool story to tell someone interested in becoming the modern-day Sherlock Holmes.
I think you can probably already guess my verdict on this program but it's time for…
Is The Midas Legacy a Scam?
In my opinion, The Midas Legacy is a scam for various reasons. It is based on a fabricated tale. Jim tries his best but fails to make sense. He makes things complicated when he claims to be running a secret society. He is trying to confuse his visitors by fabricating misleading revelations about automated systems used by the banks. As far as I'm concerned The Midas Legacy is nothing but a hilarious fraud.
And even if you were actually able to make money with The Midas Legacy program in the way that Jim states (which you're not) then you would be committing a crime because you cannot legally steal money from other people's bank accounts.
So with that being said, I am going to strongly advise that you steer clear of The Midas Legacy because one way or another the program is just going to land you in trouble, whether that be financial trouble or trouble with the law.
I mean yes, it is indeed possible to make good money online however you cannot just make money by "pushing a few buttons" like Jim claims. That is just a pipe dream & instead, if you really want to make good money you must be prepared to put in the work to make it happen.
The good news though is that if you are prepared to put in the work to make it happen then there are legitimate places like Commission Academy which will show you the steps for getting started.
At Commission Academy, you will learn about the same way that I make most of my own money online which is something called affiliate marketing. It's a great way to make money & the amount you can earn is totally uncapped. It's also legit – unlike Jim's method.
But alongside that, there are also other great ways to make money online too which you can see here.
Whatever you decide to do though I just sincerely hope that my honest review of The Midas Legacy here has given you a good insight into what to expect & hopefully you can now see why your money is likely best kept in your own pocket. If you still happen to have any further comments or questions though then don't hesitate to leave them below. 🙂
A Better Alternative
The sad truth is that unfortunately most of the programs promising to help you make money online are scams. I can say that confidently after exposing over 500+ of them here on this blog.
But the good news is that even though most of them are indeed scams, there are actually some very good programs in amongst them - some programs that can truly help you to earn money.
And out of all of the legit programs I've seen, the one I would recommend the most to anybody looking to get started online is Commission Academy. In my own opinion, that's the best place to start.
At Commission Academy, you'll be provided with everything you need (including the training & tools) to begin earning real money by promoting products or services for companies like Amazon online.
The best part is that there's literally no limit on the amount you can earn with it & the process is pretty simple which means that it's absolutely perfect for people that don't have much experience.
Some wealthy affiliates even earn as much as 5-figures per month... Or more!


I mean don't get me wrong, that kind of money won't just fall into your lap without doing any work... But the harder you're willing to work at it, the more you stand to earn with it.
So if you're looking to get started but don't know which route you should go down or which program you should join (and don't want to waste money on bogus things that don't actually work), then I'd highly recommend checking out Commission Academy first. You can learn more about it here.