The Wealth Matrix is the name of a newly launched automated trading system & it promises to provide you with a way to acquire "income security" to protect you in the event that you ever, unfortunately, lose your job.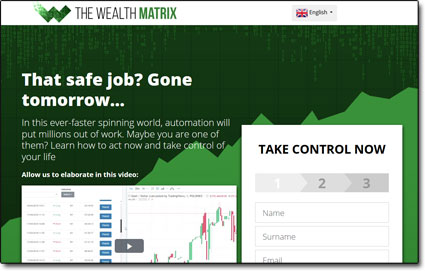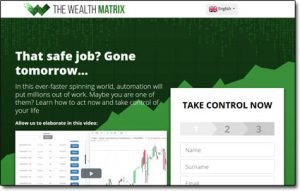 You're led to believe that The Wealth Matrix software has been built around powerful AI technology which can make profitable trades on your behalf entirely on autopilot, thus providing you with a completely passive side-income.
And the FAQ on The Wealth Matrix's website even states that the average member generates profits of over $1,000+ per day…
So what's the catch?
If The Wealth Matrix software is legit then why on earth isn't everybody using it? Why are people still working at jobs they dislike if they can just use The Wealth Matrix software to earn $1,000+ per day on autopilot?
Is The Wealth Matrix a scam?
Sadly yes, I can tell you right from the off that The Wealth Matrix software is indeed nothing but a scam. Instead of helping you to make money, the truth is the software will do nothing apart from making you lose it.
The good news though is that in this review of The Wealth Matrix I'll not only be uncovering the reasons why it doesn't really work, but I'll also be sharing the legitimate alternatives that you can use instead.
What Is The Wealth Matrix?   |   How Does It Work?   |   The Trickery   |   Red-Flags   |   Fake Online Reviews   |   Is The Wealth Matrix a Scam?   |   A Better Alternative
What Exactly Is The Wealth Matrix?
The Wealth Matrix is supposedly an automated trading app & you're led to believe that it has been built around what its founders call "powerful pattern recognition AI" which according to them means it can make guaranteed profitable trades entirely on your behalf.
So the idea is that you can simply sign up, make a small deposit with the broker that they recommend & then activate the system in order to have it begin generating you an income all on complete autopilot.
What's more, the creators claim that you can begin profiting instantly & that the average member actually earns over $1,000 per day.
But wait… If that's true then why isn't everybody using it?
Well the answer is because as you likely already suspected before you came here to this Wealth Matrix review, it's not true. The Wealth Matrix software is actually nothing but a scam.
And I can say that so confidently because I've actually exposed this exact same scam under another name. It's also operating under the name of the Bitcoin Blueprint & I discovered that when I noticed some text on the Bitcoin Blueprint website referred to The Wealth Matrix as shown below: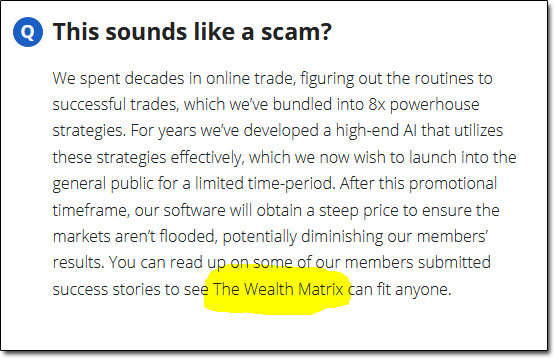 The people behind it have launched the same scam under various names in an attempt to escape the reviews which expose the truth about it so that they can continue tricking people into signing up to it.
But what happens if you do sign up? Can you make any money with it? And if you can't, then how can you actually earn money instead?
Keep on reading to find out as those are all the things I'm going to be uncovering next as I dive deeper into the finer details of how the whole thing works (or should I say doesn't work)…
How Does The Wealth Matrix Software Work?
In theory, the concept is that you'll sign up to The Wealth Matrix, make a deposit with the broker that they recommend to you & then finally activate the system in order to have it begin generating you profits entirely on autopilot.
However there's one very important thing which the person behind The Wealth Matrix fails to make clear, and that's the fact that he (or she) is actually affiliated with the broker that you're recommended to deposit with.
This means that if you sign up & deposit, he (or she) gets paid a handsome commission at your expense.
And as you'll see in a moment, this alone proves it's a scam. I'll explain why in a second but first here's a screenshot of The Wealth Matrix disclaimer in which they very subtly mention the affiliation:

So how does that prove it's a scam?
Well basically the broker that you're recommended to deposit with by The Wealth Matrix isn't actually a "normal" broker, instead, it's what's known as a binary options broker, and this is where the problem lies.
You see binary options & "normal" brokers are very different.
With a normal broker, you would invest in something, then you would stand to earn or lose money based on whether the value of whatever you invested in increased or decreased.
With a binary options broker though you don't actually invest. Instead, you basically place bets on whether you think the value of something will rise or fall over a certain period of time (usually under 60 seconds).
It's made to seem really easy but in reality, it's near impossible to profit with because of the way it works.
Even Forbes published an article warning about the dangers of it as shown below: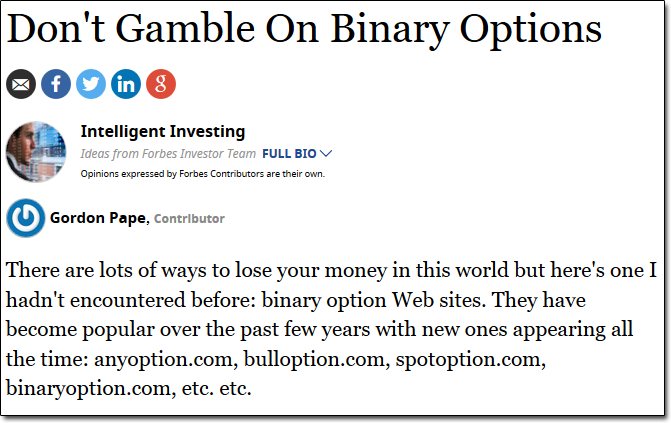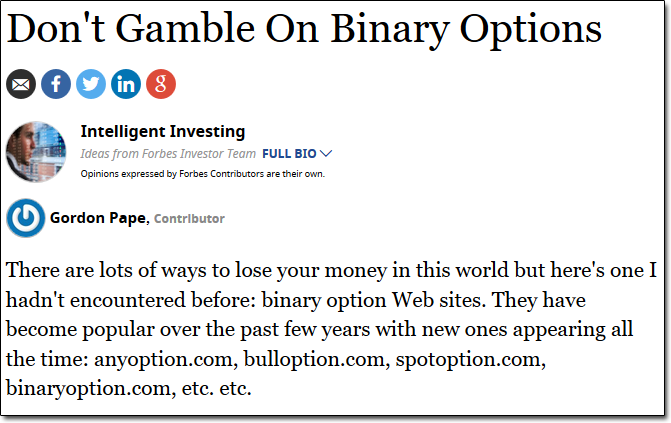 But the most important part to note is that because you're simply placing bets with the broker, this means that if you win then the broker will have to pay you your winnings out of their own pockets.
Of course, they don't like doing that so they don't want you to win, they want you to lose.
Now with that in mind, ask yourself this… Why would a binary options broker that wants you to lose money pay referral commissions to the creator of a system which can supposedly guarantee you to win?
If the system could truly guarantee you to win then it would put the broker out of business.
This, therefore, means that the broker knows it's not really going to make you win. In fact, The Wealth Matrix software is actually designed to make you LOSE money, and potentially a whole lot of it.
But The Trickery Gets a Lot Worse
You might be thinking that after depositing with the recommended broker the creator of The Wealth Matrix would simply collect his/her commission & then you'd be left to find out that it doesn't really work as promised…
Unfortunately, that's not quite the case.
Instead the creator of The Wealth Matrix scam has actually gone to the extreme lengths of creating an entirely fake trading system to make you think that you're actually profiting so that you'll deposit more & more money.
This means that if you were to deposit with the broker recommended by The Wealth Matrix then you would indeed get access to the system and it'd actually appear to be generating profitable trades for you.
You'd likely think that you were on your way to getting rich, and this is when the broker would call you up to encourage you to deposit more to "increase your profits".
This cycle would continue, the broker would push you into depositing more & more but then ultimately when you finally press for a withdrawal you'd be left to find out the hard way that the whole thing had all been a big scam.
But even then the broker may not be finished trying to trick you as it's also been known for them to ask people to pay a "withdrawal fee" or "withdrawal tax" in order to get their money, which is just a further part of the scam.
Take a look at some of the comments from people who've mentioned that exact thing:

Basically it all boils down to the good old saying, which is…
If it sounds too good to be true, it probably is.
And it's safe to say that The Wealth Matrix definitely sounds WAY too good to be true… But unfortunately, due to their clever promotions of the scam, they've still managed to lure lots of people in.
In fact, it's said that binary options scams are actually one of the biggest ever online scams & an article published on MoneyWise reported that a whopping £87,000 per day is lost to these scams.
Hopefully, you came to this Wealth Matrix review first & managed to dodge it.
You Might Also Like:
The Red-Flags To Look Out For
As I just mentioned, these types of binary options scams are rife online and whilst you've hopefully managed to dodge The Wealth Matrix software it's possible that you might come across another system in the future…
So how can you tell if it's a scam? What are the red-flags to look out for?
Well, first of all, you should check to see if the website provides verifiable owner information. Ask yourself, who's actually running the show?
In the case of The Wealth Matrix, the website displays absolutely no owner information whatsoever. No names, no office address, nothing… And when it comes to investment websites that's a HUGE red flag.
You want to know who you're investing with, right? Otherwise, with no name or address, you may as well be handing your money over to a stranger in the street…
But then on top of that, if it's investment-related (like The Wealth Matrix) then you should also look for details of a license. It's a requirement by law for investment-related websites to hold licenses & without one your investment won't be covered by any protection.
I searched the Financial Services Register & it turns out The Wealth Matrix doesn't hold a license. That alone is a massive red flag and you should never, ever invest via an unlicensed website.
But what if things do look legit, how can you be sure to invest?
Well, the last step you should always take is to do your due diligence. Search for reviews and see what others are saying. Sites like TrustPilot are great for getting information about companies from real people that have actually had dealings with them.
Be Aware of Fake Online Reviews
One of the reasons so many people have gotten caught out by these types of binary options scams is because the people behind them have actually paid reviewers to write "fake positive" reviews.
So if you were to search for a review of The Wealth Matrix (or another system) you may come across a seemingly legitimate review in which the reviewer claims that the system actually works (when in actual fact it doesn't).
Here's an example of a fake review I found on a shady website called "is-scam":

But what you'll generally notice about these fake review websites is that they'll be overly enthusiastic about trying to get you to join (because they're getting paid by the scams for referring you).
For example just look at how many buttons that same review by "is-scam" has to try to get you to join:

Whereas here in my honest Wealth Matrix review, I have zero links to it because I don't want anybody clicking through to it without reading the full review & then getting accidentally caught out by it.
So it's always worth checking out multiple reviews whenever you're looking into a "make-money program", not just one.
Is The Wealth Matrix a Scam? My Final Verdict
Yes, it is & I can say that with 100% certainty. The Wealth Matrix isn't really set out to help you make money at all, it's just set out to part you with your hard-earned cash so that its creators can get wealthy at your expense instead.
Like I mentioned further up in this review, the creator of The Wealth Matrix & the broker that you're recommended to deposit with via the software are both in cahoots to swindle you out of as much cash as they can.
So with that being said, it's safe to say that The Wealth Matrix software should 100% be avoided & instead, if you're still interested in a legitimate way to earn online I'd recommend you try one of these proven alternatives.
I'll also point out that my all-time top recommended method is something called affiliate marketing which basically involves you promoting products (such as products from Amazon) or services online in return for commissions.
The reason I like it & recommend it so much is because it's easy to get started with (especially thanks to step-by-step programs like Commission Academy) & the amount you can earn with it is totally uncapped.
The harder you work, the more you can earn…
And if that sounds good then you can even get started with it (or simply just learn more about it) for free over at Commission Academy.
But whatever you decide to do I just sincerely hope that my honest review of The Wealth Matrix here has given you a good insight into how the whole thing really works & I also hope it helped you to avoid it.
Feel free to leave any questions or comments below. 🙂
A Better Alternative
The sad truth is that unfortunately most of the programs promising to help you make money online are scams. I can say that confidently after exposing over 500+ of them here on this blog.
But the good news is that even though most of them are indeed scams, there are actually some very good programs in amongst them - some programs that can truly help you to earn money.
And out of all of the legit programs I've seen, the one I would recommend the most to anybody looking to get started online is Commission Academy. In my own opinion, that's the best place to start.
At Commission Academy, you'll be provided with everything you need (including the training & tools) to begin earning real money by promoting products or services for companies like Amazon online.
The best part is that there's literally no limit on the amount you can earn with it & the process is pretty simple which means that it's absolutely perfect for people that don't have much experience.
Some wealthy affiliates even earn as much as 5-figures per month... Or more!

I mean don't get me wrong, that kind of money won't just fall into your lap without doing any work... But the harder you're willing to work at it, the more you stand to earn with it.
So if you're looking to get started but don't know which route you should go down or which program you should join (and don't want to waste money on bogus things that don't actually work), then I'd highly recommend checking out Commission Academy first. You can learn more about it here.