A so-called ex-employee of a company named Agora Financial named Nate Rifkin has published what he claims to be The Ultimate Retirement Loophole through which he claims you can earn a guaranteed sum of at least $1,500 per month by exploiting a "secret" loophole.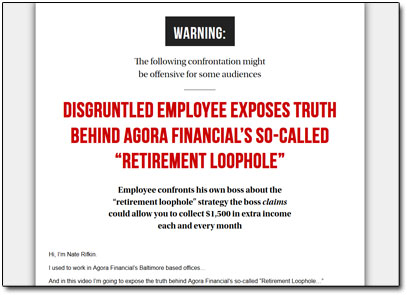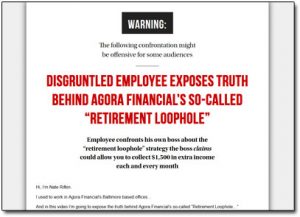 But what's the deal here?
Is it actually legit or is The Ultimate Retirement Loophole a scam?
Thankfully you've landed in the right place to find out because that's exactly what I'm going to be uncovering here in this review.
So if you've been thinking about signing up for access to this "loophole" then be sure to read this post right through because I'll be outlining whether or not it can really produce Income On Demand like our man Nate Rifkin claims it can.
What Is The Ultimate Retirement Loophole?   |   Income On Demand Review   |   Can You Make Money With It?   |   Is Agora Financial a Scam?   |   Is Ultimate Retirement Loophole a Scam?   |   A Better Alternative
What Is The Ultimate Retirement Loophole?
The Ultimate Retirement Loophole is a website that's recently launched claiming it has the answer to helping retirees generate guaranteed profits of at least $1,500 per month & it makes it seem pretty darn easy to do so too.
The website has been supposedly put together by a guy named Nate Rifkin who claims to be an ex-employee of a company called Agora Financial. Nate claims that he no longer works for Agora Financial because he was dismissed after confronting his boss about this said retirement loophole.
You're even warned at the start of the website that the transcript of the conversation he had may cause offence to some audiences…
However there's something that made me immediately sceptical about this whole thing, and that's the fact that this whole web page (on which Nate claims he "exposes" Agora Financial) is actually hosted on Agora Financial's company website.

So why on earth would Agora decide to host this information which they apparently (according to Nate) want to keep secret on their main company site?
It doesn't make sense…
Well, it didn't make sense until I realized what was really going on here…
The whole Ultimate Retirement Loophole website is a phoney. It's nothing but a huge long-winded, professionally created sales pitch to get you to buy into Agora Financial's trading program named Income On Demand.
Income On Demand, the program that they sell is supposedly the "loophole"… but the way they're selling you into it is completely fake. Is Nate Rifkin even a real person? I have no idea, but I do know that the story you're told by him is completely fabricated.
However it's clear that these guys have gone to a LOT of effort to create this sales letter, so what's the deal? Despite it being fake, is there actually any substance behind the program that they're selling you into (Income On Demand)?… Or is the whole thing just a scam?
Let's find out…
Income On Demand Review
Okay so it's now clear that the real program here is Income On Demand, as I've outlined above The Ultimate Retirement Loophole is nothing but a sales-pitch which ultimately pushes you into subscribing to the Income On Demand program.
But as you might have already found out the Income On Demand program is not cheap, not by means. The cost to sign up to it is $1,500 per year which is very expensive – however, if it really could generate you a guaranteed $1,500 then I'll admit it would be a wise expense. The question is, can it?
I took a closer look at it myself & here's what I found…
The Income On Demand program has been put together by a guy named Zach Scheidt. Zach is one of Agora Financial's editors & if you sign up to the program then Zach will apparently push profitable trades to your inbox each week. All you're said to need to do is copy them & you're led to believe that you can easily make money.
But until you buy into the program you're not presented with a great deal of information – you're not even told what type of trading you'll be participating in which is very worrying indeed, especially when they're asking you to hand over such a large sum of cash.
Thankfully by doing some digging, I managed to find out how it works, and it actually revolves around binary options trading. At this point, in my opinion, I began leaning towards the program being a scam, the reason for that being the fact that options trading is VERY bad news & generally (from my experience) it only ever seems to be rogue programs that associate themselves with it.
I've reviewed literally hundreds of options trading systems over the years & I haven't been able to say a single good thing about any of them, that should highlight just how bad this particular means of trading is.
But of course, Zach Scheidt claims that his method WILL guarantee you profits – so what's his method?
He claims his method involves selling options rather than paying money to buy them, he claims that this is why he is able to guarantee profits. Sadly though this is no more than a bit of almost convincing spiel.
Take it from me that nobody can ever guarantee profits in trading & if they do then you should become very sceptical indeed. I'm serious here, it is absolutely not possible to guarantee profits because there is no way you can undeniably guarantee which way the market will go.
Anyway, long story short Zach's method is selling naked put options.
So does it work? Let's take a look…
Can You Really Make Money With Income On Demand?
I will admit that it is indeed possible to make money by selling put options, but it does not come without risk – in fact, overall it is actually one of the riskiest forms of trading there is… It's certainly a good way to lose money.
I decided to swat up on the subject to see if there really was any way that you could make it profitable. I came across an interesting article on Investopedia which talks about the tremendous risk involved.
Here is the snippet from that article that I wish to point your attention to:
Trading naked options can be attractive when considering the number of potential winning trades versus losing trades. However, do not be taken in by the lure of easy money, because there is no such thing. There is a tremendous amount of risk exposure when trading in this manner, and the risk often outweighs the reward.
Essentially this is like classic binary options trading – it's made to look easy, it's made to look like you're in control but the reality here is that the risk is far greater & you're not really in control like you think you are.
In my opinion, it seems they've merely picked this method of trading because it fits in with all the spiel they've pitched you prior… It basically almost seems like it could work, but in reality, it probably doesn't. My opinion is that they're more interested in getting the $1,500 from you which they claim is refundable, albeit except $150 of it which they state they will keep preventing people from just trying out the program & claiming a refund (or as they put it "to stop the deadbeats signing up").
I am really leaning towards thinking that there is a scam going on here, and because of that, I decided to do further due diligence.
I looked up the company Agora Financial to see what other people had to say about the program since they promise guaranteed profits of $1,500 per month I expected to see nothing but praise however instead I was presented with this: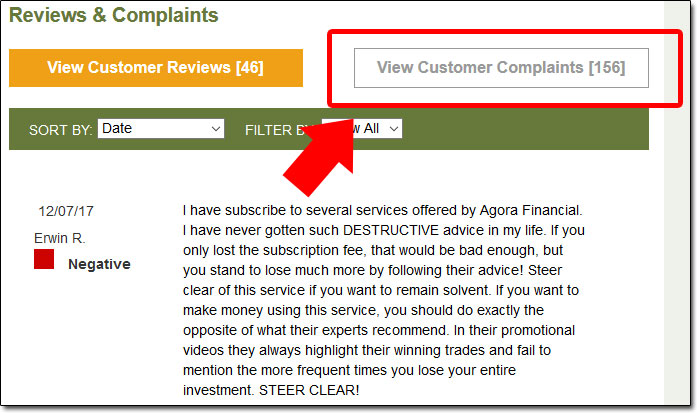 Complaint upon complaint upon complaint… 156 of them to be precise. You can read more of them on the BBB website.
Basically, it became pretty obvious here that Agora Financial does not seem to be delivering on their promises. In fact, after reading through several of the customer reviews it seems more likely that they are merely attempting to swindle retirees out of hefty subscription fees.
You Might Also Like:
Is Agora Financial a Scam?
Since I have not tried any of their products out myself I cannot personally say for sure whether Agora Financial is a scam, however, what I can say is that going from the many customer reviews I have come across their practices certainly seem very questionable.
Some of the complaints include:
Agora Financial not refunding payments or subscription fees
Agora Financial giving bad trading advice which is resulting in losses
Agora Financial not living up to their promises
On one particular website the company has only 4 positive reviews out of 46. 1 is neutral but the rest are negative, and when I say negative I mean they are very negative. On top of that on the same website, there are a whopping 156 complaints.
Out of all of the companies I've looked into on this blog, even several that I've proved to be 100% scams I don't think I have ever seen this level of negative reviews & complaints. It speaks volumes in my opinion.
Is Ultimate Retirement Loophole a Scam?
Well firstly let me just re-clarify the fact that The Ultimate Retirement Loophole, Income On Demand & Agora Financial are all basically the same thing. Income On Demand is the "product", Agora Financial is the company selling it & The Ultimate Retirement Loophole is the sales page that attempts to convince you into buying it.
In my opinion, this whole thing looks like bad news. Whilst Income On Demand seems to be one of the latest products from Agora Financial it's clear from their website that they have several more – all of which have been called scams on several review sites.
Many have come to the conclusion that Agora has been set up purely in an attempt to part retirees with their cash.
It is a bold conclusion but I myself am leaning towards agreeing with it – I certainly wouldn't advise you invest any money into Agora or buy into any of their programs. If you really want to build a legitimate retirement income or boost one then there are programs you can join for free, such as Commission Academy for example. In my opinion, something like that would also prove to be far more lucrative.
Trading carries a LOT of risks, trading off the back of someone else's advice often carries a lot more risk – and trading off the back of the advice from a company which has over 156 complaints is just asking for trouble.
My opinion? Avoid Agora Financial.
Feel free to leave a comment below to share your thoughts or any questions you might have if you have any.
A Better Alternative
The sad truth is that unfortunately most of the programs promising to help you make money online are scams. I can say that confidently after exposing over 500+ of them here on this blog.
But the good news is that even though most of them are indeed scams, there are actually some very good programs in amongst them - some programs that can truly help you to earn money.
And out of all of the legit programs I've seen, the one I would recommend the most to anybody looking to get started online is Commission Academy. In my own opinion, that's the best place to start.
At Commission Academy, you'll be provided with everything you need (including the training & tools) to begin earning real money by promoting products or services for companies like Amazon online.
The best part is that there's literally no limit on the amount you can earn with it & the process is pretty simple which means that it's absolutely perfect for people that don't have much experience.
Some wealthy affiliates even earn as much as 5-figures per month... Or more!

I mean don't get me wrong, that kind of money won't just fall into your lap without doing any work... But the harder you're willing to work at it, the more you stand to earn with it.
So if you're looking to get started but don't know which route you should go down or which program you should join (and don't want to waste money on bogus things that don't actually work), then I'd highly recommend checking out Commission Academy first. You can learn more about it here.