In this review I'll be taking a closer look at the health & wellness company Valentus, revealing all the details about the business to help you determine whether or not the Valentus income opportunity is a good match for you.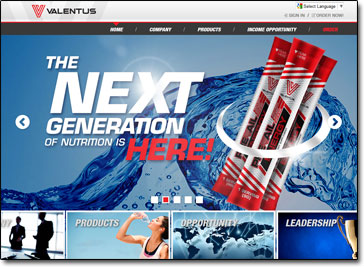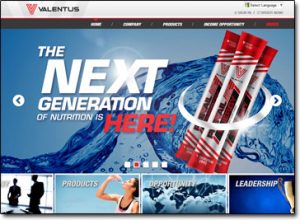 So if you've happened to come across Valentus & you're a little undecided as to whether or not it's an opportunity you should get involved with then you can rest assured that you've landed in the right place to find out as I'll be sharing everything you need to know.
And it's also worth mentioning that I'm not affiliated with Valentus so you can also rest assured that you'll be getting the honest truth about the company as opposed to biased information written by another distributor who's only interested in getting you to join so that they can earn themselves a commission.
What Is Valentus?   |   The Business Opportunity   |   The Valentus Compensation Plan   |   My Final Verdict?   |   A Better Alternative
What Is Valentus?
Valentus is a health & wellness network marketing company that was originally launched back in 2014 by a guy named Dave Jordan. To this very date, Dave is still the CEO of the company & the company is still going strong.
Prior to launching Valentus Dave had already found success in various other network marketing companies & therefore it's fair to say that in terms of a business opportunity he should have a good idea of what to bring to the table.
Valentus' product range consists of a number of various supplements which are designed to help you meet whatever goal it is you're aiming to achieve, such as losing weight, increasing energy, etc… They sell their products singularly but also sell them in bundles too which they call "Lifestyle Plans".

Apart from their PrevailMAX product which is a spray to be sprayed into your mouth, the rest of their products all come in powder form so you're simply required to add water & then you're good to go.
Now I'm not going to go into too much specific detail on each of the products because this has already been covered well on the Valentus website but one thing I did notice is that you seem to be only able to purchase products through a Valentus distributor.
I don't like network marketing companies at the best of times, but ones that force you to purchase through a distributor I like even less. This just screams to me that you're going to be charged over-the-odds so that the distributor (and his/her upline) can enjoy a nice commission at your expense as a customer.
It also screams out to me that the company is putting more of a focus on the opportunity as opposed to the product, which is definitely a big no-no when it comes to network marketing. In fact, the balance of retail sales is the only thing that separates a network marketing company from being classed as a pyramid scheme.
Anyway, let's go ahead & take a look at the Valentus business opportunity…
The Valentus Business Opportunity Explained
As we've spoken about already, Valentus is a network marketing company. This means that you can earn commissions by reselling the products yourself as a distributor but you can also earn a percentage of the commissions earned by other people you've recruited into the business if they then go on to promote the products themselves.
And you can earn these commissions on infinite levels through your downline – so, for example, you earn commissions on the people you recruit in the business, then you earn commissions on the people they recruit and the people they recruit etc…
You know, that type of pyramid-shaped compensation plan that's typical throughout the network marketing industry? The one that very few people actually manage to make any profit through & instead just see themselves spending money trying to chase money… Yeah, that.
Okay okay, it's fair to say I REALLY don't like network marketing, but if you do (are you crazy??) you'll probably want to see the compensation plan so here it is…
The Valentus Compensation Plan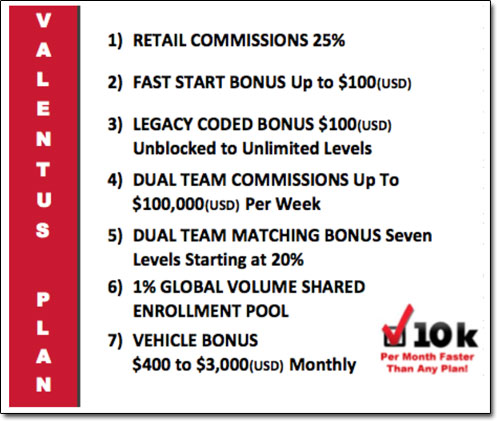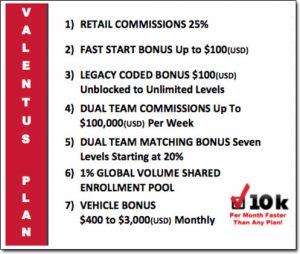 First things first let me tell you that the Valentus compensation plan is complicated. Very complicated!
You have the opportunity to earn through 4 different pay plans & on top of that they offer 7 of what they call "Power Bonuses".
You'll get 25% commissions on retail sales & you'll get up to $100 in Fast Start bonus. The fast start bonus will depend on what package is ordered – it costs a minimum of $59.95 to get started with the opportunity (plus $20 website activation fee) which pays out the minimum $20 Fast Start bonus.
For you to get the full $100 Fast Start bonus the Business Builder package will need to be ordered which consists of 16 boxes of product & sets you back $499.95 (and again the website activation fee is still an additional $20).
Then they offer binary commissions up to $100,000 per week and depending on the volume you produce you could become eligible for a car bonus which will see you receiving monthly payments of $400 to $3,000 towards a car of choice.
Apart from that, the compensation plan is just complete mambo-jumbo, why on earth these network marketing companies have to put together such crazy ways to earn I have absolutely no idea. What's wrong with just a nice easy fixed percentage on the sales?
You Might Also Like:
Should You Join Valentus? My Final Verdict
To be honest, I wouldn't recommend you join anything to do with network marketing, but if you are specifically looking for a network marketing opportunity then Valentus still wouldn't be my first recommendation.
I mean credit where it's due, Valentus does have a genuine product line which is something I suppose, but in my opinion, their products are overpriced & they don't have any real unique selling points to make up for it which means as a distributor they're going to be hard to sell.
And on top of the products being hard to sell, I think the opportunity is going to be hard to sell too because their compensation plan is just crazy – good luck explaining that to your new recruits because even I had a hard job getting my head around it.
So, all in all, I don't think Valentus is an opportunity I can recommend to you as I believe it will see you spending much more money than you will ever make, especially since in traditional network marketing fashion you have to keep purchasing products to keep yourself qualified in the program if you're not making sales.
A Better Alternative
The sad truth is that unfortunately most of the programs promising to help you make money online are scams. I can say that confidently after exposing over 500+ of them here on this blog.
But the good news is that even though most of them are indeed scams, there are actually some very good programs in amongst them - some programs that can truly help you to earn money.
And out of all of the legit programs I've seen, the one I would recommend the most to anybody looking to get started online is Commission Academy. In my own opinion, that's the best place to start.
At Commission Academy, you'll be provided with everything you need (including the training & tools) to begin earning real money by promoting products or services for companies like Amazon online.
The best part is that there's literally no limit on the amount you can earn with it & the process is pretty simple which means that it's absolutely perfect for people that don't have much experience.
Some wealthy affiliates even earn as much as 5-figures per month... Or more!

I mean don't get me wrong, that kind of money won't just fall into your lap without doing any work... But the harder you're willing to work at it, the more you stand to earn with it.
So if you're looking to get started but don't know which route you should go down or which program you should join (and don't want to waste money on bogus things that don't actually work), then I'd highly recommend checking out Commission Academy first. You can learn more about it here.