The Viral Traffic Machine system claims that it can provide you with viral traffic which can allegedly see you beginning to generate sales in your online business within just minutes of "powering it up".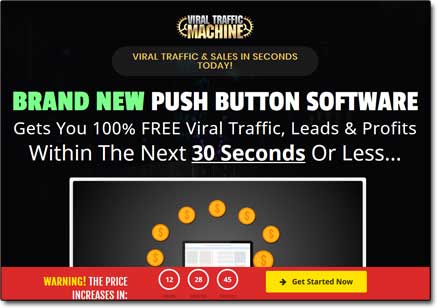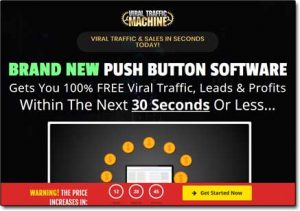 You're led to believe that this so-called "push button software" will generate you 100% free viral traffic, leads & profits which would obviously be perfect for any online business owner…
But what's the catch? Is it actually legit or is Viral Traffic Machine a scam that'll take your money but fail to deliver on its promises?
No doubt you're likely thinking it's the latter & I don't blame you, but thankfully you've landed in the right place to find out for certain as I've taken a closer look into how it works & in this review I'll be uncovering everything you need to know.
What Is Viral Traffic Machine?   |   How Does Viral Traffic Machine Work?   |   The Lack of Viral Traffic   |    Is Viral Traffic Machine a Scam?   |   A Better Alternative
What Is Viral Traffic Machine?
There's one thing any online business owner needs to find success & that's traffic, which is exactly what the Viral Traffic Machine claims to provide. Without traffic, an online business will flat out fail – no ifs or buts, so it comes without saying that there are a LOT of people out there desperately seeking traffic.
And at a glance, the Viral Traffic Machine seems like the perfect solution. In fact, upon landing on the Viral Traffic Machine website you may think that it's something that could help you to potentially get rich…
After all, they promise that it'll begin generating you traffic within just 30 seconds & they also even guarantee that it'll generate you "boatloads of sales".


You're told that all you need to do is literally follow 3 simple steps & that the whole things 100% newbie-friendly… So you might be thinking WOW, a dream come true.
But unfortunately though in reality the Viral Traffic Machine isn't a dream come true, and despite the creator branding it as being some "never released traffic & profit getting software" it's actually nothing new at all.
It's certainly nothing exciting either!
So sadly right from the off, I'm going to tell you not to get your hopes up about this new system because it's not what it seems, and you'll soon see that first hand for yourself when I explain how it all works below.
How Does Viral Traffic Machine Work?
Okay so the official steps according to the Viral Traffic Machine are as follows:
Login To The Cloud-Based Software
Blast Out Image Content With Your Affiliate Link
Sit Back And Enjoy Easy $125+ Daily Paydays
And here's a screenshot of those exact steps that I've just listed above exactly as they're shown on the site:


It sounds great right? The program sounds super easy & "blasting out" your content sounds like a fantastic way to get traffic…
What's more, is that this software which can allegedly enable you to enjoy "easy $125 daily paydays" is available for just a mere $17.
Absolute bargain huh?
Well, I'm sorry but it's time for a reality check here…
Firstly if there was actually such software that could generate you traffic so easily it would certainly cost a LOT more than $17 – and to be honest it would be unlikely that anybody would ever sell such a thing because it would make more sense for them to generate the traffic themselves & sell it by the click.
So as you can probably now guess the Viral Traffic Machine doesn't actually work as promised – and you'll probably be shocked when I tell you how it really works.
Ready for it?
Okay so, in reality, all the Viral Traffic Machine system actually does is enable you to publish a post to multiple social network accounts in 1 go – without you having to visit each website directly.
So let's say you have a LinkedIn, Twitter & Tumblr account… Rather than visiting each site & manually posting an image on each one, you can link all of your accounts up to the Viral Traffic Machine & if you create the post via "the machine" it will then automatically post it on each of the sites you've linked on your behalf.
It's nothing special & it's nothing new… In fact, there are plenty of sites already offering such a service such as Hootsuite & Buffer.
You Might Also Like:
There Is No "Viral Traffic"…
The only thing the Viral Traffic Machine does is post content to your own social media accounts – other than that it does absolutely nothing special at all.
So let's say you only have 100 followers on Linkedin or Twitter… If you use the Viral Traffic Machine to publish content your content will still only be getting viewed by those 100 followers. The Viral Traffic Machine doesn't do anything to get it viewed by more people, it literally just publishes the content to your accounts & that's it.
Honestly, I've seen a lot of hyped-up sales pages in my time for various different make-money related systems but this one is just something else. I'm actually shocked at what the difference is between what you're promised compared to what you get.
I mean don't get me wrong I appreciate that it's only $17, but come on – there's no need for the creators to flat out lie to us like that.
Which brings me onto…
Is Viral Traffic Machine a Scam?
Well the answer to that is no, it's not a scam because after all, you do indeed get access to a legitimate tool that will post to your social media accounts on your behalf… But at the same time, you are not getting what was promised either.
So basically whilst I am saying that it's not a scam, I am not going to be recommending it to you either because ultimately as far as I'm concerned I just feel like you're getting "tricked" into buying something that you'll find yourself disappointed with.
Maybe if they sold the tool for what it actually was I could have come to a different verdict, but as it is, being promoted as a "Viral Traffic Machine" it just totally doesn't live up to any of its claims.
If you really want to be able to generate solid traffic online then instead of wasting your time with hyped up systems like the Viral Traffic Machine I'd advise you to just try out a legitimate program like Commission Academy instead. It's there that you'll learn the proper ways of getting traffic online & you'll likely get much more use out of a program like that.
But anyway whatever you decide to do I just hope my review here gave you the insight you were looking for into this system & I also hope that it was able to help you save some money. Of course though if you do still happen to have any questions then don't hesitate to leave them below.
A Better Alternative
The sad truth is that unfortunately most of the programs promising to help you make money online are scams. I can say that confidently after exposing over 500+ of them here on this blog.
But the good news is that even though most of them are indeed scams, there are actually some very good programs in amongst them - some programs that can truly help you to earn money.
And out of all of the legit programs I've seen, the one I would recommend the most to anybody looking to get started online is Commission Academy. In my own opinion, that's the best place to start.
At Commission Academy, you'll be provided with everything you need (including the training & tools) to begin earning real money by promoting products or services for companies like Amazon online.
The best part is that there's literally no limit on the amount you can earn with it & the process is pretty simple which means that it's absolutely perfect for people that don't have much experience.
Some wealthy affiliates even earn as much as 5-figures per month... Or more!

I mean don't get me wrong, that kind of money won't just fall into your lap without doing any work... But the harder you're willing to work at it, the more you stand to earn with it.
So if you're looking to get started but don't know which route you should go down or which program you should join (and don't want to waste money on bogus things that don't actually work), then I'd highly recommend checking out Commission Academy first. You can learn more about it here.