In this review, I'm going to be taking a closer look at the Wealth Ascension System which is something that's been created by a guy named Matthew Neer & claims to be able to help you generate thousands of dollars online.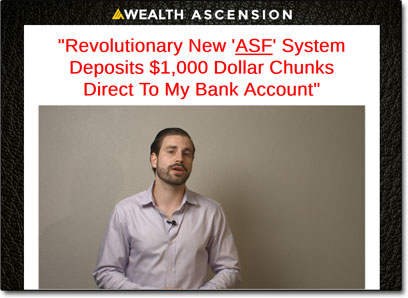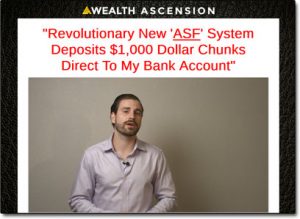 The system is built on what Matthew calls a revolutionary ascending sales funnel, but is it actually legit?
Or is the Wealth Ascension System just a scam that's out to part you with your hard-earned cash?
Well, you've landed in the right place to find out because I've personally taken a closer look into it & in this Wealth Ascension review I'll be uncovering everything you need to know.
What Is The Wealth Ascension System?   |   How Does The Ascending Sales Funnel Work?   |   Can You Make Money With It?   |   Is Wealth Ascension a Scam?   |   A Better Alternative
What Is The Wealth Ascension System?
As I briefly touched on above the Wealth Ascension System is one of Matthew Neer's latest creations, and I say latest because over the years Matthew has actually launched quite a lot of products like this online.
One of his other recent products was the Speed Wealth System.
So the first thing that I want to point out is that Matthew is indeed a real person, and I can personally confirm that he has had a lot of success online as he claims in the sales video for this system.
How do I know that? Well, I've been making a full-time income online for a few years myself & I've followed Matthew's journey over the years – he's definitely the real deal when it comes to online marketing.
And Matthew attributes the majority of his success to something he calls the ascending sales funnel, which is what the Wealth Ascension System is based around – hence the name.
Basically, Matthew is giving you the ability to be able to use the exact same funnel that he has personally used to generate upwards of 7 figures online… He's essentially claiming you can "duplicate" his results.
Inside the Wealth Ascension System, you'll get access to his sales funnel as promised & alongside that you'll get access to various training videos where he teaches you the best ways to promote the funnel.
He claims that the ascending sales funnel has been designed in a way so that you can't really fail – meaning even if you're completely new you should be able to send traffic (visitors) to it & make lots of money.
How Does The Ascending Sales Funnel Work?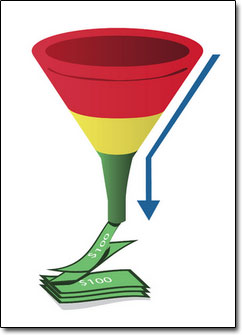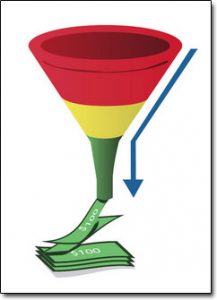 To be honest in reality the ascending sales funnel isn't anything revolutionary – it's actually something that's used by the majority of companies around the world, but don't get me wrong, it is effective.
The ascending sales funnel, as the name suggests basically ascends you into higher-priced products as you progress through – which is something that's commonly referred to as upselling.
Some people hate upsells, but generally, it's not the upsell that's the program – it's how you're upsold. The idea of the ascension sales funnel is to push people into purchasing them higher-priced products without them really knowing that they're being upsold (like a gentle nudge into higher & higher-priced products).
I have personally promoted ascending sales funnels in the past & the results where impressive because once somebody has already paid out for something they are much more likely to take out their credit card & buy something again, even if the next time around it's higher priced.
Basically (if done right) you're using the sales funnel to build trust with them so that by the time you come to offer them the higher-priced products they already believe in them & are ready to buy from you.
Can You Make Money With Wealth Ascension?
Okay so the concept of the sales funnel itself is proven, but can you really make money with Matthew Neer's Wealth Ascension System? Well, the answer is that is kind of yes & no – let me explain…
The Wealth Ascension System is designed to sell Matthew Neer's other products, such as the Speed Wealth System, meaning you don't need to have any products of your own – you can earn commissions on his.
The commissions you'll earn on the sales of the products will range between 50% all the way up to 100%, so from a compensation plan point of view, the opportunity is fairly lucrative.
However the promoting of the funnel will be left down to you, and this is where things get a little more difficult. Matthew does give you some training inside the Wealth Ascension System but it's heavily geared towards using paid traffic (such as Facebook advertising).
Whilst Matthew claims the Wealth Ascension System converts cold traffic into paying customers the problem is that getting the "right" traffic can take quite a lot of trial & error (meaning quite a lot of money).
So whilst you can potentially make money by promoting Matthew's sale funnel, ultimately it's not guaranteed – and to be honest the training found inside isn't the greatest training in the world.
You Might Also Like:
Is Wealth Ascension a Scam?
Well, it's certainly not a scam, but at the same time, I'd hardly say it's the best thing you could spend your $24.95 on – in my opinion, there are much better places to get started online, such as Commission Academy.
Matthew's products have a bit of a reputation of just being "okay", they're not scams but at the same time, they're not the most helpful products in the world (and are a little bit hyped-up).
I'd say that's probably the verdict I'd arrive with this Wealthy Ascension System too – that it's just "okay". But with it being quite hyped-up people will always buy this kind of stuff due to "shiny object syndrome".
However at the end of the day it's only $24.95 so you can hardly expect the world for that kind of money – but just remember Matthew works on an ascension sales funnel so expect to be sold into higher things. ?
Anyway overall as above my verdict for this program is going to be that it's "okay", but I'm not going to be recommending it to you because I believe there are better places for you to get started.
A Better Alternative
The sad truth is that unfortunately most of the programs promising to help you make money online are scams. I can say that confidently after exposing over 500+ of them here on this blog.
But the good news is that even though most of them are indeed scams, there are actually some very good programs in amongst them - some programs that can truly help you to earn money.
And out of all of the legit programs I've seen, the one I would recommend the most to anybody looking to get started online is Commission Academy. In my own opinion, that's the best place to start.
At Commission Academy, you'll be provided with everything you need (including the training & tools) to begin earning real money by promoting products or services for companies like Amazon online.
The best part is that there's literally no limit on the amount you can earn with it & the process is pretty simple which means that it's absolutely perfect for people that don't have much experience.
Some wealthy affiliates even earn as much as 5-figures per month... Or more!

I mean don't get me wrong, that kind of money won't just fall into your lap without doing any work... But the harder you're willing to work at it, the more you stand to earn with it.
So if you're looking to get started but don't know which route you should go down or which program you should join (and don't want to waste money on bogus things that don't actually work), then I'd highly recommend checking out Commission Academy first. You can learn more about it here.