The Speed Wealth system is something that's been recently launched by a guy named Matthew Neer & it claims to be a 100% "done-for-you" system that closes sales for you & sends you all the commissions.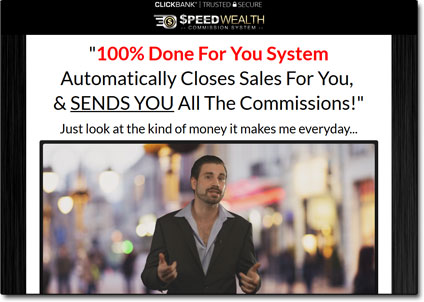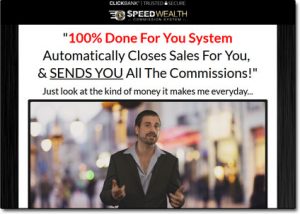 Essentially you're led to believe that you can just plug into the system & begin making money without really doing anything, but it is actually legit?
Or is Speed Wealth a scam that will only part you with your cash?
That's exactly what I'm going to be uncovering right here in this Speed Wealth review which means if you've been thinking about signing up to it then you can rest assured that you've landed in the right place to find everything you need to know about it before you do.
What Is Speed Wealth?   |   How Does Speed Wealth Work?   |   The Affiliate Program   |   Is Speed Wealth a Scam?   |   A Better Alternative
What Is Speed Wealth?
Basically, the Speed Wealth system is claiming to be a "done-for-you" online business, so Matthew is claiming to have taken away the need for you to build a website, a sales funnel & all of the other jazz that comes with developing a business online.
Instead, you're basically told that the only thing you need to focus on to make money with the Speed Wealth system is traffic, and there are several training videos inside of the system that shows you how to get it.
But Matthew stresses that the methods he teaches you to get that traffic don't involve any SEO, social media marketing or anything like that. He claims the Speed Wealth system has been designed around the exact automated sales funnel that he's personally used over the years to generate 7 figures online which he names the "ascending sales funnel".
And when it comes to Matthew's claims, one thing I do want to stress is that unlike we've seen with many of the other systems I've reviewed which merely use fake actors, in this instance Matthew Neer is the real deal.
He's launched several products prior to this one (with one of his most popular being Operation 10K) and it's clear that he has had genuine success online & earned a substantial amount of money over the years.
But is the Speed Wealth system worth your time (or money)? Let's take a look…
How Does Speed Wealth Work?
To get access into the Speed Wealth system you'll first need to pay the initial joining fee of $47 (which is actually discounted by $20 to $27 if you try & exit the page before you enter your details).
This fee alone will get you inside, but it's important to note that on top of the initial joining fee you'll be charged an additional $19.95 per month if you wish to maintain access to the system after the first month.

Inside the member's area, you'll find that you'll be given access to a 5 step fast start guide which explains how you can make money online & shows you how the system (the ascending sales funnel) is supposed to work.
You'll also get access to the "ascending sales funnel" that Matthew has created & you'll be able to earn money by referring people to it as an affiliate. There's a series of videos in which Matthew explains his traffic-getting strategies which you can use to send people to the sales funnel.
Sadly though I feel that the initial product itself is quite lacking in content & that instead "the good stuff" is hidden away in upsells which in total could see you spending around $500 on top of your initial $47.
The reassuring thing though is that the product is sold through ClickBank which has a reputable 60-day refund policy so if you buy into the program & find you don't like it then you'll be glad to know you should have a pretty good chance at getting your $47 back.
However, be aware that the 60-day refund policy only applies to the initial $47 payment (or the $27 discounted payment) and not the subsequent monthly payments or payments for upsells – those won't be refunded.
The Speed Wealth Affiliate Program
Whilst you can buy into the Speed Wealth program & get access to what Matthew calls his "ascending sales funnel", you can also promote the Speed Wealth system itself as an affiliate through ClickBank.
Matthew is paying out whopping 50% commissions on sales of the Speed Wealth system & that even includes the several upsells inside & the recurring monthly payments too, a pretty lucrative program.
Overall the Speed Wealth affiliate program could see you earning around $250 off the bat (from the initial fee & upsells) then around $10 per month for every member you refer for as long as they stay subscribed.
You Might Also Like:
Is Speed Wealth a Scam?
In my opinion, no Speed Wealth isn't a scam, however, there are a few little things that I don't like about it. The first one is the fact that the whole thing is based around "speed & ease".
I mean I know everyone wants to hear that they can make money quickly & easily, but the truth is that unless you're already an expert the chances are that it isn't really going to happen (or it's very unlikely anyway).
I appreciate that Matthew has done it to increase the conversions into his program but I think it will leave people disappointed when they find out that they can't make the money as quickly & easy as he promises.
Instead, rather than just plugging & making money like he makes out you'll be required to go through a training series to learn how to effectively market the product online & this involves some trial & error.
Don't get me wrong though you can definitely make money with his product – as you can by promoting the product itself through ClickBank & earning 50% commissions on each of its sales.
The other problem is that I feel like an awful lot of the content has been reserved for upsells. Sure, I know upsells are part of marketing – but I feel like it would have been much better if there were fewer upsells & more value put into the initial product itself. As it is at the moment I feel like the initial product is quite lacking – you're not left really feeling like you got that bang for your buck.
So whilst this is a genuine product & one that's been well put together by Matthew (who clearly knows his stuff) unfortunately it's not something I'm going to be recommending to you at this moment in time because of the things I've just mentioned above. In my opinion, a better product for you to start out with would be Commission Academy, where you don't actually need to pay anything upfront.
A Better Alternative
The sad truth is that unfortunately most of the programs promising to help you make money online are scams. I can say that confidently after exposing over 500+ of them here on this blog.
But the good news is that even though most of them are indeed scams, there are actually some very good programs in amongst them - some programs that can truly help you to earn money.
And out of all of the legit programs I've seen, the one I would recommend the most to anybody looking to get started online is Commission Academy. In my own opinion, that's the best place to start.
At Commission Academy, you'll be provided with everything you need (including the training & tools) to begin earning real money by promoting products or services for companies like Amazon online.
The best part is that there's literally no limit on the amount you can earn with it & the process is pretty simple which means that it's absolutely perfect for people that don't have much experience.
Some wealthy affiliates even earn as much as 5-figures per month... Or more!


I mean don't get me wrong, that kind of money won't just fall into your lap without doing any work... But the harder you're willing to work at it, the more you stand to earn with it.
So if you're looking to get started but don't know which route you should go down or which program you should join (and don't want to waste money on bogus things that don't actually work), then I'd highly recommend checking out Commission Academy first. You can learn more about it here.