As you're probably aware I regularly review all sorts of different "money-making" opportunities on this blog, the majority of which tend to be various online opportunities such as binary options trading, and internet marketing "systems".
However I recently came across a multi-level marketing opportunity named World Ventures – and whilst it's something that's slightly different to the types of things I normally review it's an opportunity that seems to be gathering a LOT of interest online so I figured I'd set some time aside to check it out.
Especially since there seems to be a lot of negative criticism about it, which includes some people branding it a flat out scam.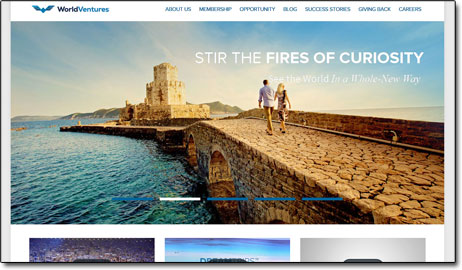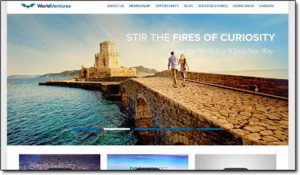 So in this review, I'm going to be uncovering all the details about the World Ventures opportunity & ultimately determining whether or not World Ventures is actually a scam – meaning that if you've been thinking about getting involved with the World Ventures business opportunity then you've landed in the right place to find out everything you need to know.
And it's also worth mentioning before I get started that I am not affiliated with World Ventures in any way shape or form.
The reason I want to make that absolutely clear is that a lot of the other reviews written about World Ventures have been written by affiliates (or "independent representatives" as WV like to call them), meaning that their reviews often contain biased information as their main goal is to get you to sign up so they can earn themselves money.
What Is World Ventures?   |   How Does World Ventures Work?   |   Can You Actually Make Money With World Ventures?   |   Is World Ventures a Scam?   |   A Better Alternative
What Is World Ventures?
World Ventures claims to be something that can provide you with fun, freedom & fulfilment. It's a network marketing opportunity (also known as multi-level marketing or direct sales opportunities) within the travel niche & gives you the opportunity to earn extra money from home by fixing people up with "luxury getaways", supposedly at massively cut-prices.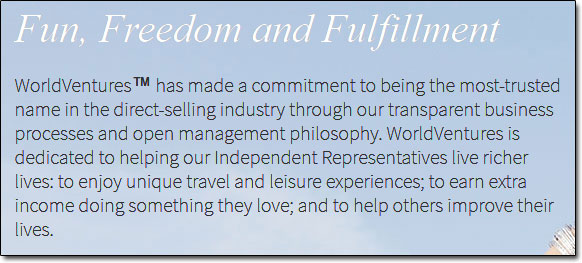 To get access to these cut-prices you need to become a member of World Ventures & there are various different membership packages that they offer. As far as I'm aware you can purchase the membership packages without becoming involved in the opportunity, however, if you do so you'll be heavily pushed into then going on to join the business opportunity & promoting the packages onto other people.
One of the things World Ventures (like many other MLM companies) has come under scrutiny for is for putting too much emphasis on the money-making side of things as opposed to the actual products/benefits of the membership packages themselves.
Basically, it seems to have become a "join this and you can make money" type company as opposed to a "join this because the product is amazing" company.
This is a big problem because this is when a company begins to fall within pyramid/ponzi scheme territory. Now, I'm not saying that World Ventures IS either of those 2 things, I'm just saying that you've got to approach these types of companies carefully because you could very easily get caught out and end up becoming a part of something illegal.
However, World Ventures was launched in 2005 which means they've been in operation for over 12 years. That's a LONG term for MLM company standards so I guess they must be doing something right-ish.
Most MLM companies bite the dust after 1 or 2 years (if they even manage to survive for that long).
How Does World Ventures Work?
Okay, we now know that World Ventures can supposedly get us cheap holiday deals, and we now also know that we can potentially make extra money by sharing these deals with others… but how exactly does it all work?
Well firstly let me run you through the 2 membership options within World Ventures;
Firstly there's the Gold Membership which costs $200 (plus a recurring fee of $50 per month)
Then there's the Platinum Membership which costs $300 (plus a recurring fee of $100 per month)
So this means you'll be paying around $800 to $1,500 per year to access their "cut-price" deals… So their deals must be awesome right?
Well, not quite…
Firstly it's worth pointing out that their deals do not include flights – so whatever price you get quoted for a getaway you will then have to factor in the cost of your flights on top of it too. However, as an example according to their brochure you could get a 2 night stay in London for a $309 per person – which would apparently be saving you $75.
So let me just reiterate that that's $309 per person without flights, and that's supposedly a "cut-price" deal. Not forgetting that in order to access that deal you'd have had to have paid at least $250 to become a WV member in the first place.
Which means if the price has only been cut by $75 we've technically overpaid for the holiday by $175!
But Here's The Deal…
World Ventures kinda realize that the price is pretty steep, so thankfully (and I use the word thankfully loosely) they have a way for you to get around it…
All you need to do (according to their website) is tell four friends about the business opportunity – then when they become members like you (and keep an active recurring membership) you won't have to pay any fees any more… Unless of course one of your referrals stops paying their fees, then you'll have to start paying again until you can get 4 active subscribers.
You'll also be offered additional benefits based on the number of new members you bring in, such as higher commissions & one-time bonuses.
So it's clear that there's a heavy push on recruiting, and it's also clear that as just a customer of World Ventures you'll be heavily pushed towards joining the opportunity & promoting it onto other people.
Can You Actually Make Money With World Ventures?
The answer to this is a bit of a yes & a no – you see it's certainly possible to make money with World Ventures, but like with most network marketing opportunities the chances of you finding success are slim to none.
So yes you can make money – but know that you probably won't. In fact, when it comes to network marketing most people actually end up investing more than they make so technically they end up not just making money, but finding themselves out of pocket too.
To back this up I took a look at their income disclosure statement which was published in 2015. It clearly showed that 77.76% of their reps (affiliates) did not make a single commission during that year. Of the 22.24% that did the average earned was only around $150 which is way less than the initial investment required to get started.
Pretty shocking stuff I think you'll agree – but unfortunately, these kind of stats aren't uncommon throughout the MLM/network marketing industry which is why I'm generally against the concept myself.
You Might Also Like:
Is World Ventures a Scam?
World Ventures attracts a lot of people because it claims to offer the things people desire most – time freedom, money freedom & location freedom. However, unfortunately, I just don't feel it delivers the goods.
At a glance, it looks enticing, and when you get one of the "independent representatives" giving you the nudge to join it may be enough to make you take the plunge – but in reality, it's nothing but hype. As the income disclosure clearly shows only a very small minority of people inside of WV are making money – the rest are just funding their paychecks.
So to put it simply in my opinion the World Ventures opportunity sucks & it doesn't appear that their "cut-price discounts" aren't any better either. I can quite easily see why so many people are scrutinizing the company as it looks to me it's become a bit more of a "scheme" than a luxury travel program but again that's just my opinion.
Therefore with all that being said World Ventures & its opportunity will be getting a thumbs down from me & I won't be recommending it as something for you to join as the risk just seems far too great. You'll be spending money quicker than you can make it & you'll probably find yourself falling into the red chasing your first commission.
It might seem like I've been a little harsh on the company but I just like to give people the real truth so that they can make an informed decision about what they're getting involved with. If you have any comments or questions feel free to leave them below & I'll do my best to respond as quickly as possible. In the meantime take it easy & thanks for reading – you're awesome for stopping by.
A Better Alternative
The sad truth is that unfortunately most of the programs promising to help you make money online are scams. I can say that confidently after exposing over 500+ of them here on this blog.
But the good news is that even though most of them are indeed scams, there are actually some very good programs in amongst them - some programs that can truly help you to earn money.
And out of all of the legit programs I've seen, the one I would recommend the most to anybody looking to get started online is Commission Academy. In my own opinion, that's the best place to start.
At Commission Academy, you'll be provided with everything you need (including the training & tools) to begin earning real money by promoting products or services for companies like Amazon online.
The best part is that there's literally no limit on the amount you can earn with it & the process is pretty simple which means that it's absolutely perfect for people that don't have much experience.
Some wealthy affiliates even earn as much as 5-figures per month... Or more!

I mean don't get me wrong, that kind of money won't just fall into your lap without doing any work... But the harder you're willing to work at it, the more you stand to earn with it.
So if you're looking to get started but don't know which route you should go down or which program you should join (and don't want to waste money on bogus things that don't actually work), then I'd highly recommend checking out Commission Academy first. You can learn more about it here.