Yoonla is actually something I came across back in 2016 but it's recently started gaining popularity so I've decided to take a closer look at it to find out what it's all about & whether or not it can really help you create a "digital lifestyle" as it claims it can.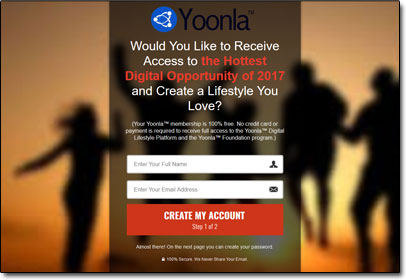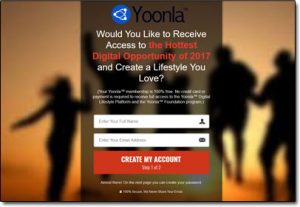 Unlike many of the other make-money programs that I review on this blog Yoonla claims to be completely free, but is it legit? Or is Yoonla a scam that's somehow out to sneakily part you with your cash?
That's exactly what I'm going to be finding out right here in this Yoonla review where I'll be uncovering what it's all about, how it actually works & whether you can really make money with it – so basically if you've been thinking about joining Yoonla then you can rest assured that you've landed in exactly the right place to find out everything you need to know about it before you do.
What Is Yoonla?   |   The Yoonla Business Opportunity   |   Is Yoonla a Scam?   |   A Better Alternative
What Is Yoonla?
As I briefly touched on above Yoonla was a program that was originally launched back in 2016 by a guy named Reno Van Boven – a guy has that has found quite substantial success through online marketing.
He has released a few other programs prior to releasing Yoonla but it's clear to me that Yoonla has been his most popular venture yet, through which he teaches methods of making money named CPA & affiliate marketing.
You may have already heard of CPA & affiliate marketing as they're popular ways of making money online (and in my opinion the best ways) but just in case you haven't, here's a quick rundown:
CPA Marketing – this stands for Cost Per Action & basically through CPA marketing you earn money by referring people to websites & getting them to complete actions such as filling in surveys, watching videos or even just submitting their email. It's fairly straight forward & providing they complete the action you get paid.
Affiliate Marketing – this is similar to CPA marketing in the sense that you still refer people to 3rd party websites, but through affiliate marketing, you get paid commissions on sales instead of actions – so if you refer somebody & they purchase something then you'll get paid a percentage or fixed amount in return.
Affiliate marketing is how I personally generate an income online & I've done well with CPA in the past too so I can definitely confirm that they're two excellent methods of making money & are good to learn.
To date the best place I've found for new people to learn affiliate marketing is Commission Academy – it's a free-to-join website that takes you right through the process & gives you everything you need to get started.
Anyway, let's take a closer look at Yoonla & find out what's inside…
How Does Yoonla Work?
To be honest the training inside of Yoonla is actually fairly good & unlike most other programs out there it actually teaches you how to set up your own website – but there is one downfall that I'll touch on in a moment.
Signing up to Yoonla is as they state, completely free & once you're logged in you'll be taken to a page which looks similar to the one I've screenshot below where you'll be taken through a series of steps: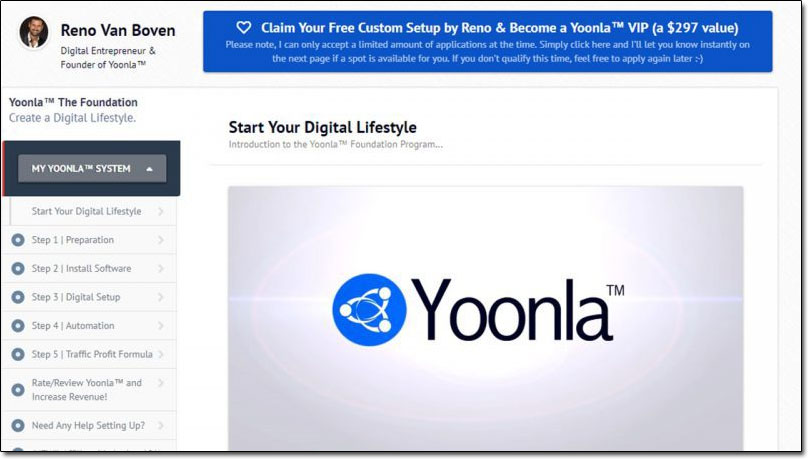 Firstly you'll be introduced to the Yoonla system & the concept of CPA/affiliate marketing through the Preparation module, then you'll be able to progress through the additional lessons where you'll learn how to get started setting everything up.
The only one thing I have to say about the Preparation module is that in my opinion, it's overly hyped-up, as you're kinda let to believe that making lot's of money is almost very easy, which it's not.
I have every bit of confidence in the methods Reno Van Boven teaches – but money does not come without work.
Throughout the remainder of the training you'll learn the following things:
How to build an email list
How to build a website
How to build a high converting landing page
How to automate an email marketing campaign
How to get traffic
One good point is that if you're lazy then you'll be glad to know that you actually get done-for-content, so you get a "done-for-you" website that you can copy & also 3 "done-for-you" ebooks that you can use as lead magnets to get more people to sign up to your email list.
Though the downside to this is that copied content doesn't really tend to perform well (it's all about standing out online, not copying) & sadly whilst Yoonla is free you will be required to pay for some 3rd party products (like web hosting, email marketing tools etc) as unfortunately, Yoonla doesn't provide any actual tools, only training.
But hey what can you expect for free right?
So by the end of the training if you follow it right through you will have a website set up & from that website people will be able to sign up to your email list, then products will be promoted to them via email – that's the concept anyway.
Therefore in order to make money once you have everything set up you'll be required to get people to visit your website – this is generally the hardest part & sadly, in my opinion, this is where the training falls down.
Whilst the training inside of Yoonla touches on a few different traffic-getting methods there is a primary focus on solo ads which is basically where you pay money for somebody to send the link to your website out to their email list.
There are 2 problems with solo ads – firstly they are not very effective & secondly they require money, so ultimately to get the ball rolling with Yoonla you're going to be required to spend a fair bit of cash.
…and when it comes to solo ads you might not end up with anything to show for it.
You Might Also Like:
The Yoonla Business Opportunity
As you progress through the training one thing you'll quickly figure out is that Yoonla has their own business opportunity and that there's quite a strong push on getting you to promote Yoonla to others.
So whilst Yoonla does provide legitimate CPA/affiliate marketing training, it's kinda still one of those "learn how to make money but you actually make money by getting people to sign up to this learn how to make money" things…
But I don't mind it so much with Yoonla because they do actually provide legitimate training that you can then use to go on out & promote other things if you want to.
Though the Yoonla opportunity itself is actually pretty lucrative – they run a CPA scheme whereby you can earn between $2 and $4 literally just for getting people to sign up with their full name & email address.
They pay $4 for every signup you get from the UK, USA, Canada New Zealand, Singapore and Australia & $2 for anybody that signs up from anywhere else around the world which is pretty sweet indeed.
The reason they pay higher for those countries listed above is that generally, that's where higher-quality traffic comes from – which basically means people more likely to spend money.
The creator of Yoonla, Reno Van Boven, makes money whenever anybody signs up to the web hosting or email marketing tools that he recommends so he's paying more for the people that are more likely to sign up to them. Makes sense!
On top of that, there is also mention of additional products being added to the training process through which you will personally be able to earn affiliate commissions as well as the initial CPA commissions.
Is Yoonla a Scam?
Yoonla definitely isn't a scam – in fact lately all I've seen are scams like the Push Button System for example which are purely just out to part people with their cash so Yoonla is actually a breath of fresh air.
Whilst the training is potentially a little over-hyped, overall the quality is fairly high. The traffic module was a bit of a let down in my opinion but hey it's free to join right so I guess you can't really complain.
On the plus side though Yoonla offers awesome CPA payouts & I believe that if you're a CPA marketer looking for something to promote within the make-money niche then Yoonla could be the answer.
Whilst, as I mentioned above, the training for me personally isn't "complete" enough just yet I do still feel that on a promotion front it's a program you could promote with integrity as people signing up to it will definitely get some good value from the training that's in there at the moment.
So overall apart from the traffic training which is where I feel it falls down a little Yoonla is going to be getting a big thumbs up for me as Reno Van Boven is giving away a lot of value & it's totally free.
A Better Alternative
The sad truth is that unfortunately most of the programs promising to help you make money online are scams. I can say that confidently after exposing over 500+ of them here on this blog.
But the good news is that even though most of them are indeed scams, there are actually some very good programs in amongst them - some programs that can truly help you to earn money.
And out of all of the legit programs I've seen, the one I would recommend the most to anybody looking to get started online is Commission Academy. In my own opinion, that's the best place to start.
At Commission Academy, you'll be provided with everything you need (including the training & tools) to begin earning real money by promoting products or services for companies like Amazon online.
The best part is that there's literally no limit on the amount you can earn with it & the process is pretty simple which means that it's absolutely perfect for people that don't have much experience.
Some wealthy affiliates even earn as much as 5-figures per month... Or more!


I mean don't get me wrong, that kind of money won't just fall into your lap without doing any work... But the harder you're willing to work at it, the more you stand to earn with it.
So if you're looking to get started but don't know which route you should go down or which program you should join (and don't want to waste money on bogus things that don't actually work), then I'd highly recommend checking out Commission Academy first. You can learn more about it here.