The 10 Minute Paydays system (found at 10minutepaydays.co) claims that with just a mere 10 minutes of work per day it can see you banking up $5,000 & you're even told that you don't need any experience to get started.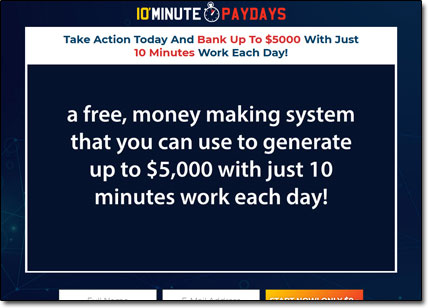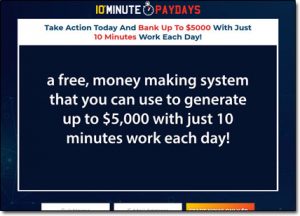 But is it really true?
Could a system really enable you to earn so much money in such little time, even if you're brand new?
Or is 10 Minute Paydays a scam that you should just be avoiding?
Well, in short, the saying "if it sounds too good to be true, it probably is" certainly applies to the 10 Minute Paydays system & in this honest 10 Minute Paydays review I'll be uncovering why you likely WON'T want to join.
What Is 10 Minute Paydays?   |   How Does 10 Minute Paydays Work?   |   Can You Make Money With It?   |   How To Get a Refund   |   Is 10 Minute Paydays a Scam?   |   A Better Alternative
What Is 10 Minute Paydays?
The 10 Minute Paydays system basically portrays itself as being some sort of almost entirely "done-for-you" system for making money online & you're led to believe that you can essentially just sign up & profit.
The system's unverifiable creator who goes by the name of Gregg Price claims that it is a "free money-making system for generating $5,000 per day".

He also claims it has helped dozens of people make hundreds of thousands of dollars in the past 30 days alone…
But what he doesn't do is explain how any of it actually works. Instead, he just tries to pressure you into handing over your cash in order to find out more, which I can tell you is a common trait of a get-rich-quick scam.
Plus he mentioned that the system was free, but it's not because in order to get started you have to hand over at least $9 (and then much more afterwards if you actually sign up & pay the $9).
So, does his system work?
Well in short no, not really – it certainly won't see you generating $5,000 with ease & to be honest it'll be unlikely that you'll find yourself earning so much as a single dollar with the 10 Minute Paydays system.
That's why the extremely small disclaimer on the system's website states that "the typical purchaser does not make any money with this system" as shown below:

And if you keep on reading I'll show you exactly what's really going on below & why you likely won't make any money with it (as well as how to get your money back if you've already signed up)…
How Does 10 Minute Paydays Work?
So basically the 10 Minute Paydays system is just another overhyped make-money system which has been built with the primary intention of making the creator wealthy at your expense, rather than actually helping you to make money.
In short, you're promised a great opportunity to make money, however then in order to find out more, you're asked to hand over some of your own cash… However the "great opportunity" doesn't materialise on the other side.
Instead, you're just given some "information" about a method of making money known as affiliate marketing – which is actually a great way to make money (and the same way I make most of my own money)…
However the big problem is that you're just told what it is, you're not actually shown how to do it.
And you can find out exactly what it is right here on this page which I've put together.
This means that basically you'll have an idea of how money is made online through affiliate marketing, but you won't have any idea how to get started with it – and nor will you have access to any of the tools needed.
If you really want to see good profits with affiliate marketing then you need the help of a legitimate training program like Commission Academy. You can join there for free & you'll be shown step-by-step how to get started.
Plus the other big problem is that the 10 Minute Paydays system makes everything seem so simple & easy. You're led to believe that you don't need to put in any work & that in just a mere 10 minutes you can make $5,000 but that's total BS.
Yes, affiliate marketing is actually pretty simple, however, it definitely takes work (like anything). The internet is great but it's not magical & you can't just expect to make so much money so easily… You need to put in the work to make it happen.
But like I said if you are indeed prepared to put in the work then you can get started over at Commission Academy & actually learn how to make money properly.
You Might Also Like:
Can You Make Any Money With It?
Well, the truth is that the method it is loosely based around (known as affiliate marketing) actually works – however like I mentioned in the previous section of this review they basically just tell you what to do, not how to do it.
So from a technical standpoint yes you could sign up & go on to make money, but it will be VERY unlikely that you do – hence why at the start of this review I pointed out what the disclaimer said (shown again below):

It reads that "the typical purchaser does not make any money using this system" which I think says it all really…
And that brings me onto…
How To Get a Refund From 10 Minute Paydays
If you've already signed up to 10 Minute Paydays then no doubt you want your money back – I know I would! And there's some good news here because it IS actually possible to get a refund…
However, 10 Minute Paydays do indeed try to make it difficult for you, because the support email they list on their website (support@10minutepaydays.co) doesn't even exist – as shown below:

So instead what you have to do in order to get a refund is to contact the merchant directly, which is ClickBetter (that's who the product is being sold through).
You can request the refund from ClickBetter on this page here.
Is 10 Minute Paydays a Scam?
Well "technically" it is not a scam as such since they do actually give you something in return for your money, however with that being said in my personal opinion it IS a scam because it has been launched purely so that the creators can make money at your expense.
They claim that you are going to make money fast & easily but that is just not going to happen. They're just saying that so you hand over your cash to "find out more" and then they're just cashing in at your expense.
The information they do provide to you is in my opinion simply nowhere near good enough to actually help you succeed. It basically just briefly explains affiliate marketing but doesn't show you how to get started with it.
If you really want to make good money with affiliate marketing you should just join a legitimate & proven program like Commission Academy instead. There's no point wasting money on over-hyped junk like the 10 Minute Paydays system.
And it comes without saying that I do NOT recommend it – I advise that you steer clear of it because if you sign up then you are just going to likely see yourself losing money rather than making it.
Hopefully, though my review here has given you a good insight into it & helped you to dodge it. If you do happen to still have any further questions or comments though then don't hesitate to leave them below & I'll get back to you as soon as possible. 🙂
A Better Alternative
The sad truth is that unfortunately most of the programs promising to help you make money online are scams. I can say that confidently after exposing over 500+ of them here on this blog.
But the good news is that even though most of them are indeed scams, there are actually some very good programs in amongst them - some programs that can truly help you to earn money.
And out of all of the legit programs I've seen, the one I would recommend the most to anybody looking to get started online is Commission Academy. In my own opinion, that's the best place to start.
At Commission Academy, you'll be provided with everything you need (including the training & tools) to begin earning real money by promoting products or services for companies like Amazon online.
The best part is that there's literally no limit on the amount you can earn with it & the process is pretty simple which means that it's absolutely perfect for people that don't have much experience.
Some wealthy affiliates even earn as much as 5-figures per month... Or more!

I mean don't get me wrong, that kind of money won't just fall into your lap without doing any work... But the harder you're willing to work at it, the more you stand to earn with it.
So if you're looking to get started but don't know which route you should go down or which program you should join (and don't want to waste money on bogus things that don't actually work), then I'd highly recommend checking out Commission Academy first. You can learn more about it here.