Ad Copy Pros is a website that claims it can enable you to earn $25 over & over again just by posting done-for-you advertisements online. You're led to believe that you can simply sign up, copy the ads & begin earning around $500 per day with ease.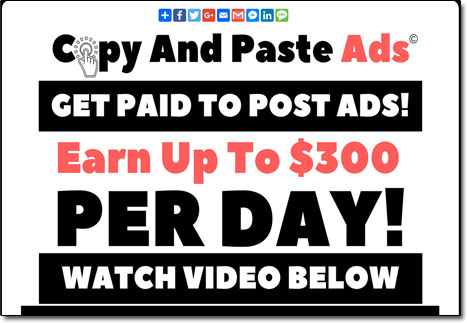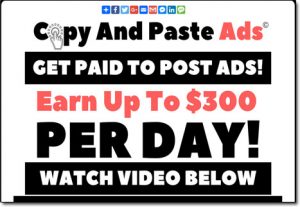 But you're probably sceptical about the whole thing & you'd have very good reason to be… So what's the deal?
Is it actually legit or is Ad Copy Pros a scam that'll just result in you spending more money than you ever manage to make?
Thankfully you've landed in exactly the right place to find out because I've done the digging & in this review, I'm going to be uncovering everything you need to know including how it all works & whether or not you can really make money as easily as they make out you can.
What Is Ad Copy Pros?   |   How Does Ad Copy Pros Work?   |   Is Ad Copy Pros a Scam?   |   A Better Alternative
What Is Ad Copy Pros?
Ad Copy Pros claims to be some sort of automated marketing system & it leads you into believing that you'll be able to make tons of money online just by posting "done-for-you" advertisements on social media.

The creators claim there's no selling involved, that it has nothing to do with MLM & that you don't need any experience to get started. They say that literally all you need to do is copy & paste the provided advertisements to begin making money…
But you're probably thinking to yourself it sounds a bit too good to be true… And as the old saying goes "if it sounds too good to be true then it probably is"… So can you really make money with Ad Copy Pros as easily as they claim you can?
The simple answer is no you can't & the reason for that is because despite claiming to be some sort of "automated marketing system" in reality Ad Copy Pros is just another typical cash gifting scam.
I mean yes you can potentially make money through it – but it's extremely risky, very likely illegal & much more difficult than they make it out to be. The truth is that you'll probably just end up spending more than you ever manage to make.
And to be honest, even though you can potentially make money with this sort of thing, doing so would involve suckering other people into it & putting them at risk of losing their money… Something I really hope you wouldn't want to do, especially since there are so many other legitimate ways you can make money online that don't involve this sort of dodgy behaviour.
But anyway I don't expect you to just take my word for all that because I appreciate you might have been hoping that this system would work for you, so instead let me show you how it all actually works so you can see for yourself exactly what's really going on…
How Does Ad Copy Pros Work?
Okay, so when you initially land on the Ad Copy Pros page you'll be asked to enter your name & email address then from there after doing that you'll be taken to a page which contains a video that explains more about this so-called "amazing opportunity".
Well I use the term "explains" lightly because to be honest, the video doesn't do much explaining it all – it just attempts to get you hyped up about the idea of being able to make $25 commissions over & over again simply by sharing ads on social media.
Surprise surprise it costs $25 to get access and this money is paid directly to the person that referred you (as shown below). This is where it immediately becomes clear that the whole things just a cash gifting scheme.

By the way, in case you don't know a cash gifting scheme is where all of the members of the scheme are basically just directly sending money to each other & there is no real product at all.
So the idea is you sign up for $25, then you get access to the "done-for-you" ads which you're told to post on social media sites like Facebook, Twitter & YouTube in an attempt to sucker other people into the scheme.
You don't actually get paid just for posting the ads like the creators lead you into believing… You only get paid if you actually manage to convince somebody to join & invest $25 just like you did.
And if you did happen to sign up & invest $25 then you'd merely be left to find out the hard way that it's not as easy as promised. You could post the "done-for-you" ads on social media all day long but it's unlikely that you'll manage to get any sign-ups.
Heck if one business was that easy then everybody would be rich.
The truth is they're just making it sound easy to trick you into signing up & whilst some of the dodgy "gurus" inside of the system might make a little bit of money, primarily it's been set up for the creator to get rich & the creator only.
On top of all that once you're actually inside the system you'll also find that whoever referred you will then try & squeeze even more cash out of by pushing you into upgrading to the $125 level.
They'll play on the fact that by upgrading to this level you'll be able to earn more money, and that's true – but only if you manage to get others to sign up & invest $25 + $125 just like you did which will be pretty darn difficult.
Which brings me onto…
Is Ad Copy Pros a Scam?
Well, it's not technically a scam since there is the potential to make money, but ultimately it's just a dodgy cash gifting scheme that will likely only result in you spending money rather than actually making it.
It's clear to me that the whole thing has been set up purely for the creator to make himself (or herself) rich at other peoples expense. Sure, some dodgy experienced marketers might make a quick buck out of it too but honestly, the average Joe ain't gonna see a penny from it.
Not to mention the fact that the whole thing is super misleading & that in reality it's gonna be way harder to promote it than they make out. You can't just "copy ads" and expect to make money… If you could then everybody would be rich.
Therefore overall I'm not going to be recommending the Ad Copy Pros system to you because I strongly believe that if you sign up to it you'll likely only find yourself disappointed at what you actually receive.
The truth is if you really want to learn how to make that sort of money online then you need a proper step-by-step training program like Commission Academy which actually shows you how to get started the right way (without all that cash gifting hyped up junk).
Anyway hopefully my review here gave you the insight you were looking for into this program and hopefully, it helped save you some cash. If you do happen to have any further questions or comments don't hesitate to leave them below.
A Better Alternative
The sad truth is that unfortunately most of the programs promising to help you make money online are scams. I can say that confidently after exposing over 500+ of them here on this blog.
But the good news is that even though most of them are indeed scams, there are actually some very good programs in amongst them - some programs that can truly help you to earn money.
And out of all of the legit programs I've seen, the one I would recommend the most to anybody looking to get started online is Commission Academy. In my own opinion, that's the best place to start.
At Commission Academy, you'll be provided with everything you need (including the training & tools) to begin earning real money by promoting products or services for companies like Amazon online.
The best part is that there's literally no limit on the amount you can earn with it & the process is pretty simple which means that it's absolutely perfect for people that don't have much experience.
Some wealthy affiliates even earn as much as 5-figures per month... Or more!


I mean don't get me wrong, that kind of money won't just fall into your lap without doing any work... But the harder you're willing to work at it, the more you stand to earn with it.
So if you're looking to get started but don't know which route you should go down or which program you should join (and don't want to waste money on bogus things that don't actually work), then I'd highly recommend checking out Commission Academy first. You can learn more about it here.