Lloyd Knapman is one of the most popular names in the affiliate marketing industry. The guy comes from the United Kingdom and has reportedly generated million-dollar sales over the past five years.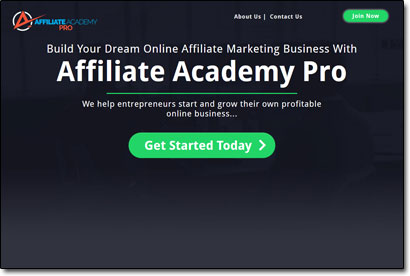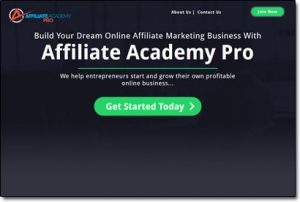 He is now offering a training course called Affiliate Academy Pro that is basically renowned for being pretty darn costly. The question is, how justified is the fee charged against this training?
In this third-party Affiliate Academy Pro review, you will get to know the truth. We will show you if Lloyd is a legitimate professional marketer or if he has just created hype to sell these courses.
What Is Affiliate Academy Pro?   |   How Much Does It Cost?   |   How Does It Work?   |   Is Affiliate Academy Pro a Scam?   |   A Better Alternative
What Is Affiliate Academy Pro?
Affiliate Academy Pro is a comprehensive course that is designed by Lloyd Knapman. He tells you that this course provides the most effective training content to become a successful affiliate marketer…
He promises to teach you the working and tested strategies via step-by-step demonstrations. The website claims that this course is designed to help anybody looking to establish his/her own online business, even if they have no previous experience whatsoever.

But what I can tell you right from the off is that it doesn't tell you the reality…
Lloyd says that affiliate marketing is inexpensive so it is the best money making an opportunity. In reality, though, affiliate marketing is indeed a really good opportunity to generate quick and significant profits but it is not inexpensive through the way Lloyd Knapman teaches in his Affiliate Academy Pro training. Sales funnels are not available for free & those are a core part of his program.
In addition, you have to invest money for paid ads. Traffic doesn't come to your pages via magic. This thing requires investment. Ads need to go through the trial and testing phase. You have to invest too much time to devise the right strategy & all of this testing requires money.
So if you are looking for a truly inexpensive way to get involved with affiliate marketing I would advise that you avoid the Affiliate Academy Pro training program & instead pick a program like Commission Academy which puts more of a focus on teaching free methods.
And whilst on the subject of money…
How Much Does Affiliate Academy Pro Cost?
You could join this course by paying $497 (one-time payment). Or else, you could pay in three instalments of $197 each. This package serves you not only with the training course but also allows you to become a member of the Facebook Mastermind Group. You can get ideas, share views and seek help from the experts and other members.
There are weekly training webinars where the experts help you to focus on the right mindset. The live sessions allow you to share your views, questions, and anything that is confusing you.
The problem here though in my opinion is that the Facebook group will likely be full of beginners asking questions, rather than being a community of experts ready to provide answers. That is a common trend I see among these types of programs that boast "Facebook support groups".
Yes, questions eventually get answered (in most cases) but typically it is just 1 or 2 people scrambling to try to answer them all & as a result it can take days or even weeks to get a response. The community over at Wealthy Affiliate is much more active & has many, many experts on hand to answer questions.
You Might Also Like:
How Does Affiliate Academy Pro Work?
This is simply a training program that is designed by Lloyd Knapman and he is there to help you with weekly live webinars. In short, you have an expert with you who is there to help you flourish as an affiliate marketer.
There are people who have reviewed this training program by exaggerating various aspects. They call it the best training program for beginners. They almost urge you to join this program because their opinion is not true. The reviews are paid. We have found that in our opinion this course is not worth $497. Though the website claims that the complete package contains $9,000 worth of knowledge. But the truth is that $497 is even high in comparison to the course's content.
Let us be very clear that this course is not going to grab your hand and guide you through your own online business. This course is based more on the theoretical part. Its scope is also narrow. The training course mostly focuses on what Lloyd himself did. It doesn't tell you what has changed over the years. It doesn't specifically tell you the right products at any given time. The problem with the general knowledge is that it doesn't apply when things are changing constantly.
With that being said I believe Commission Academy provides an overall better experience & also the cost is much less. In fact, you can actually get started with Wealthy Affiliate for free so that you can experience the training without paying anything upfront & decide if it's right for you first.
Is Affiliate Academy Pro a Scam?
Affiliate Academy Pro is not a scam but as far as I'm concerned this course only contains average content. In my opinion, there is nothing outstanding, no real secret, and not all who join are going to make anything of it…
Realistically, this is something for beginners. If you don't know anything about affiliate marketing, this content could impress you. But why pay $497 for something that is of average level? It is better to compare it with other courses and then decide whether to join this course or simply put it aside.
In my opinion, as I've already mentioned a few times throughout this review I believe Commission Academy is the better option overall. I think Affiliate Academy Pro does have some good training, but I think it's also more geared towards making Lloyd wealthy as opposed to the members.
Maybe in the future, Lloyd will improve on it & I may at some point be able to recommend it, but as it stands right now it is in my opinion just an overly expensive average course & with a little bit of searching you can actually find quite a lot of the material for free online.
Also, don't forget though, whilst affiliate marketing is indeed, in my opinion, one of the best ways to make money online there are actually still several other ways you can make good money online which you can learn about on my top picks page here.
Whatever you decide to do though I just sincerely hope that my review of Affiliate Academy Pro here has given you a good insight into the course & what you can expect & I hope it has enlightened you of potentially better alternatives.
If you still have any questions or comments though then, of course, don't hesitate to leave them below. 🙂
A Better Alternative
The sad truth is that unfortunately most of the programs promising to help you make money online are scams. I can say that confidently after exposing over 500+ of them here on this blog.
But the good news is that even though most of them are indeed scams, there are actually some very good programs in amongst them - some programs that can truly help you to earn money.
And out of all of the legit programs I've seen, the one I would recommend the most to anybody looking to get started online is Commission Academy. In my own opinion, that's the best place to start.
At Commission Academy, you'll be provided with everything you need (including the training & tools) to begin earning real money by promoting products or services for companies like Amazon online.
The best part is that there's literally no limit on the amount you can earn with it & the process is pretty simple which means that it's absolutely perfect for people that don't have much experience.
Some wealthy affiliates even earn as much as 5-figures per month... Or more!

I mean don't get me wrong, that kind of money won't just fall into your lap without doing any work... But the harder you're willing to work at it, the more you stand to earn with it.
So if you're looking to get started but don't know which route you should go down or which program you should join (and don't want to waste money on bogus things that don't actually work), then I'd highly recommend checking out Commission Academy first. You can learn more about it here.