American Online Jobs displays an impressive presentation of online money-making opportunities but is it legitimate? The website claims the provision of handsome workflow helping you to generate as much as $1,000+ per week.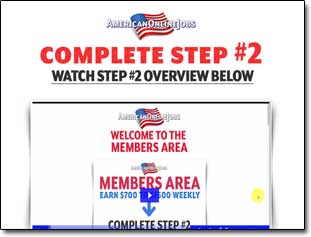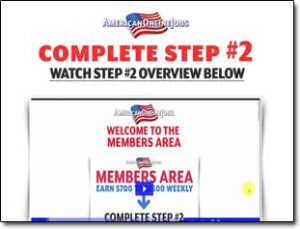 Whenever I come across such a website I first search for the answers to some basic questions. The claims are bold and they have to be in order to attract potential subscribers…
But is American Online Jobs a scam or legit way to make money? My first thought is that it's likely a scam, but obviously I don't want to be too quick in making a sweeping statement.
Let's be fair and go through some important considerations which I'm going to outline in this American Online Jobs review. I'll show you exactly what it's all about, how it really works & most importantly whether or not you can really make any money with it (or whether it will just end up taking money from you instead).
What Is American Online Jobs?   |   How Does American Online Jobs Work?   |   Is American Online Jobs a Scam?   |   A Better Alternative
What Is American Online Jobs?
The website layout for this system is as simple as it can be. It says that qualified visitors are welcome to join the platform and to judge the qualification the homepage leads you to a simple test which has been set in the form of questions. You simply need to fill specific fields with the answers to each of these questions.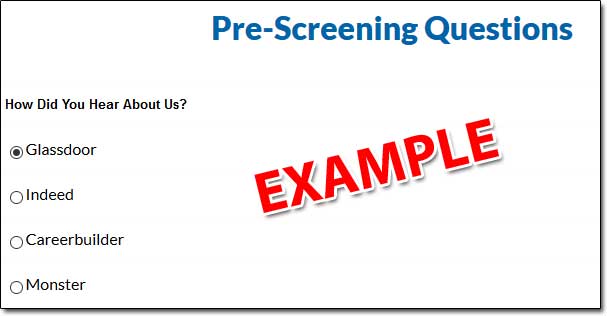 Once done, you're eligible to apply for membership. The problem here is that you don't actually know what exactly you are applying for. One thing that's clear is that you'll have to do simple tasks in order to earn something. It could be a data entry task, typing software, or form filling etc… But the problem is you don't know for sure.
The First Trick! Survey Club…
After submitting a successful application (which I don't recommend you do if you haven't done so already), you are required to fill in some details in order to join the Survey Club which is a 3rd party website facilitating paid surveys. I've reviewed a number of survey platforms earlier so there is no need to go into the details of how much do they actually pay. It apparently seems as if American Online Jobs receives money against each new member to the Survey Club.
This is an illusion because being an anticipated member, you're looking to join the American Online Jobs website but what you happen to end up doing is signing up to some other website instead.
Processing Jobs
Then comes the next stage where you're told to sign up for the processing jobs termed as Legit Flex Job. Here you'll allegedly be serving big companies after successfully completing your profile. This is the stage where you're given the choice to select the nature of the job you're comfortable with. Once again, the details are not mentioned!
One thing I'll point out here is that I've previously reviewed the Legit Flex Job website & it is a known scam, so it's worrying that the American Online Jobs website is referring you to a scam… It doesn't look good for sure.
How Does American Online Jobs Work?
Never trust the videos posted on the American Online Jobs website. I've reviewed each of these and they're all fake and misleading. Remember, till this point you likely haven't paid anything. I've seen several people calling American Online Jobs a scam but you need to consider the purpose behind a scam. If they don't take your money away then what is this whole practice all about?
The Real Motive…
Money? No, not at all! Promotion? Maybe! I spent hours to find out the driving force behind the American Online Jobs website. Thanks to a few experts and friends, I came to know that this website later encourages you to download an antivirus program. They cover it up by suggesting you that data you'll deal with is actually confidential and you can't risk unauthorized access. What a smart idea to get the software downloaded, isn't it?
All I know so far is that the American Online Jobs website is full of tricks and deception. The moment I was about to discard this website as a scam, a friend of mine who I was discussing it with at the time asked me to reconsider. By chance, he had tried American Online Jobs and had something important to tell me. I am bound to regard someone's view who has actually tried this website and is credible as well. He told me that this website actually facilitates its members with the provision of legitimate training. The content of the training focuses on polishing your referral skills. It means that this website – rather than offering real jobs – is providing training courses. They teach you how to advertise on social media platforms. They apparently provide some awesome tips as well.
Is American Online Jobs a Scam?
Even considering all what my friend advocates, it doesn't change my decision about calling it a misleading platform. I really find no reason to be lenient just on the basis that it offers some training as you can find this kind of training at Commission Academy (which is a legitimate money-making platform) for free.
The fact is that each and every claim which the American Online Jobs website makes is misleading. It doesn't work the way it advertises. OK let's not call American Online Job a scam but what do you call a platform which intentionally misdirects its visitors? Even if it doesn't take away a single penny, what is the purpose of its deception? I mean, the visitors trust a platform, fill in the information, create accounts and register just to know that there is no real job on offer!
The truth is that rather than being dedicated to helping its members earn money like it claims to be, the American Online Jobs website has actually just been designed to make it's creator wealthy instead. You see each time the creator gets somebody to sign up to the programs he "recommends", he gets paid… And in the instance of some of the programs, he recommends it isn't too bad, but some of them, like the Legit Flex Jobs, are actually flat-out scams which could end up costing you money.
And who knows what the so-called "antivirus software" that you're told to download will do? Maybe the creator just gets a commission when you install this too, but maybe the software has other intentions… Such as stealing your personal data – you just don't know & in my opinion, it is too risky to try it.
The truth is there are many other legitimate places where you can make good money online so there is simply no need to get tempted into trying out an extremely risky & unproven program like American Online Jobs. Instead, you should just opt for a program that's been proven to help members achieve success, such as Commission Academy for example – that is a much better idea in my opinion.
But anyway whatever you decide to do I just hope that this review gave you a better insight about the whole thing & helped you understand how it all really works. If you do happen to have any further questions or comments about it though then don't hesitate to leave them below & I'll get back to you as soon as possible.
A Better Alternative
The sad truth is that unfortunately most of the programs promising to help you make money online are scams. I can say that confidently after exposing over 500+ of them here on this blog.
But the good news is that even though most of them are indeed scams, there are actually some very good programs in amongst them - some programs that can truly help you to earn money.
And out of all of the legit programs I've seen, the one I would recommend the most to anybody looking to get started online is Commission Academy. In my own opinion, that's the best place to start.
At Commission Academy, you'll be provided with everything you need (including the training & tools) to begin earning real money by promoting products or services for companies like Amazon online.
The best part is that there's literally no limit on the amount you can earn with it & the process is pretty simple which means that it's absolutely perfect for people that don't have much experience.
Some wealthy affiliates even earn as much as 5-figures per month... Or more!


I mean don't get me wrong, that kind of money won't just fall into your lap without doing any work... But the harder you're willing to work at it, the more you stand to earn with it.
So if you're looking to get started but don't know which route you should go down or which program you should join (and don't want to waste money on bogus things that don't actually work), then I'd highly recommend checking out Commission Academy first. You can learn more about it here.