The Aurora system (located at aurorasystem.net) has just recently been launched by 2 guys named Brendan Mace and Jono Armstrong & it essentially promises to provide you with an automated way to begin earning high-ticket $1,000 per-sale commissions online, every single day…
But obviously that's a pretty darn bold claim – especially since the guys claim their system costs only $16.97 to access… So what's the truth? Can you really make automated income with it or will their Aurora system scam you instead?
Well the good news is that you've landed in exactly the right place to find out as I myself have personally taken a closer look into it to see what it's all about & in this honest Aurora review I'll be uncovering the REAL truth about how it all works, as well as uncovering whether or not you can really make any money with it.
What Is The Aurora System?   |   How Does The Aurora System Work?   |   What Do You Get Actually Get?   |   Is Aurora a Scam?   |   A Better Alternative
What Is The Aurora System?
The Aurora system essentially promises to provide you with a super easy way to begin making good money online through high-ticket affiliate programs, even if you're completely brand new or have struggled in the past.
The 2 guys behind it who are named Brendan Mace and Jono Armstrong claim that they have "fixed the problem" that people were having with high-ticket affiliate programs, which is that they couldn't get the traffic to promote them.
They claim that their new Aurora system has the answer as it allegedly does is everything for you by generating an automated stream of traffic to your high-ticket affiliate program from Pinterest & Instagram.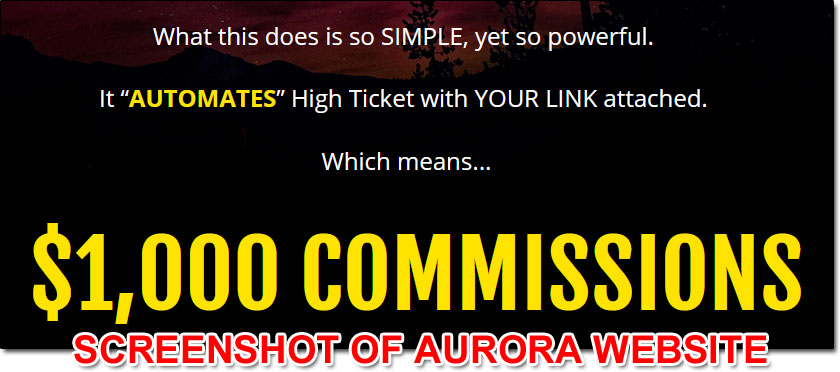 So for a mere $16.97 you're led to believe that you can get access to this so-called automated system which will immediately begin generating you thousand dollar high-ticket commissions every single day…
But can it be true?
I mean if their system can truly generate such high commissions so easily, then why are they selling access to it for just $16.97?
In fact why are they selling access to it at all? If it really works then rather than selling access to it to make money why don't the 2 guys behind it just use it for themselves & make money that way instead?
Well as you can probably guess, the truth is that whilst it does work from a "technical standpoint", the reality is that their system is not going to see you generating those big commissions that they boast about.
In fact the truth is that you'd actually be lucky to earn anything at all from it, as you'll soon see for yourself when I explain in more detail exactly how it all works below…
How Does The Aurora System Work?
One thing you'll have probably noticed about the Aurora system if you've already came across it is that instead of telling you exactly how it works, it focuses more on telling you how it doesn't work… And this is typical of WarriorPlus products (which is what the Aurora system is).


They push you into spending your money in order to find out how it actually works…
Well the website states that it doesn't involve blogging, YouTubing, spamming Facebook groups or paying for solo ads… So what does it involve then?
The answer = Pinterest & Instagram.
The Aurora system provides you with access to an automated Pinterest & Instagram marketing tool which can be used to automatically follow accounts that are related to specific niches, in the hope that they'll follow you back & check out your link.
The creators, Brendan Mace and Jono Armstrong say that as a result you only have to use it for a mere 5 to 10 minutes & you will begin generating $1,000 commissions, as easy as that.
However whilst I don't doubt that Pinterest and Instagram are pretty good traffic sources if used correctly, automation on those platforms is NOT the way to go (despite what many so-called "gurus" will say).
The reason for that is because when you use an automated tool, you are connecting to the platforms via their API – so no matter how much you try to make your activity look legit, they know 100% that you are using an automated tool.
This means it's VERY easy to get banned, especially if you're promoting something.
I tried it myself with a tool called InstaZood to test out my theory, and I was banned on day 2…
Unless you're constantly tweaking the automation & manually adding content to the platforms, you will get deactivated without a doubt… But since you are spending time doing all of that, it then makes it pointless using an automation tool… You may as well just be building up a proper, manual following.
Then There's The Game of Numbers…
Okay so let's just pretend for the sake of this example that you don't get banned from Pinterest or Instagram for using the automation tool… Let's say it all goes okay and the tool follows new people each day as it should.
Do you know how many of the people you follow will actually follow you back?
Very few!
Do you know how many of them will go on to click the link in your bio?
Even fewer!
And do you know how many will follow you back, click your link AND spend $1,000+ on your high-ticket product?
Ummm… Next to no-one!
So it is a game of numbers, and in order to get just ONE sale from the high-ticket program I would imagine you'd have to follow over 100,000 accounts (maybe even 1 million!) – but there is no chance of you reaching that number without getting banned.
You see high-ticket marketing is all about building trust. People will only spend large amounts if you have built up a relationship with them first… They won't just whip out their credit card & spend thousands on a program pitched to them by a random person on Pinterest or Instagram.
So whilst the Aurora method may seem good in theory, as you can see in reality is flawed – and that's why it's for sale at $16.97… Because the creators know that you likely won't actually earn anything with it.
But just in case for whatever reason you're still interested in the Aurora system (and don't just want to roll with a proven place like Commission Academy instead) then let me run over something else for you…
You Might Also Like:
What You Actually Get In Return For Your Money
So for the initial $16.97 you get access to the automated marketing tool which I have spoken about above – but you also get access to a little webinar builder type of tool, which lets you upload a webinar promoting a high-ticket affiliate program.
This means that for the $16.97 fee you could run the automated tool & you would link the social media accounts that it's running on to the webinar page you created so that prospects would see your video – and hopefully join the affiliate program you've linked it to.
The idea is the tool follows them, they follow you back, click the link, watch the webinar, sign up to your high-ticket program.
But on top of that there's also some upsells on the inside which Brendan Mace and Jono Armstrong strongly encourage you to buy. In total these cost hundreds of dollars and they consist of the following:
Upsell 1 ($67) – "Pro" Version
The $16.97 has some restrictions, and unless you purchase the Pro version you won't be able to use certain features… So although the Pro version is sold as "optional", really to stand any chance of success it is pretty necessary.
The Pro version unlocks the ability to add unlimited Pinterest accounts and it also enables you to be able to add Instagram accounts too, because the standard version doesn't let you automate on Instagram, only Pinterest.
Upsell 2 ($197) – "Done For You" Setup
If you purchase this then you'll be provided with 5 webinar videos which you can use to promote high-ticket affiliate offers.
Upsell 3 ($197) – "Limitless Traffic"
The name of this upsell is a little bit misleading in my opinion as you are not really getting any traffic from it, you are just getting provided with the option to add a retargeting pixel to your webinar page so that you can use paid advertising to retarget people who've viewed the webinar previously.
Upsell 4 ($97) – Resell Rights
Realistically the goal of the Aurora program is to get you to simply promote the Aurora program onto others – however in order to do so & earn 100% commissions you'll need to purchase the resell rights first. Most WarriorPlus products offer out these "resell rights" things but to be honest rather than paying to promote somebody's product I just recommend finding a product with an affiliate program that pays good commissions already.
Is Aurora a Scam?
It's not a scam, that would be a pretty harsh verdict to arrive that. The program does have some substance, but like with most other WarriorPlus products it falls short & the likelihood is that you will not make money by using it.
To be honest 9 times out of 10 as soon as I come across a WarriorPlus product I just disregard it because I have never in all of my years of working online seen one that actually lived up to its promises & helped people make money.
Most of them are just extremely overhyped, then they pressure people into handing over money to find out more & when they do they just leave them to find out the hard way that it isn't anywhere near as great as promised.
For that reason I typically recommend people steer clear of WarriorPlus products & instead just stick with legitimate platforms like Commission Academy if they truly want to learn how to properly get started online.
Or if affiliate marketing isn't your thing you may want to check out the other legitimate methods on my top picks page here.
But whatever you decide to do I just hope that my Aurora review here has given you a good insight into how it works & hopefully it has helped you to decide whether you feel it is really right for you or not.
If you do still have any questions or comments though then don't hesitate to leave them below & as always I'll do my best to respond back to you as quickly as I can.
A Better Alternative
The sad truth is that unfortunately most of the programs promising to help you make money online are scams. I can say that confidently after exposing over 500+ of them here on this blog.
But the good news is that even though most of them are indeed scams, there are actually some very good programs in amongst them - some programs that can truly help you to earn money.
And out of all of the legit programs I've seen, the one I would recommend the most to anybody looking to get started online is Commission Academy. In my own opinion, that's the best place to start.
At Commission Academy, you'll be provided with everything you need (including the training & tools) to begin earning real money by promoting products or services for companies like Amazon online.
The best part is that there's literally no limit on the amount you can earn with it & the process is pretty simple which means that it's absolutely perfect for people that don't have much experience.
Some wealthy affiliates even earn as much as 5-figures per month... Or more!

I mean don't get me wrong, that kind of money won't just fall into your lap without doing any work... But the harder you're willing to work at it, the more you stand to earn with it.
So if you're looking to get started but don't know which route you should go down or which program you should join (and don't want to waste money on bogus things that don't actually work), then I'd highly recommend checking out Commission Academy first. You can learn more about it here.