The Bit Bubble Tech system claims that it can generate automated profits of over $700 daily through online cryptocurrency trading. It even claims that you can make this kind of money without prior experience of investing or trading & that you don't even actually need to know anything about Bitcoin to get started with it.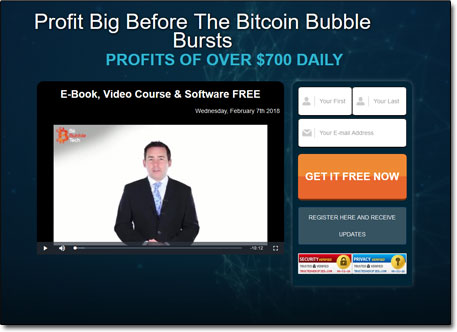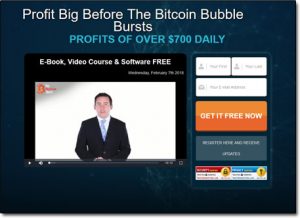 But I think you'll agree when I say that this all sounds too good to be true, so what's the deal here?
Is this system actually legit like they make out or is Bit Bubble Tech a scam that's purely set out to part you with your cash?
Luckily you've landed in the right place to find out because I've done the digging & in this Bit Bubble Tech review I'm going to be revealing everything there is you need to know about it & most importantly determining whether or not you can actually make money with it.
What Is Bit Bubble Tech?   |   How Does Bit Bubble Tech Work?   |   Is Bit Bubble Tech a Scam?   |   A Better Alternative
What Is Bit Bubble Tech?
Bit Bubble Tech is a piece of online trading software that claims it can allegedly enable you to profit BIG before the so-called Bitcoin bubble bursts. You're led to believe that even without prior trading experience you can start making in excess of $700 per day just by signing up to this system & letting it run on your behalf…
The "secret" to these profits according to their website is a combination of unique blockchain technology, arbitrage & hedging strategies. This is how the Bit Bubble Tech software can supposedly generate consistent success rates of 98.39% or more.
But don't get too excited about it all… Whilst it sounds good in theory unfortunately after taking a closer look I was quickly able to determine that the Bit Bubble Tech system is actually nothing more than just another binary options scam.
It's actually a near-enough clone of a scam I recently exposed named Banking on Blockchain. Coincidently that system also promised guaranteed profits of at least $700 daily but as you can probably guess their promises never held true.
I'm not going to just expect you to take my word for it though… I know many of you reading this review will likely be disappointed to hear that it doesn't actually work & may still be thinking about "trying it out", so let me prove to you that it's a scam…
How Does Bit Bubble Tech Work?
Well in case you happened to jump straight down to this part of the review let me first start out by telling you that the Bit Bubble Tech system doesn't work, at least not in the sense of making you money anyway…
The Bit Bubble Tech system is nothing but a big scam. All the information found on their website is fake and it's all just been put together as part of a big ploy to convince you to sign up & deposit money with their "recommended" broker…
A broker who by the way is also in on the scam too.
You see the real creator behind the Bit Bubble Tech system (who keeps themselves anonymous) is actually affiliated with the brokers that they recommend to you. This means that if you sign up with the broker & deposit funds then the creator of the system gets paid a commission… That's essentially why they're recommending to you because they want to earn themselves a commission.
Now here's the important part that you need to understand – binary brokers (the ones recommended to you through Bit Bubble Tech) don't add fees to their trades which means they only make money when you lose. If you keep winning, they themselves end up losing money.
So ask yourself, why would these brokers be paying commissions to the creators of a system that supposedly enables everybody who joins to make guaranteed profits? The answer is clear, they wouldn't – if they did they would put themselves out of business.
The reason they're paying the creators a commission is because the whole things a big scam. A few years ago binary options trading was big & everybody was doing it, but then people realized it was bad news & decided to avoid it.
Forbes themselves even published an article warning about the dangers (shown below):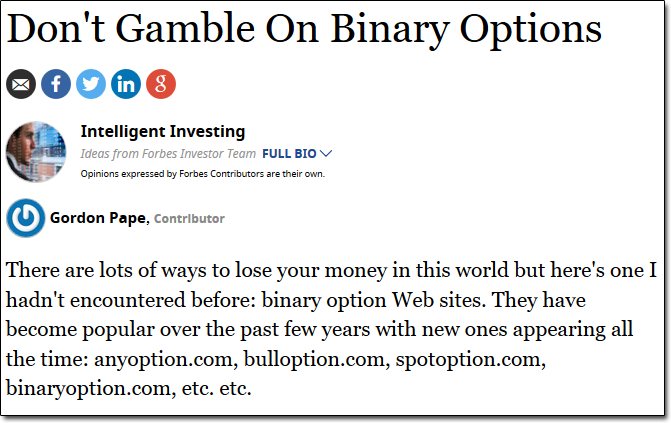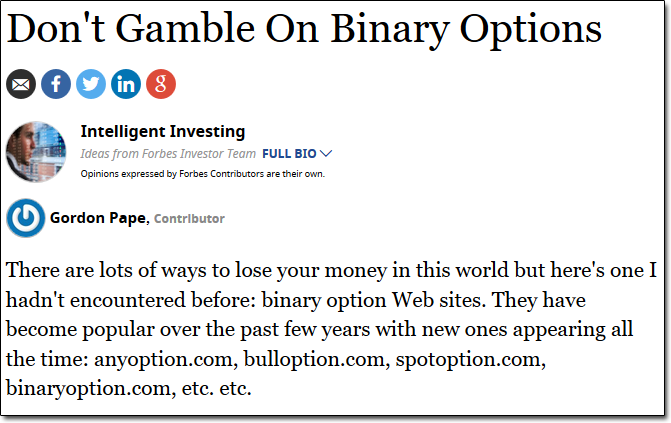 Anyway, as a result these binary brokers were struggling to make money since nobody was interested in binary options anymore. So what did they do? They partnered themselves with people who create these "fake systems" which are basically nothing more than ploys to get people to deposit.
The reason people stopped trading binary options in the first place was because they realized they couldn't actually make money with it… So the brokers decided that if they could just convince people they could make money then they could get people depositing again.
Say hello to the Bit Bubble Tech system! This whole thing is just a ploy to make you think you can profit so that you'll sign up with the broker & deposit money. Then, when you do you'll realize that the system doesn't actually work as promised… It's a scam.
On top of that, it's jumped on the cryptocurrency hype to try & lure in even more people. The creators know that many people who've never traded before are now looking to make money from cryptocurrency & they have created the Bit Bubble Tech system to take advantage of them.
And it's worth pointing out that the brokers these guys recommend are not licensed, which means they're unregulated. This also means that you can't just "try it out" like you think you might be able to because ultimately these guys aren't going to let you get your funds back once they've got them.
You Might Also Like:
Is Bit Bubble Tech a Scam?
From my experience, I can tell you 100% that the Bit Bubble Tech is indeed a scam. At a glance, it almost looks convincing, and clearly the creators have put in quite a lot of work to make it seem convincing – but sadly the reality is that it's absolutely not true.
As I mentioned above the whole system is just a ploy to get you to deposit with the broker so that the creators and the brokers (who are unlicensed by the way) can make money at your expense.
I want to stress again that if you think you can just "try it out", think again. That's exactly what they want you to believe, but once they've got your money they aren't going to let you get it back… You can't just deposit & withdraw again if it doesn't work out like you could with a legitimate broker. These guys are crooks.
So overall as you can imagine I am not going to be recommending this system, in fact, I'm actually going to be doing the opposite & advising you to stay away from it because it's nothing but bad news.
Anyway, hopefully, you found this review useful & hopefully it gave you the insight you were looking for into this system. If you happen to have any further questions or comments don't hesitate to leave them below, and be sure to check out my guide to making money online if you're still looking for legitimate methods.
A Better Alternative
The sad truth is that unfortunately most of the programs promising to help you make money online are scams. I can say that confidently after exposing over 500+ of them here on this blog.
But the good news is that even though most of them are indeed scams, there are actually some very good programs in amongst them - some programs that can truly help you to earn money.
And out of all of the legit programs I've seen, the one I would recommend the most to anybody looking to get started online is Commission Academy. In my own opinion, that's the best place to start.
At Commission Academy, you'll be provided with everything you need (including the training & tools) to begin earning real money by promoting products or services for companies like Amazon online.
The best part is that there's literally no limit on the amount you can earn with it & the process is pretty simple which means that it's absolutely perfect for people that don't have much experience.
Some wealthy affiliates even earn as much as 5-figures per month... Or more!

I mean don't get me wrong, that kind of money won't just fall into your lap without doing any work... But the harder you're willing to work at it, the more you stand to earn with it.
So if you're looking to get started but don't know which route you should go down or which program you should join (and don't want to waste money on bogus things that don't actually work), then I'd highly recommend checking out Commission Academy first. You can learn more about it here.