The Bitcoin Bonanza system claims that it's not too late to ride the Bitcoin wave & that by becoming a member of their system you can begin seeing profits of over $9,600 per day through automated cryptocurrency trades that it makes on your behalf.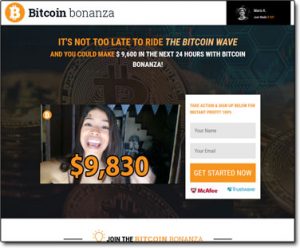 It even claims that you could start making money right away without any previous trading experience or knowledge of making money online…
But don't you think it all sounds a little too good to be true? So what's the deal here, is it actually legit or will Bitcoin Bonanza scam you of your hard-earned cash?
I've taken a closer look to find out & in this review I'm going to be uncovering everything there is you need to know, including whether or not it actually works & if you can really make money with it like they claim you can.
What Is Bitcoin Bonanza?   |   How Does Bitcoin Bonanza Work?   |   Is Bitcoin Bonanza a Scam?   |   A Better Alternative
What Is Bitcoin Bonanza?
Bitcoin Bonanza is an automated trading platform that claims it can generate you whopping profits of up to $9,600 on your behalf. According to their website all you need to do is deposit then sit back & relax whilst you watch the money come rolling in…
It sure sounds nice, but it also sounds an awful lot like the Bit Bubble Tech system which I recently exposed as being as a scam. You can't be too careful when it comes to these cryptocurrency opportunities & you always need to do your due diligence so I'm glad to see you're here reading this review before diving in.
And you'll be glad you came here too because I'm going to point out straight away that the Bitcoin Bonanza system is indeed a scam, it's actually a binary options trading scam & the whole things set out to part you with your cash.
I imagine you probably already suspected that it was a scam though when you saw their ridiculous income claims of being able to generate in excess of $9,600+ per day without actually doing anything…
But of course, I don't just expect you to take my word for it being a scam, instead, I want to show you exactly how it all works (or should I say doesn't work).
How Does Bitcoin Bonanza Work?
Well just to be clear in case you jumped straight down to this section of the review let me point out that the Bitcoin Bonanza system doesn't work, at least not in the way that they promise it does anyway.
The Bitcoin Bonanza system is a complete scam that's been developed solely to part you with your cash. The giveaway sign in this instance is the fact that before you can begin trading you have to sign up with a broker… That's a big red flag because when you trade cryptocurrencies legitimately you don't actually need a broker at all.
The reason they're pushing you through a broker though is that that's how they're making money from you (I'll explain in a second), but take note that the brokers they recommend to you are not licensed which means they're unregulated.
This also means that if you invest any cash with them the likelihood is you'll never see it again.
But anyway here's how the whole thing ties together…
Basically the creator of the Bitcoin Bonanza system has affiliated himself with several brokers. This means that if he can get you to sign up & deposit with the broker he recommends to you then he will get paid a commission.
Now naturally most people aren't interested in signing up with binary options brokers because they're aware of the huge risks involved (essentially binary options trading is all just a big scam).
Even Forbes warned against it in an article they published: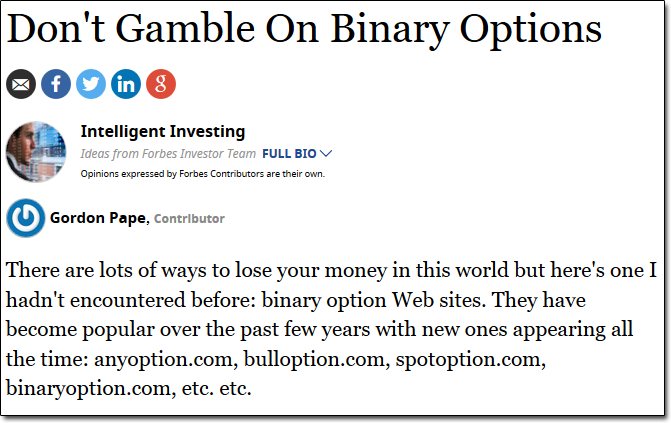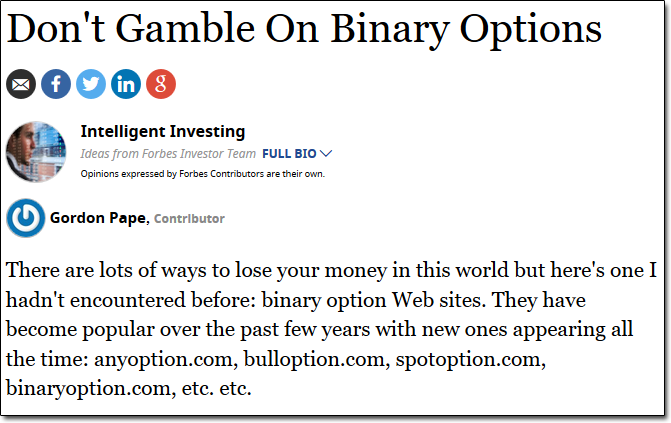 This means that if the creator was just to build a legitimate website & refer you to the broker normally he probably wouldn't make a great deal of cash because most people will know that the likelihood is they'll lose the money they trade with.
Anyway, this is where the creator of the system come up with a great ploy. The ploy is to make you think you can profit because if you think you'll be able to profit then you'll be more likely to deposit… Meaning the creator will be more likely to earn a commission.
And so the Bitcoin Bonanza system was born!
The whole Bitcoin Bonanza system is nothing but a big ploy to make you think that you are going to be guaranteed to make money quickly & easy… But of course, before you can do so you must deposit with the creators "recommended" broker.
It's only after depositing that you'll realize that the system doesn't actually work as promised. Instead of generating you profits, the system will actually make you nothing but losses… As I say it's just a typical binary options scam.
And remember what I said about the brokers being unlicensed & unregulated? Yep they're in on the scam too, so if you think you'll be able to simply withdraw your funds back out once you realize it doesn't actually work then think again.
These brokers ain't gonna let you get your money back so easily! Therefore the best thing to do is not give them it in the first place.
You Might Also Like:
Is Bitcoin Bonanza a Scam?
I can say with 100% certainty that the Bitcoin Bonanza system is indeed a scam. The bold income claims & crazy hype are red flags on their own but the biggest red flag for me is the fact that you're pushed through a broker before you can actually access the system.
You see unlike with typical trading when you trade cryptocurrencies you don't actually need a broker at all. You should just be able to hook the system directly up to a cryptocurrency wallet, like a CoinBase wallet for example.
The other tell-tale signs of Bitcoin Bonanza being a scam are the dodgy tactics they've employed on their website. They say things like "hurry there are only a few spots left" & they prevent you from leaving the page… This is because they want to rush you through the signing up process because they know that if they give you time to look for reviews then the chances are you'll find out it's a scam.
Thankfully you came here first! Or at least I hope you did. If you didn't, and you happened to make a deposit before you landed on my Bitcoin Bonanza review then I suggest you check out this post for tips on retrieving your money.
Anyway, I'm sure I don't need to go on – hopefully, you can see what a big scam this is… But if you want further proof then just do a reverse image search on the photos of the people who've left "testimonials"… You'll see that they are all images taken from stock photo websites & not real users of the system.
Overall though it's safe to say that I won't be recommending this system to you – instead, I'll be strongly advising that you stay away from it because it's clear to me that it's set out to part you with your cash. If you do happen to have any further questions or comments about it then don't hesitate to leave them below.
A Better Alternative
The sad truth is that unfortunately most of the programs promising to help you make money online are scams. I can say that confidently after exposing over 500+ of them here on this blog.
But the good news is that even though most of them are indeed scams, there are actually some very good programs in amongst them - some programs that can truly help you to earn money.
And out of all of the legit programs I've seen, the one I would recommend the most to anybody looking to get started online is Commission Academy. In my own opinion, that's the best place to start.
At Commission Academy, you'll be provided with everything you need (including the training & tools) to begin earning real money by promoting products or services for companies like Amazon online.
The best part is that there's literally no limit on the amount you can earn with it & the process is pretty simple which means that it's absolutely perfect for people that don't have much experience.
Some wealthy affiliates even earn as much as 5-figures per month... Or more!

I mean don't get me wrong, that kind of money won't just fall into your lap without doing any work... But the harder you're willing to work at it, the more you stand to earn with it.
So if you're looking to get started but don't know which route you should go down or which program you should join (and don't want to waste money on bogus things that don't actually work), then I'd highly recommend checking out Commission Academy first. You can learn more about it here.