The Bitcoin Prime trading system claims to be Amazon's newest project & promises to provide you with an easy way to generate as much as $13,000 within just a mere 24 hours of getting started.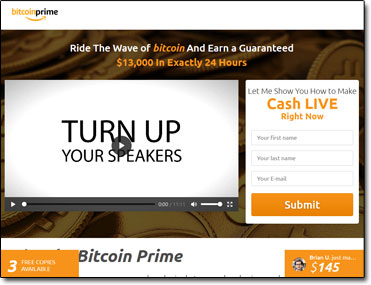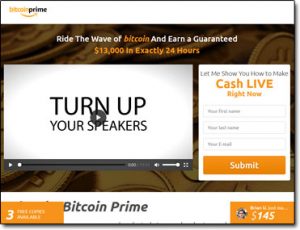 You're told that you'll be able to "ride the wave of Bitcoin" & that alongside generating revenue, you'll also be able to enjoy retreats around the world every month with other members.
But is Bitcoin Prime legit?
Or is a scam that you should avoid?
Well, thankfully you've landed in exactly the right place to find out because I've taken a closer look into it & in this Bitcoin Prime review I'll be uncovering everything you need to know.
What Is Bitcoin Prime?   |   How Does Bitcoin Prime Work?   |   The Red Flags   |   Bitcoin Prime In The News   |   Is Bitcoin Prime a Scam?   |   A Better Alternative
What Is Bitcoin Prime?
Bitcoin Prime is the name of a brand new website that's just launched & according to what appears to be a news source, the website is alleged to be "Amazon's newest project".
More on that in a moment, but basically, the Bitcoin Prime system claims that it can provide you with a way to generate an automated income through Bitcoin trades that are made on your behalf.
So you're led to believe that you can simply sign up, make a deposit with the recommended broker & then activate the system in order to have it generating you an income on complete autopilot.
And not just any old income either… The Bitcoin Prime system claims that you can generate as much as $13,000 per day.

However, there's one pressing question which is that if it works as well as promised, why isn't everybody using it?
Why are people still working at jobs they dislike for less money if they can simply "activate" the Bitcoin Prime system & begin generating an income of $13,000 per day on autopilot?
The answer is because as you've probably guessed, Bitcoin Prime is a scam.
And I can say that so confidently right from the off because not only is it pretty obvious that it's a scam (sorry, had to say it), but it's also a scam I've previously exposed several times before.
The people behind it just keep on changing its name in an attempt to escape the negative reviews that surface about it so that they can continue tricking new people into signing up to it.
Some of its previous names include Bitcoin Revolution, Bitcoin Evolution, Bitcoin Cycle, Bitcoin UP & many more.
So it may be a different name, but it's the exact same scam… And it's NOT really associated with Amazon. Nor has it really been endorsed by any news websites, as you'll soon see.
How Does Bitcoin Prime Work?
So, the concept is that Amazon has supposedly developed a super-powerful trading system that can accurately make profitable Bitcoin trades & generate you an automated income.
All you need to do to access it is simply make a deposit via the broker that you're recommended.
But there are 2 very important things that the Bitcoin Prime website fails to mention & when these 2 things are coupled together, they literally prove that the entire thing is a scam.
The first thing they fail to tell you is that the creators of Bitcoin Prime are affiliated with the broker that they recommend to you. This means that if you sign up & deposit, they get paid a commission.
And the second thing they fail to mention is that the broker they recommend is what's known as a binary options broker, and binary options work very differently to traditional brokers.
You see, through a binary options broker you don't actually make "investments", instead, you simply place bets on whether you think the value of something will go up or down over a set period of time (usually under 60 seconds).
If you guess right (which is very rare), then you get your funds back plus a small bonus… But if you guess wrong, then the broker takes the entire bet that you placed.
The important point here is that it's in the broker's interests for you to lose, because if you win, then they have to pay you the small bonus out of their own pockets.
So knowing that, ask yourself this: why would a broker that loses money when you win be paying commissions to the creator of a "guaranteed winning system" for getting you to sign up?
The answer is because they know that the system won't really make you win.
They know that in reality, the Bitcoin Prime scam has been designed to make you lose money & they're in cahoots with the creator so that they too can earn some cash at your expense.
You see, in reality, the Bitcoin Prime system isn't really connected to any live markets. It's essentially just a video game.
So after making a deposit (which I don't recommend), you'll be given access to the system as promised & it will indeed appear to be generating profits, but it's all just a trick to encourage you to keep depositing.
Eventually, you'd try to make a withdrawal & realize that it's all been a con.
The Red Flags
The biggest red flag of all is the fact that it simply sounds WAY too good to be true & as the good-old-saying goes, "if something sounds too good to be true, it probably is".
In the instance of the Bitcoin Prime system, it definitely is.
But on top of that, there are several other red flags too, such as the fact that the system is a blatant reworking of past scams, such as the Bitcoin Evolution scam & the Bitcoin Revolution scam.
The scammers behind it are just changing the name in an attempt to escape the negative reviews so that they can continue tricking new people into signing up & depositing funds.
And furthermore, if you were to do any due diligence whatsoever on the Bitcoin Prime's alleged founder, Steve Mckay, you'd discover that he's also linked with other scams, as shown below:

The image above is a screenshot that was taken of a scam named the Tesler App & on that website it was said that Steve Mckay (the same guy that's allegedly behind the Bitcoin Prime app) was the founder.
Coincidence? I think not.
However, whilst to the trained eye it's easy to spot that the Bitcoin Prime system is a scam, the people behind it have actually gone to some quite extreme lengths to lure people in.
And one of those lengths is the creation of fake news websites.
You Might Also Like:
Bitcoin Prime Fake News Websites
In an effort to trick people into signing up, the creators of the Bitcoin Prime scam have also created several fakes news websites to promote it.
So rather than sending visitors directly to the Bitcoin Prime website, they are paying for advertising & routing the visitors through various fake news websites that portray themselves as reputable platforms, such as the BBC.
Below is an example of one of those "news" websites promoting the Bitcoin Prime scam: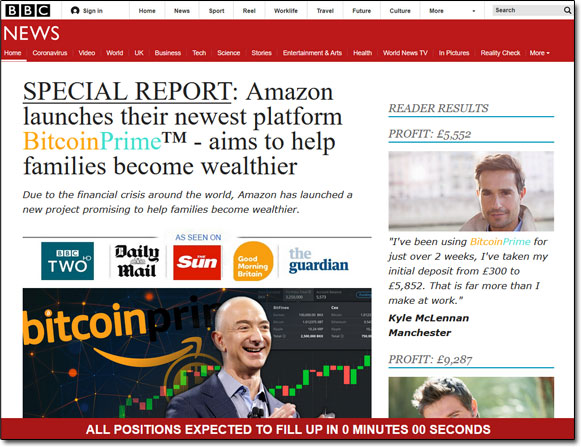 At a glance, it appears as if it is the legitimate BBC news website & the article claims that Amazon has launched a new trading program (Bitcoin Prime), then it provides a link to sign up.
But if we take a closer look at the address bar of the page, it becomes easy to see that it's not the real BBC website at all, as shown below:

It is just a fake website that's been set up with the intention of misinforming you so that you'll be more likely to try the Bitcoin Prime system out when you finally come across it.
The creators know that you'll likely be suspicious, but if they can make you believe that it was promoted via a trustworthy source, they know that you'll likely deposit some money to "try it out".
And it's that exact moment that you'll be scammed.
Is Bitcoin Prime a Scam?
Yes, there's no doubt about it, the Bitcoin Prime system is a scam. The whole thing has been set up with the simple intention of tricking you into depositing with a scam binary options broker.
This means that if you do sign up & deposit funds, you will lose them.
Worse, is the fact that upon depositing, the system makes it appear as if you're actually profiting (when in reality you're not) in an attempt to encourage you to keep depositing even more money.
Basically, the whole thing is bad news & should be avoided.
But aside from the Bitcoin Prime scam, there are actually legitimate ways that you can generate revenue online – it's just you must appreciate that in order to generate good revenue, you must be prepared to put in work.
There is no "push-button system" for making money like these scammers make out, but if you are prepared to put in work then there are certainly plenty of legitimate avenues you can go down.
One of my highest-recommended ones is an avenue known as affiliate marketing, which basically involves you promoting products or services online in return for commissions on successful sales.
It's the exact same way that I personally generate an income online & the reason I recommend it is because it's very easy to get started with, especially with the help of a training program like Commission Academy.
Plus, there are also no limits on the amounts that you can earn with it.
But whatever you decide to do, I just hope that my honest review of Bitcoin Prime here has given you a good insight into how it really works & helped you to avoid losing money to it.
If you happen to have any further questions or comments, don't hesitate to leave them below.
A Better Alternative
The sad truth is that unfortunately most of the programs promising to help you make money online are scams. I can say that confidently after exposing over 500+ of them here on this blog.
But the good news is that even though most of them are indeed scams, there are actually some very good programs in amongst them - some programs that can truly help you to earn money.
And out of all of the legit programs I've seen, the one I would recommend the most to anybody looking to get started online is Commission Academy. In my own opinion, that's the best place to start.
At Commission Academy, you'll be provided with everything you need (including the training & tools) to begin earning real money by promoting products or services for companies like Amazon online.
The best part is that there's literally no limit on the amount you can earn with it & the process is pretty simple which means that it's absolutely perfect for people that don't have much experience.
Some wealthy affiliates even earn as much as 5-figures per month... Or more!

I mean don't get me wrong, that kind of money won't just fall into your lap without doing any work... But the harder you're willing to work at it, the more you stand to earn with it.
So if you're looking to get started but don't know which route you should go down or which program you should join (and don't want to waste money on bogus things that don't actually work), then I'd highly recommend checking out Commission Academy first. You can learn more about it here.