The "Bitcoin System", currently located at the strange web address of "systembitcoin.io", promises to provide you with a way to "ride the wave of Bitcoin" & generate guaranteed automated profits.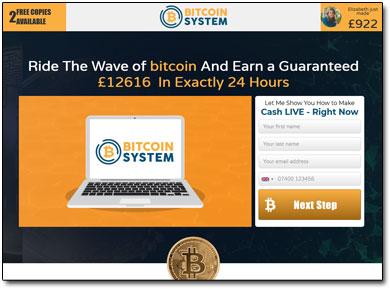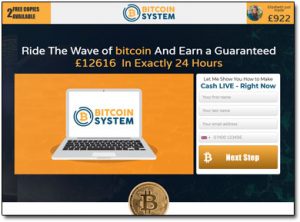 You're literally led to believe that you can simply sign up, make a small deposit & then activate the system to have it begin making money for you all on complete autopilot.
The founder, Steve McKay, even claims that you will earn a guaranteed sum of £12,616 within your very first 24 hours of signing up.
Yes, £12,616! That wasn't a typo.
But no doubt you've probably found yourself wondering, is the "Bitcoin System" actually legit? Or is it just a scam that's somehow looking to steal your hard-earned cash?
Well, the good news is that you've landed in exactly the right place to find out because I've taken a closer look into it & in this honest review of the "Bitcoin System" I'll be uncovering everything you need to know.
Including why it doesn't really work as promised (and what you can do instead).
What Is Bitcoin System?   |   Who Is Steve McKay?   |   How Does Bitcoin System Work?   |   The Red Flags   |   Fake Testimonials   |   Is Bitcoin System a Scam?   |   A Better Alternative
What Is "Bitcoin System"?
Bitcoin System is an automated Bitcoin trading system that has allegedly been created by a genius named Steve McKay & it makes the bold promise of being able to generate guaranteed profits.
So essentially, you're led to believe that you can simply sign up, make a small deposit ($250+), activate the system & then begin generating profits all on complete autopilot, even if you don't know the first thing about Bitcoin…
That's because Steve McKay, the founder, has allegedly built the system around a "proven algorithm".
The algorithm can supposedly detect upcoming Bitcoin fluctuations & place trades before they happen so that you can just sit back & relax as the system generates profits on your behalf.
But I think you'll agree, it sounds a little too good to be true.
And that's because it is.
The reality here is that the Bitcoin System is nothing more than a scam. It's been built with the sole intention of parting you with your cash & any money that you deposit you will just be guaranteed to lose.
I'll explain why in a moment but first, let's take a closer look at the "genius" behind it.
Who Is Steve McKay?
According to the official Bitcoin System website, Steve McKay is the "genius behind the Bitcoin System". He claims that he is an ex-software developer for a large firm whose name he doesn't want to disclose.
Other than that brief bio, however, Steve doesn't go much further into talking about his background.
What he does do though is provide a photo of himself, as shown below: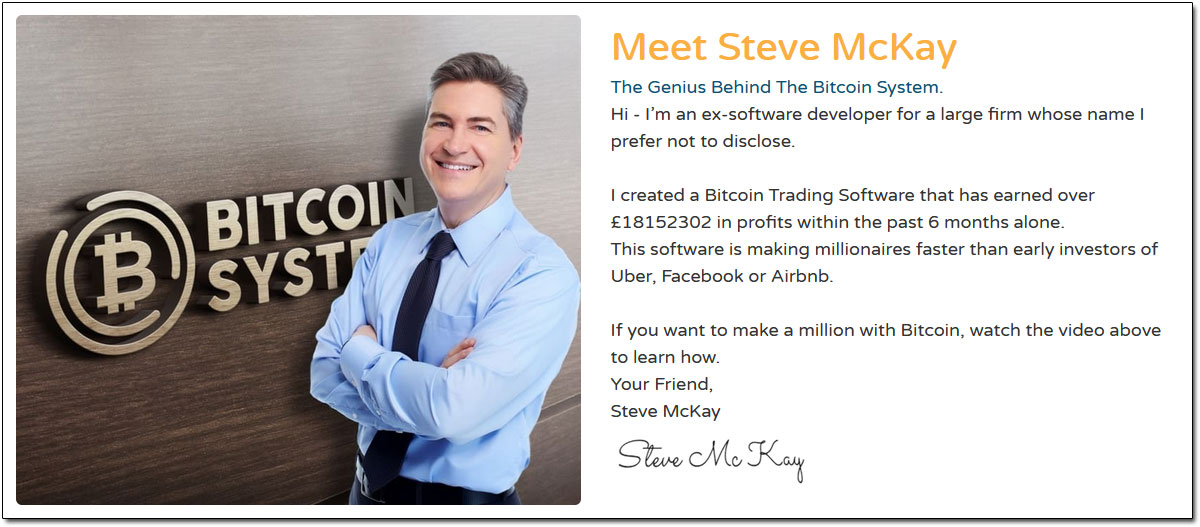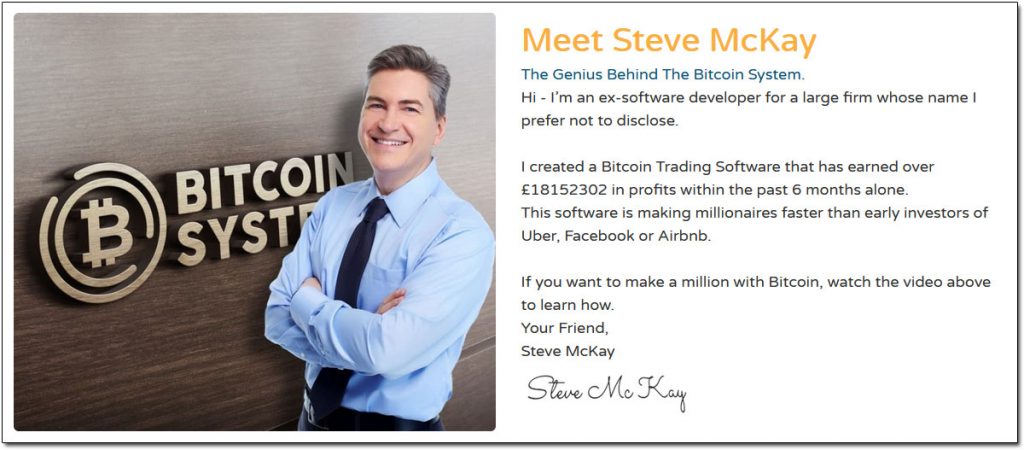 And if we run a search on the image using Google's Reverse Image Search tool we get a result from a national newspaper with the headline "This scam's so obvious that a blind man could see it on a foggy night".

I mean I don't know about you, but personally, I'd say that's not a good sign.
But it also gets worse because further digging reveals that Mr Steve McKay also claimed to be the founder of the Bitcoin Prime scam that I previously exposed right here on this blog.
Oddly, however, Steve looks a little different on the website of the Bitcoin Prime system:

So I think it's pretty clear here that Steve McKay is not a real person. Instead, it's just a fake alias that's being used to hide the true person that's behind the Bitcoin System scam.
And the reason they want to stay hidden is probably pretty evident already.
But just in case it's not, let's take a closer look into how it works.
How Does "Bitcoin System" Work?
In short, the "Bitcoin System" is nothing more than a ploy that's been designed to trick you into making a deposit with a rogue binary options broker that the creator is affiliated with.
This means that when you make a deposit, the person behind the Bitcoin System scam will be paid a commission (at your expense) & then you'll just be left to discover that the promises do not really hold true.
And even in general, binary options trading is very bad news.
You see, unlike typical trading which you may be familiar with, through binary options trading you don't actually invest in anything. Instead, you simply place "bets" on whether you believe the value of something will rise or fall.
And whilst this initially may sound easy, the time periods are typically so small (usually under 60 seconds) that it makes the odds of it even more difficult than gambling at a roulette table.
So essentially, your deposits just become free money for the brokers.
That's why even Forbes published an article warning about the dangers of binary trading, as shown below: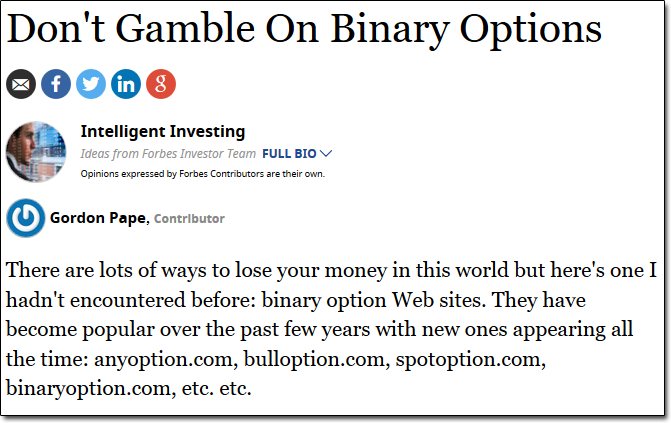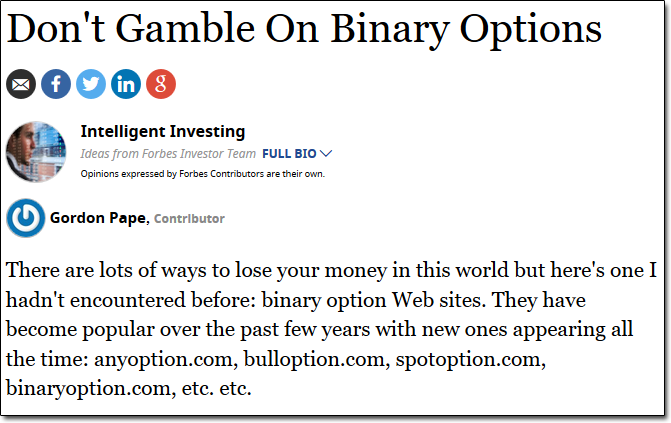 And the FCA (the financial regulator in the UK) even placed a full ban on binary options, as shown below:

So in terms of "how does Bitcoin System work", basically it doesn't work. It is just a website that makes false promises in an attempt to trick you into making a deposit with a binary broker.
Then, if you do make a deposit, you will have ultimately fallen victim to the scam.
So don't be tempted to "try it out" because that's how they get you.
And just in case you're still tempted (as, unfortunately, I know some people reading this will be) let me run over some of the red flags so that you can see first-hand that it is quite blatantly a scam.
You Might Also Like:
The Red Flags
Firstly, there's the obvious red flag which is the fact that it simply sounds way too good to be true. As the good old saying goes, if something sounds too good to be true, it probably is.
In the instance of the Bitcoin System, it definitely is.
On top of that, however, there's the fact that it was outed in a national newspaper as a scam.
That should be proof enough on its own that it's a scam.
But then as I personally exposed further up in this "Bitcoin System" review, there's also the fact that Steve McKay (the so-called genius) behind it is just a fake alias. Steve isn't real, neither is his system.
And to top it off, there's also the fact that the Bitcoin System displays no contact details or ownership information whatsoever.
So, would you really want to invest via an "anonymous" website? I hope not.
An investment website (like the Bitcoin System website) should display clear ownership information, clear contact details & most importantly, it should also hold a regulatory license.
The Bitcoin System does none of those things.
It's safe to say that with all of those red flags in mind, it's not looking good for the Bitcoin System… And I didn't even get onto talking about the fake testimonials yet.
Fake Testimonials
One of the main reasons people end up falling for scams like the Bitcoin System scam is because they leverage fake testimonials on their website which lead people towards believing that it may be legit.
After all, if other people appear to be saying good things about it then you're going to be much more likely to try it out.
But the problem is that the testimonials shown on the Bitcoin System website are not real.
Take the testimonial from "Chris Hadid", for example: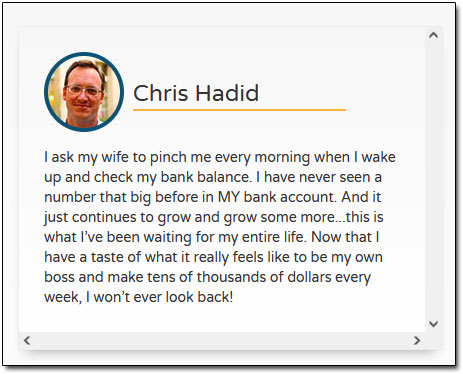 In the testimonial, "Chris" claims that the Bitcoin System has enabled him to become his own boss & that his bank account is growing every single day which sounds pretty convincing.
But a quick search on the image of Chris using Google's amazing Reverse Image Search tool reveals that the image has been stolen & that "Chris Hadid" is just a fictitious name.
As shown below, the image actually belongs to a French man named Ricardo Perez Nuckel:

And it's the same story with all of the other testimonials too. They're all fake.
So, ask yourself this – why would the creator of such an "amazing system" need to leverage fake testimonials? Surely it would be easy to get legitimate testimonials from people, would it not?
Well, not if it is was a scam… Which is exactly what it is.
And that brings me onto…
Is "Bitcoin System" a Scam?
I can say with 100% certainty that the Bitcoin System is a scam & hopefully now, after reading this Bitcoin System review & seeing all of the red flags, you too can also see that for yourself.
The entire Bitcoin System website is nothing more than a ploy that has been designed to trick you into believing that you can easily make a profit so that you'll be more likely to deposit with the "recommended" broker.
But if you make a deposit, you will have fallen victim to the scam.
That's because after depositing, you will be simply be left to find out that the system doesn't really work as promised & that the broker you have made a deposit with is just an unlicensed rogue.
So take my advice & avoid it. Don't be tempted to "try it out".
Instead, if you are still looking for a way to make money online legitimately I would highly recommend that you take a look into affiliate marketing.
Affiliate marketing, in my opinion, is one of the best methods for generating revenue online & the reason I say that is because not only is it very simple but it also requires very little investment to get started with.
Heck, you can even get started with it for free by following my training.
But anyway, whatever you decide to do I just hope that you have found my "Bitcoin System" review helpful & most importantly I hope it has helped you to avoid losing any of your hard-earned cash.
Feel free to share any additional comments or questions below.
A Better Alternative
The sad truth is that unfortunately most of the programs promising to help you make money online are scams. I can say that confidently after exposing over 500+ of them here on this blog.
But the good news is that even though most of them are indeed scams, there are actually some very good programs in amongst them - some programs that can truly help you to earn money.
And out of all of the legit programs I've seen, the one I would recommend the most to anybody looking to get started online is Commission Academy. In my own opinion, that's the best place to start.
At Commission Academy, you'll be provided with everything you need (including the training & tools) to begin earning real money by promoting products or services for companies like Amazon online.
The best part is that there's literally no limit on the amount you can earn with it & the process is pretty simple which means that it's absolutely perfect for people that don't have much experience.
Some wealthy affiliates even earn as much as 5-figures per month... Or more!


I mean don't get me wrong, that kind of money won't just fall into your lap without doing any work... But the harder you're willing to work at it, the more you stand to earn with it.
So if you're looking to get started but don't know which route you should go down or which program you should join (and don't want to waste money on bogus things that don't actually work), then I'd highly recommend checking out Commission Academy first. You can learn more about it here.