The Bitcoins Wealth Club is a new system that's launched promising its users whopping profits of around $65k per day & it claims to make Bitcoin mining easier than ever enabling everybody to make money.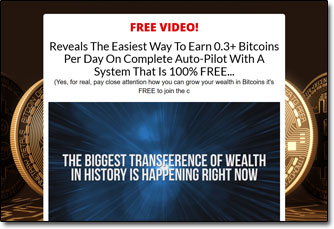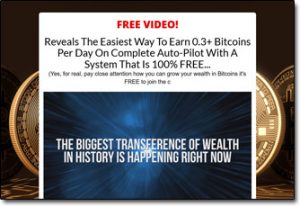 But the problem is that I've seen a whole bunch of similar Bitcoin opportunities last over the past few months & none have delivered on their promises, so, is this one actually legit?
Or is Bitcoins Wealth Club yet another scam?
Well, you can rest assured that you've landed in the right place to find out as I've personally taken a closer look into it & in this honest review I'll be uncovering everything you need to know.
What Is Bitcoins Wealth Club?   |   How Does It Work?   |   Is Bitcoins Wealth Club a Scam?   |   The Bottom Line   |   A Better Alternative
What Is Bitcoins Wealth Club?
The Bitcoins Wealth Club is a new MLM opportunity that's been getting promoted by a couple of top marketers in the online marketing industry & it claims to be the biggest Bitcoin opportunity ever.
Usually, I brush these things off almost immediately because all of the previous systems I've seen that have consisted of both cryptocurrency investing & recruiting have turned out to be nothing but Ponzi scams…
However with this one getting promoted by some top marketers it's made me take a little bit of a closer look to see what's going on – is it a genuine opportunity or are they too now just trying to cash in?
That's what I'll be getting to the bottom of in this review.
But with some bold claims like "profits of $65k per day" I won't be getting my hopes up…
How Does Bitcoins Wealth Club Work?
The Bitcoins Wealth Club is a network marketing opportunity which will see you purchasing into the program in Bitcoin & then making money by recruiting other people into the opportunity.
The reason they're claiming that you'll be able to make substantial profits of around $65k per day is that being a network marketing company you're able to earn from the efforts of others as well as your own. Well, the efforts of the other people you recruit into the opportunity at least.
So for example if you refer your friend Dave into the opportunity you'll earn a commission when he buys into the program, then if Dave then refers his friend Sarah into the opportunity you'll also get a percentage of the commission when she buys into the program.
From the off, you'll probably think it sounds fairly lucrative, as do all network marketing companies – but the truth is, in reality, it's very difficult to get people to duplicate in the manner that I mentioned above.
If you brought 5 people in who also brought 5 people & that continued throughout your downline then you could potentially reach that $65k per day claim, but that happening is very unlikely.
Not to mention the fact that if you suck at recruiting then you might not even make a penny through this opportunity – you could just see yourself spending more than you ever make back.
Is Bitcoins Wealth Club a Scam?
To be honest whenever I see investment programs mixed with recruiting I always become immediately very sceptical because that kind of thing lies very close to being classed as a Ponzi scheme.
And if you don't know a Ponzi scheme is basically where older investors are getting paid off from new investors coming into the company (so there are no actual other money-generation methods going on).
Literally, every cryptocurrency opportunity I've come across so far has turned out to be a Ponzi, even the ones that tried to cover it by making out like they were mining coins like the Power Mining Pool.
But is the Bitcoins Wealth Club a scam? Sadly it's too early to say. They also claim that they are running a mining operation (which could potentially make it legit) but we've yet to see valid proof of this.
If solid proof comes out that there is indeed a mining operation & that's where the money being paid out to investors is coming from then yes, it could be deemed as being legit – but until then I won't be getting involved.
The Bottom Line
To be honest I have mixed feelings about this opportunity – I generally stay away from these programs that combine investing with recruiting as more often than not they turn out to be nothing but Ponzis.
However, with this particular system being promoted by a few of the top marketers in the industry I'll definitely be keeping a close eye on it to see if they reveal solid proof of a mining operation.
If that happens & they prove that money is coming into the company from other sources than new investments then I will take another look at it, but until then I won't be joining it or recommending it.
In my opinion, it's just way too risky because I've seen an awful lot of these cryptocurrency opportunities launch over the past few months but the majority later collapsed & left people parted people with their cash.
Just take a look at BitConnect & the BitClub network for example – they also launched promising their members extremely bold profits like the Bitcoins Wealth Club but it seems like those too are now collapsing.
Don't get me wrong there is certainly some money to be made through cryptocurrency investments but in my opinion, these MLM style recruitment opportunities are not the right way to go about it.
A Better Alternative
The sad truth is that unfortunately most of the programs promising to help you make money online are scams. I can say that confidently after exposing over 500+ of them here on this blog.
But the good news is that even though most of them are indeed scams, there are actually some very good programs in amongst them - some programs that can truly help you to earn money.
And out of all of the legit programs I've seen, the one I would recommend the most to anybody looking to get started online is Commission Academy. In my own opinion, that's the best place to start.
At Commission Academy, you'll be provided with everything you need (including the training & tools) to begin earning real money by promoting products or services for companies like Amazon online.
The best part is that there's literally no limit on the amount you can earn with it & the process is pretty simple which means that it's absolutely perfect for people that don't have much experience.
Some wealthy affiliates even earn as much as 5-figures per month... Or more!

I mean don't get me wrong, that kind of money won't just fall into your lap without doing any work... But the harder you're willing to work at it, the more you stand to earn with it.
So if you're looking to get started but don't know which route you should go down or which program you should join (and don't want to waste money on bogus things that don't actually work), then I'd highly recommend checking out Commission Academy first. You can learn more about it here.