In this review, I'm going to be taking a look at something called the Power Mining Pool which claims it can enable you to earn unlimited passive income from 7 different cryptocurrency mining pools without having to do any recruiting at all.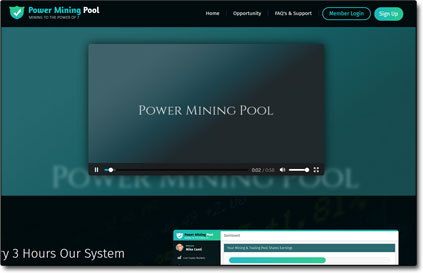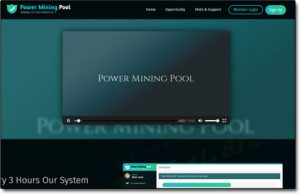 And if you don't actually mind recruiting then it also claims you can bring other people into the opportunity & earn 10% lifetime commissions on their earnings which are paid out over 10 levels of referrals (MLM style).
I think you'll agree that it sounds pretty impressive, but is it actually legit? Or is the Power Mining Pool a scam that will eventually crumble & see you parted with your cash?
That's exactly what I'll be finding out right here in this Power Mining Pool review along with how it works & whether you can really make money.
So if you've been thinking about joining this particular opportunity then you cant rest assured that you've landed in the right place to find out everything you need to know about it before you do.
What Is Power Mining Pool?   |   How Does Power Mining Pool Work?   |   The Referral Opportunity   |   Does The Mining Operation Exist?   |   Is Power Mining Pool a Scam?   |   A Better Alternative
What Is Power Mining Pool?
As I briefly touched on above the Power Mining Pool is an opportunity that supposedly enables you to profit from 7 different cryptocurrencies by either joining their mining pools or recruiting people into the opportunity.
The cryptocurrencies they supposedly enable you to "cash in on" are Ethereum, Burst, DASH, Zcash, Game Credits, Nem & Monero – some of which you might have heard of, some of which you probably haven't.

Despite all the various cryptocurrencies being mined (or supposedly mined – more on that in a mo) the Power Mining Pool only allows you to connect a Bitcoin wallet so to get started with the opportunity you'll need to invest in Bitcoin, and any payments withdrawn will be paid out in Bitcoin too.
The Power Mining Pool claim that their mining pools operate 24/7 & that your earnings are automatically deposited into your wallet every 3 hours which are then instantly withdrawable via Bitcoin once you've accrued over €20.
How Does Power Mining Pool Work?
Firstly before you can do anything you'll be required to pay a €99 membership fee which will give you lifetime access to the platform, then after this you will be required to purchase "shares" in the mining pools.
Every share you purchase will earn you a fixed sum of €70 however the time this takes is said to depend on the currency fluctuations at the time & the success of the mining pools themselves.
Once you have earned the money your share will expire & then you'll be required to re-invest, and yes this can be done from the profits that you have earned so you don't need to make another deposit.
Be aware that by default when you sign up to the Power Mining Pool your account will be set to automatically reinvest your earnings & purchase new shares – so if you don't want to do this you must disable it before you invest.
The Power Mining Pool Referral Opportunity
On top of earning through the mining pools, you'll also have the opportunity to earn extra commissions by recruiting other people into the opportunity, though before you can participate in this network marketing style referral program you'll need to first have purchased at least 4 shares in the mining pools.
Once you've qualified to earn through the referral program you'll earn 10% commissions on the profits earned by any of the members that you refer & these commissions are payable over 10 levels of referrals. So every time they earn €70, you get €7.
Does The Mining Operation Exist?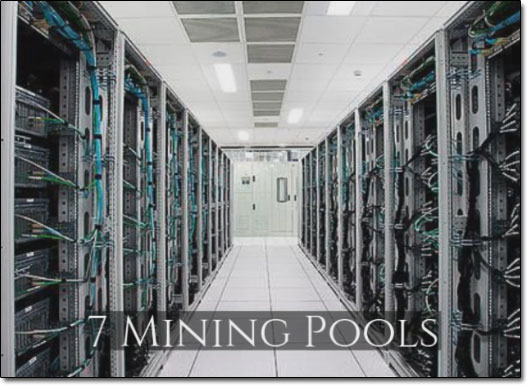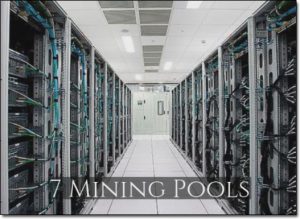 Over the past few months, I've seen a LOT of similar cryptocurrency opportunities launch, all of which claimed to be paying out profits from their mining operations but in reality, they turned out to be nothing but Ponzi schemes that were merely paying out old investors with the money getting paid in by the new investors signing up (hence the focus on recruitment).
These schemes inevitably collapsed & left thousands of people parted with their life-savings – but despite this several more are still launching such as the Bitclub scam for example which has already sucked people in.
Now once again here we are with another one that also claims to have dedicated mining rigs, and claiming that that's where the profits are coming from. I mean this is fine – if it's real, but is it real or is it another fake?
Well, that's where it becomes quite questionable. The Power Mining Pool show several pictures of their supposed rigs – however, the problem is each picture is different & clearly taken from Google.
Secondly, they claim that they will be holding events where people will be able to visit the mining rigs in-person & that they will live-stream it for anybody who can't, yet surprise surprise the dates for this are unconfirmed.
So at the moment there is absolutely no proof that the mining rigs exist which is very worrying for me – I mean yes, they may well have mining rigs but without solid confirmation, it's all very sketchy.
You Might Also Like:
Is Power Mining Pool a Scam?
At the moment it's too early to say – if they have genuine mining rigs then fair enough it seems like a legitimate opportunity, but if they don't (which it's looking like at the moment) then it's very bad news.
I'll give them the benefit of the doubt in the fact that they've only just recently launched, but to be honest, if I was launching a company like this then the first thing I would be doing is putting together proof of the mining operation & giving people solid evidence that it's actually real so, in my opinion, it's a little bit concerning that they haven't.
Therefore to be honest whilst this could potentially be legit at the moment I wouldn't recommend getting involved with it because like we have seen with JetCoin the company could just crumble & disappear with your cash.
If they do host the live events as promised or at least post addresses of the mining operation then I may be able to change my decision & recommend this opportunity, but until then I advise you stay away from it.
A Better Alternative
The sad truth is that unfortunately most of the programs promising to help you make money online are scams. I can say that confidently after exposing over 500+ of them here on this blog.
But the good news is that even though most of them are indeed scams, there are actually some very good programs in amongst them - some programs that can truly help you to earn money.
And out of all of the legit programs I've seen, the one I would recommend the most to anybody looking to get started online is Commission Academy. In my own opinion, that's the best place to start.
At Commission Academy, you'll be provided with everything you need (including the training & tools) to begin earning real money by promoting products or services for companies like Amazon online.
The best part is that there's literally no limit on the amount you can earn with it & the process is pretty simple which means that it's absolutely perfect for people that don't have much experience.
Some wealthy affiliates even earn as much as 5-figures per month... Or more!

I mean don't get me wrong, that kind of money won't just fall into your lap without doing any work... But the harder you're willing to work at it, the more you stand to earn with it.
So if you're looking to get started but don't know which route you should go down or which program you should join (and don't want to waste money on bogus things that don't actually work), then I'd highly recommend checking out Commission Academy first. You can learn more about it here.