In this review, I'm going to be taking a closer look at a company named BitConnect which claims to provide a lucrative investment opportunity for people willing to support their cryptocurrency BitConnectCoin (BCC).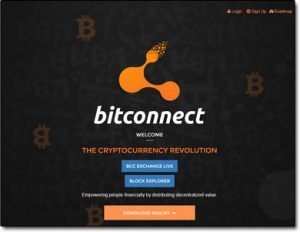 The company claims that members investing in their cryptocurrency can expect to see an ROI of up to 40% per month and that members can even earn more money by recruiting more people into the opportunity.
At a glance, it looks like a classic cryptocurrency Ponzi scheme, so what's the deal?
Is it actually legit? Or is BitConnect a scam that's merely out to part you with your hard-earned cash through dodgy cryptocurrency investments?
That's exactly what I'm going to be uncovering right here in this BitConnect review where I'll be finding out what it's all about, how it's supposed to work & whether or not it's a safe investment – meaning if you've been thinking about investing in BitConnectCoin (BCC) then you can rest assured you've landed in the right place to find out everything you need to know before you do.
What Is BitConnect?   |   How Does BitConnect Work?   |   The Recruitment Scheme   |   Is BitConnect a Scam?   |   A Better Alternative
What Is BitConnect?
As I touched on above BitConnect is a company that claims it can enable people to profit through cryptocurrency investments, but to profit through BitConnect you must invest in their own cryptocurrency named BitConnectCoin (BCC) on which they promise a whopping monthly ROI of up to 40%.
If you know anything about cryptocurrency investing then you'll know that 9 times out of 10 outrageously high ROIs are generally a red flag, especially where there's recruiting involved (which there is at BitConnect).
The other alarming factor about BitConnect is that it seems that their currency BitConnectCoin is completely worthless outside of the opportunity itself as there doesn't seem to be anywhere that transacts it.
And on top of that, the website (found at bitconnect.co) doesn't give out any information whatsoever as to which person(s) or company(s) are behind the operation, with the domain name also being registered privately too.
These are, sadly, all the classic signs of a Ponzi scheme & I can say that confidently because I've exposed literally hundreds of them over the years, two of which (DasCoin & Xtreme Coin) were actually cryptocurrency investment websites very similar to BitConnect.
But I'm not going to brush it off as a Ponzi scheme just yet as the last thing I would want to do is pass up a potentially lucrative opportunity for the sake of just making an assumption. Let's take a look into it…
How Does BitConnect Work?
The one thing I firstly want to make clear is that there are no products inside of BitConnect, therefore, the money is made through investment only – no retail sales or anything like that like there is at iCoinPro.
BitConnect claim that there are 4 different ways to profit from BitConnectCoin, which are:
Stake – Earn interest simply by holding BitConnectCoin & hoping it increases in value
Invest – Earn daily interest on BitConnectCoin lending
Trade – Earn profit with BitConnectCoin trading
Mine – Earn profit with BitConnectCoin mining
BitConnect claim to have one of the most lucrative cryptocurrencies to invest in as they state that their coin increases in value by up to 120% per year as they want to reward people holding the coins in return for helping maintain the security of the network (their words, not mine).
On top of that BitConnect also provide their own marketplace through which you can buy & sell the currency. To begin you'll need to trade USD or Bitcoin for the currency but once you have the currency you can then sell it via the marketplace if the price later increases.
Just remember though that essentially the BitConnectCoin is seemingly worthless outside of the opportunity so personally, I'd rather have my money held up in USD or Bitcoin as opposed to BCC.
Then There's The Recruitment…
To be honest, when it comes to the 4 ways you can earn through BitConnect that I just mentioned above I was starting to feel like it could actually be legit, but then I remembered about the recruitment…
To be able to profit from BitConnect's affiliate program you must firstly invest in BitConnect yourself, and the more money you invest the more money you will be rewarded through the opportunity.
The Compensation Plan
Invest $100 to $1000 and receive up to 40% monthly ROI for 299 days
Invest $1010 to $5000 and receive up to 40% monthly ROI for 239 days plus bonus 23.9% overall ROI
Invest $5010 to $10,000 and receive up to 40% monthly ROI for 179 days plus bonus 35.9% overall ROI
Invest $10,010 to $100,000 and receive up to 40% monthly ROI for 120 days plus bonus 30% overall ROI
Then on top of that, you have the opportunity to earn additional money by bringing new people into the investment opportunity. BitConnect pay out commissions through a uni-level compensation plan.
You'll basically be able to earn commissions from the money invested by the people you refer, the money invested by the people they refer, the people they refer and so on & this continues on infinite levels.
Here's how the commissions through that particular part of the compensation plan look:
Level 1 (the people you personally recruit) – 7%
Level 2 – 3%
Levels 3 and 4 – 1%
Level 5 – 0.5%
Level 6 – 0.3%
Level 7 – 0.2%
Level 8 – 0.1%
Level 9 – 0.05%
Level 10 – 0.03%
Level 11 onward – 0.01%
As mentioned above you'll need to personally hold an investment in BitConnect to participate in the opportunity, so whilst it's classed as a "free opportunity" you'll actually be required to invest between $100 to $10,000 to get started. You can purchase BitConnectCoins in exchange for USD or Bitcoin.
You Might Also Like:
Is BitConnect a Scam?
To be honest whilst BitConnect does look very convincing there seems to be a heavy push on recruiting & for that reason I'm leaning towards believing that this opportunity is indeed a Ponzi scheme.
The big problem here is that outside of the opportunity the BitConnectCoin seems to be totally worthless as I was unable to find anywhere that you could actually transact it – and in order to participate in the opportunity affiliates are being forced to invest in this seemingly worthless currency which is a red flag if you ask me.
It looks to me like the money being paid out to investors is merely the money that's coming into the company from new investors, and that once new investors stop coming then the money will stop coming too – forcing BitConnect to collapse like many of the other similar cryptocurrency opportunities that have come before it such as JetCoin.
So overall it's a thumbs down for BitConnect from me & there's no way I could recommend this company to you because it simply poses way too much risk to your investment.
A Better Alternative
The sad truth is that unfortunately most of the programs promising to help you make money online are scams. I can say that confidently after exposing over 500+ of them here on this blog.
But the good news is that even though most of them are indeed scams, there are actually some very good programs in amongst them - some programs that can truly help you to earn money.
And out of all of the legit programs I've seen, the one I would recommend the most to anybody looking to get started online is Commission Academy. In my own opinion, that's the best place to start.
At Commission Academy, you'll be provided with everything you need (including the training & tools) to begin earning real money by promoting products or services for companies like Amazon online.
The best part is that there's literally no limit on the amount you can earn with it & the process is pretty simple which means that it's absolutely perfect for people that don't have much experience.
Some wealthy affiliates even earn as much as 5-figures per month... Or more!

I mean don't get me wrong, that kind of money won't just fall into your lap without doing any work... But the harder you're willing to work at it, the more you stand to earn with it.
So if you're looking to get started but don't know which route you should go down or which program you should join (and don't want to waste money on bogus things that don't actually work), then I'd highly recommend checking out Commission Academy first. You can learn more about it here.