Only a few programs manage to attract the reviewer's attention even before their official launch and Bizmo is one of them. If you've already heard about this program and want to know more then you've just reached the right place.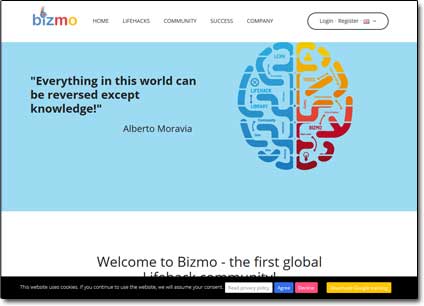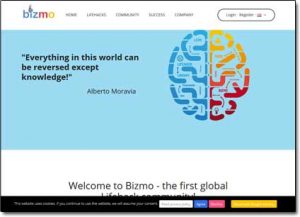 I've spent sufficient time searching for the facts about this seemingly impressive app and today – a few days ahead of its launch – is perhaps the perfect time to publish my honest Bizmo review.
For all those who have been looking for something interesting, unique and engaging with the addition of a potential income opportunity, this could become something really good to join. But before that, we need to know the answer to the infamous question "is Bizmo a scam?".
At first, it doesn't look so but we can't conclude anything before taking a closer look into it which is exactly what I aim to do in this review.
What Is Bizmo?   |   How Does Bizmo Work?   |   Is Bizmo a Scam?   |   A Better Alternative
What Is Bizmo?
Bizmo is an app which is allegedly going to facilitate "The First Global Lifehack Community" – as they call it – and the members will be learning from one another by spreading the knowledge from their culture. The app has been introduced by Global Solutions System, a company established back in 2014 which is based in Berlin.
In a sense, this app is going to facilitate the people who want to know how people in other regions solve different issues and how their lifestyle works. On the other hand, it is going to facilitate those who want to spread their cultural knowledge beyond geographical boundaries.
The content on the website suggests that you can also make some money through this app. You simply need to install the app on your PC or smartphone, register with Bizmo and then start sharing lifehacks.
The website also features a pretty good introductory video which throws light on how you can earn using this app. The app contains nine major categories. You can choose any of the three available packages which allow you to share life hacks for certain categories.
These categories include:
Finance
Health
Art
Carrier
Food Habits
Family
Travel
Pets
Technical /Digital Gaming
The number of categories for which you can share your knowledge depends on the package you purchase.
How Does Bizmo Work?
Upon joining the app, you'll have the option to either select three, six or all nine categories – depending on your purchased plan – and you'll be posting lifehacks. If your hack is good enough, it'll be selected as the top-hack.
The selection is based on the voting system. If your hack gets more votes and becomes the winning post, you'll get the reward.
The website doesn't talk anything about the expected income so I'm not in a position to throw a guess.
One hack per day is selected as the super hack which also earns the winner a good reward.
In addition to this, you can also make some money by sharing the app with your friends and family. Initially, you have 36 days of honeymoon period during which you'll not be charged anything, then after 36 days, you'll have to purchase any package from three available plans if you wish to continue using it.
Back Share System
Like an MLM model (pictured below), Bizmo also introduces an offer through which you can make money by recruiting more members. The compensation plans are not yet accessible but I'm sure that they'll reveal it as the launching date nears by.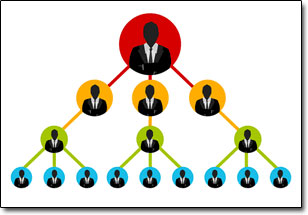 Bizmo Subscriptions
Bizmo offers three membership plans which are as follows:
Basic – €10 / month gives you access to 3 categories
Pro – €20 / month gives you access to 6 categories
Elite – €30 / month gives you access to all 9 categories
The demonstration video on the website doesn't clearly tell us whether the selection of the categories allows users to choose them or if the administrators offer a particular fixed set of categories for the first couple of plans. The prices looks fairly good but don't forget the fact that these are per month prices. The video graphics only show the price & doesn't mention anything about a recurring fee but the speaker in the video clearly calls it "per month" plan.
Is Bizmo a Scam?
I don't find anything fishy about the Bizmo website or the app being promoted. Bizmo is NOT a scam but will it really help you make money? It depends on what we experience after using the app. At the moment, we can't really conclude anything because the app is still yet to launch. We don't even know how much they pay for a winning hack or recruitment. We'll have to wait to find out!
The good thing though is that you have a 36-day free trial opportunity. During this period, you'll get a better idea of what this app really is and how exactly it functions.
I also really like Bizmo's demonstration video because it doesn't just focus on the making money side of things & there's no hype about "becoming rich". It introduces the app in a really decent manner. Everything is professional with regards to the presentation so I am hopeful that Bizmo will manage to serve the community as it promises. I am really looking forward to this app because it is interesting, unique and something never seen before!
If however you were interested in Bizmo for the money-making side of things & you're interested in looking into other opportunities whilst it's still in its pre-launch phase then you should definitely check out Commission Academy. That's one of my all-time top-rated money-making programs & it's completely free to join.
But hopefully, you found my review here useful & hopefully it gave you a better insight into what Bizmo's all about. If you do still happen to have any extra questions though then don't hesitate to leave a comment below & I'll get back to you as soon as possible.
A Better Alternative
The sad truth is that unfortunately most of the programs promising to help you make money online are scams. I can say that confidently after exposing over 500+ of them here on this blog.
But the good news is that even though most of them are indeed scams, there are actually some very good programs in amongst them - some programs that can truly help you to earn money.
And out of all of the legit programs I've seen, the one I would recommend the most to anybody looking to get started online is Commission Academy. In my own opinion, that's the best place to start.
At Commission Academy, you'll be provided with everything you need (including the training & tools) to begin earning real money by promoting products or services for companies like Amazon online.
The best part is that there's literally no limit on the amount you can earn with it & the process is pretty simple which means that it's absolutely perfect for people that don't have much experience.
Some wealthy affiliates even earn as much as 5-figures per month... Or more!

I mean don't get me wrong, that kind of money won't just fall into your lap without doing any work... But the harder you're willing to work at it, the more you stand to earn with it.
So if you're looking to get started but don't know which route you should go down or which program you should join (and don't want to waste money on bogus things that don't actually work), then I'd highly recommend checking out Commission Academy first. You can learn more about it here.