BnkToTheFuture is a UK based cryptocurrency investment company that's been launched by a guy named Simon Dixon and it claims to give you the opportunity to invest in the future of finance.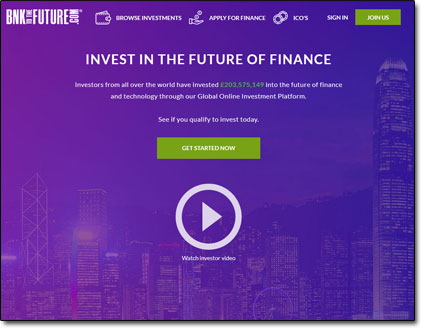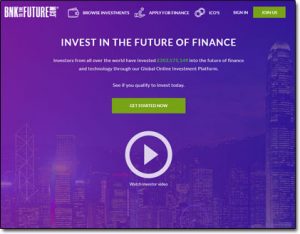 So far they claim to have raised over a whopping £200 million pounds but when it comes to investing in these kinds of ICO ventures you just can't be too careful – so what's the deal with this one?
Is it actually legit or is BnkToTheFuture a scam that'll ultimately just part you with your cash?
Thankfully you've landed in exactly the right place to find out because I've taken a closer look into it to see what it's all about & in this review, I'll be uncovering everything you need to know, including how it all works & whether or not you can really make good money by investing with them.
What Is BnkToTheFuture?   |   How Does BnkToTheFuture Work?   |   Why BnkToTheFuture?   |   Is BnkToTheFuture a Scam?   |   A Better Alternative
What Is The BnkToTheFuture ICO?
BnkToTheFuture is a company that's been launched by a former investment banker named Simon Dixon & the concept of it is that it will enable companies to raise debt, equity and donations all in the one place.
Currently, it's in its ICO stage, which stands for Initial Coin Offering. This basically means that the company's coins are essentially in "pre-release" so to speak, and if you think it's a good idea you can invest them which will see you getting tokens that can be redeemed for the initial coins the company puts out once they are released.
You'll simply be investing in the hope that the value of the coins will continue to increase once the company goes live. If they do, then you stand to make money because you can resell them at their new higher price.
The problem though is that pretty much anybody can set up an ICO – and because of that, there's been a lot of scams surfacing lately, some of them like the MineTech Farm scam, for example, can almost appear to be legit & so it's super important to do your due diligence when looking into these things.
The good news that I can confirm right from the off though is that BnkToTheFuture is indeed a legitimate company. They're based in the UK, they hold the relevant licenses & they've even been backed by big names like Richard Branson.
The company does actually look pretty darn interesting too, so I can see why Branson has backed it – which brings me onto…
How Does BnkToTheFuture Work?
As I briefly touched on above BnkToTheFuture is set to enable companies to raise debt, equity and donations all in the one place. It's quite similar to the investment site Crowdfunding which you might be familiar with – only rather than just enabling people to invest debt or equity directly in small businesses, BnkToTheFuture's aim is to combine both raising business finance and marketing together.
The guy behind the company, Simon Dixon claims that banks are slowly backing out of investing in small businesses & that his new company BnkToTheFuture provides a way for small businesses to get the start they need through peer to peer funding instead.
And one of the most innovative things about his site is that it gives businesses the ability to reward early investors with products – so as well as raising funds they're essentially also building a customer base at the same time.
The other good thing about it all is that alongside the ability for businesses to raise funds through the website, it provides entrepreneurs with the ability to create investment portfolios too.
So the idea is that entrepreneurs could sign up, browse through companies to find ones they believe in – invest in them & manage their investment portfolio through the site with full transparency of what's going on.
Personally I am all for the idea & clearly so are many others since to date BnkToTheFuture has raised over £200 million pounds in investments so far.

You Might Also Like:
Why BnkToTheFuture – What Does It Mean?
I've seen a lot of people focusing on the name of this company & trying to figure out what it means. I've even seen a lot of people brushing the company off as a scam purely down to its name, assuming it must be some sort of get-rich-quick scheme… Though that's not the case.
The reason Simon picked the name BnkToTheFuture for his company is actually quite interesting. It's a play on name of the film Back To The Future, and he named it after that because Doc Brown famously said in the film "Banks? Where we're going, we don't need banks."…
He sees his company as the future of finance and claims that in years to come thanks to websites like his small businesses will no longer need banks to get the funding they need to start. A strong vision – but one I can actually see this company pulling off.
Is BnkToTheFuture a Scam?
As far as I'm concerned BnkToTheFuture is definitely not a scam. I know the cryptocurrency space is currently littered with scams & it can be hard to know who to trust, but BnkToTheFuture definitely appears legitimate.
The company resides in the UK, holds all the relevant licenses for its activities & has been backed publicly by many big names including Richard Branson. On top of that, the company clearly has a solid business model, unlike many of the other Ponzi schemes I've exposed on here like Ryna Holdings for example.
If you're interested in investing in ICO's then BnkToTheFuture is definitely a company you will want to look into – out of all the legitimate ones I've come across so far, this one has interested me the most. I really like the company's vision.
However, personally I am not involved with investing in these types of things because in my opinion as with all investments they are just far too risky. You should only ever invest money you can afford to lose because ultimately you do stand a high chance of losing it. That's why I do affiliate marketing instead because that way I can take control of my income without having to risk money upfront. If you want to learn more about that then be sure to check out the Commission Academy program.
But overall as I say BnkToTheFuture looks like a good company & as far as I'm concerned it's definitely legit. If you do happen to have any further questions or comments about it don't hesitate to leave them below.
A Better Alternative
The sad truth is that unfortunately most of the programs promising to help you make money online are scams. I can say that confidently after exposing over 500+ of them here on this blog.
But the good news is that even though most of them are indeed scams, there are actually some very good programs in amongst them - some programs that can truly help you to earn money.
And out of all of the legit programs I've seen, the one I would recommend the most to anybody looking to get started online is Commission Academy. In my own opinion, that's the best place to start.
At Commission Academy, you'll be provided with everything you need (including the training & tools) to begin earning real money by promoting products or services for companies like Amazon online.
The best part is that there's literally no limit on the amount you can earn with it & the process is pretty simple which means that it's absolutely perfect for people that don't have much experience.
Some wealthy affiliates even earn as much as 5-figures per month... Or more!


I mean don't get me wrong, that kind of money won't just fall into your lap without doing any work... But the harder you're willing to work at it, the more you stand to earn with it.
So if you're looking to get started but don't know which route you should go down or which program you should join (and don't want to waste money on bogus things that don't actually work), then I'd highly recommend checking out Commission Academy first. You can learn more about it here.