MineTech Farm claims to be a modern cryptocurrency mining company that can allegedly provide you with solid returns on your investments. You're led to believe that through their "unique opportunity" you can earn as much as 5.3% in daily interest on your money.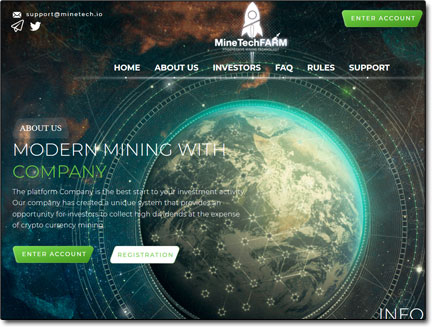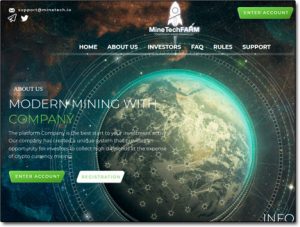 But obviously that's a pretty strong claim to make because 5.3% daily is a BIG amount of interest… So what's the deal here?
Is it actually legit or is MineTech Farm a scam that'll just see you parted from your cash?
Thankfully you've landed in the right place to find out because I've taken a closer look at it & in this review, I'm going to be uncovering everything you need to know, including how it all works & whether or not you can really make money with it.
What Is MineTech Farm?   |   How Does MineTech Farm Work?   |   How Much Can You Make?   |   Is MineTech Farm a Scam?   |   A Better Alternative
What Is MineTech Farm?
MineTech Farm claims to be a UK registered cryptocurrency mining operation and alongside the whole alleged mining process, they claim to provide you with the ability to invest & earn whopping ROI's from their platform.
The website states that the company has been operating for over 3 years & that whilst it was initially only accessible for corporate investors they now claim to have opened the doors for anybody to invest & earn…
This might initially sound quite convincing but it doesn't seem to hold true. The domain for the website was actually only registered on the 13th of February & the company MineTech Farm LTD was only incorporated on the 15th February 2018.
But what's even more strange is that despite claiming further down the website that the company has been operating for 3 years, the very top of the website states that the opportunity was launched on Feb 19, 2018 (as shown below):

None of the dates add up & it all seems very suspicious.
The other worrying thing is how much they stress that they're based in the UK – it seems like they're overcompensating. The reason I say this is worrying is that many scams pretend to reside in the UK to try & gain peoples trust – Ryna Holdings a scam I recently exposed did the exact same thing.
The truth is that it's actually quite easy to set up a UK company and doing so doesn't prove anything's legit, or that the company even actually resides in the UK at all – and the fact that MineTech Farm actually states on their website "Our activity is absolutely legal" rings massive alarm bells.
Plus, if they do actually reside in the UK as they claim then they should have a license & their license number should be prominently displayed on their website. It's a serious offence for a company operating within the investment industry not to display license details on their website so a company that actually had a license would make sure it was well displayed.
A license would likely prove the company was legit – an incorporation certificate (which MineTech Farm shows you) does not.
Anyway, you're probably wondering how it all actually works so let me move onto that…
How Does MineTech Farm LTD Work?
Okay so as mentioned towards the start of this review MineTech Farm claim to have a mining operation. In case you don't know this is basically an operation through which they generate cryptocurrency coins.
So, for example, there are 2 ways you can obtain a Bitcoin – you can buy one, or you can use computers to generate them. It might seem logical to use the second approach, but it costs a lot of money to purchase & run the computers that effectively mine Bitcoins…
I won't get too deep into it all, but basically MineTech Farm claims to handle all this side of things, and they claim to provide you with a way to profit from the mining without actually having to do any of it yourself.
It sounds good, and it would be legit IF the mining operation was actually real…
Sadly though there's absolutely no proof of a legitimate mining operation, and when you couple that with the fact that MineTech Farm push a recruitment program through which you can earn "extra commissions" the whole thing starts to look like a big fat Ponzi scheme.
And this wouldn't be the first cryptocurrency mining Ponzi scheme I've come across either… I've already seen several others, like the Power Mining Pool & some like USI Tech that have been forced to closed down.
Basically these companies pretend to have a mining operation going on but in reality, they're just faking it all to hide what's really going on. The money that's getting paid out to members isn't coming from mining at all – it's just coming straight from the new investors that are buying in.
So obviously the company will be totally unsustainable & eventually it will collapse, leaving people parted from their investments.
These things are only really designed for the creators to make money. Sure, the very first people who get in super early might make some money back too but everybody else will likely only end up losing money rather than making it.
You Might Also Like:
How Much Can You Earn With MineTech Farm?
Obviously I don't recommend investing with MineTech Farm since as far as I'm concerned it's nothing but a Ponzi scheme & the likelihood is that you'll lose your money… BUT, you might be interested in the figures…
So, to get started with MineTech Farm you'll need to invest a minimum of $10 USD or $50 in BTC.
They have 3 investment packages in total & this investment amount will get you eligible to participate in package number 1. You can invest between $10 & $2,000 into package 1 & it will see you earning a daily interest of 4.7% for 30 days.
Package 2 requires an investment of between $2,001 & $2,000 and this package pays out 5.0% daily interest for 30 days.
Finally, package 3 requires an investment of between $5,001 and $20,000 and it pays out 5.3% daily interest for 30 days.

You can withdraw as soon as you've earned 1$ in USD or 0.014 BTC but obviously you'll be encouraged to keep your cash in the company to continue earning through the investment packages. This is where it all gets very risky…
They want you to keep your cash in, but the longer you keep it in the more chance you have of losing it all.
These companies WILL inevitably collapse & sadly there's no telling when – so if you happen to have your money invested when it does collapse then that means you'll lose absolutely everything. It might look great & easy but in reality, it's far from it.
Which brings me onto…
Is MineTech Farm a Scam?
The answer to that, in my opinion, is definitely yes, I believe MineTech Farm LTD to be nothing but a Ponzi scheme style scam. They make it seem like you can earn money quickly & easily from a legitimate mining operation, but ultimately there's absolutely no proof of any mining going on at all.
The other thing that makes it all seem very suspicious is how they repeatedly flash their company incorporation document at you as if this somehow proves the opportunity to be legit. It 100% does not prove anything.
It's clear to me what's really going on here with MineTech Farm – the whole thing is just a Ponzi scheme that's been set up to make the creator wealthy at your expense. Sure the people who get in super early might make a bit of money off the back of it, but most people who join will end up losing everything.
To be honest there is just no need to put your money at risk like this because when it comes to making money online there are plenty of legitimate opportunities where you can learn how to make money online without having to risk anything – like Commission Academy for example. My advice would be for you to avoid MineTech Farm LTD and check that place out instead.
But anyway hopefully this review provided you with the insight you were looking for into this company & if you still happen to have any further questions or comment about it then don't hesitate to leave them below.
A Better Alternative
The sad truth is that unfortunately most of the programs promising to help you make money online are scams. I can say that confidently after exposing over 500+ of them here on this blog.
But the good news is that even though most of them are indeed scams, there are actually some very good programs in amongst them - some programs that can truly help you to earn money.
And out of all of the legit programs I've seen, the one I would recommend the most to anybody looking to get started online is Commission Academy. In my own opinion, that's the best place to start.
At Commission Academy, you'll be provided with everything you need (including the training & tools) to begin earning real money by promoting products or services for companies like Amazon online.
The best part is that there's literally no limit on the amount you can earn with it & the process is pretty simple which means that it's absolutely perfect for people that don't have much experience.
Some wealthy affiliates even earn as much as 5-figures per month... Or more!


I mean don't get me wrong, that kind of money won't just fall into your lap without doing any work... But the harder you're willing to work at it, the more you stand to earn with it.
So if you're looking to get started but don't know which route you should go down or which program you should join (and don't want to waste money on bogus things that don't actually work), then I'd highly recommend checking out Commission Academy first. You can learn more about it here.