BTCMiner is a relatively new make-money opportunity in the cryptocurrency space & it claims to be able to generate you whopping daily returns of up to 12% on your money through automated Bitcoin mining.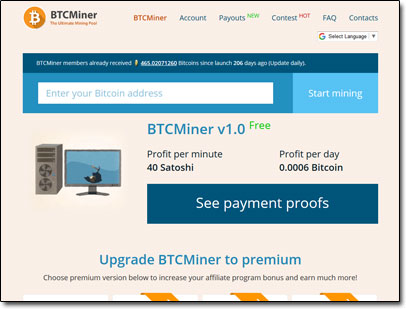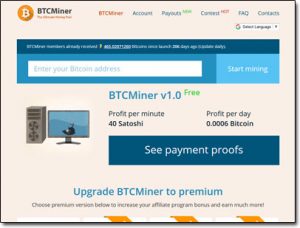 You're led to believe that all you need to do is invest & let them handle everything, then you'll start making money almost right away…
But is it actually legit or is BTCMiner a scam that'll just see you parted from your cash?
I've done the digging & in this review of BTCMiner I'm going to be uncovering everything there is that you need to know, including whether or not you can actually make any money with it.
What Is BTCMiner?   |   How Does BTCMiner Work?   |   Is BTCMiner a Scam?   |   A Better Alternative
What Is BTCMiner?
BTCMiner, as the name suggests is a Bitcoin mining program. Basically, when it comes to cryptocurrencies like Bitcoin you have 2 methods of obtaining them… You can either purchase them for money or alternatively you can "mine" them… This is where you essentially generate coins of your own by using computer algorithms.
The full concept of mining coins gets pretty complex so I won't go into it in full detail because for the sake of this review there's really no need to, but just know that essentially mining coins is like creating coins of your own rather than buying them.
Since Bitcoin has become so expensive many people are now looking into making money by mining the coins instead & as a result, there are many new opportunities launching claiming they can help you make money through crypto-mining. The problem though is that a lot of these opportunities are nothing but scams – I've exposed several of them right here on this blog such as the Power Mining Pool & Falcon Coin.
It, therefore, pays to do your due diligence & it's a good job you landed here on this review before investing with BTCMiner because I will admit that even just from a glance BTCMiner itself looks very suspicious too.
I won't be so quick to jump to conclusions though, instead, we'll take a look at how it all actually works…
How Does BTCMiner Work?
The concept behind BTCMiner is actually fairly simple – they claim to be running a Bitcoin mining operation & they are allegedly giving you the opportunity to invest in their opportunity to get yourself a slice of the pie.
They say that they will use your investment to grow their mining farms by adding new technology so that they can mine coins faster/smarter, and that in return they will pay you a solid ROI on your investment.
One of the very unusual things about the BTCMiner program though is that they actually claim you can get started for free. This is unheard of because usually, it wouldn't make sense for a company to give away BTC for free… I mean why would any company want to do that?
And after looking at reviews of BTCMiner on various sites such as TrustPilot it seems that BTCMiner is not being so transparent about their supposedly "free" opportunity. Take a look at the review below: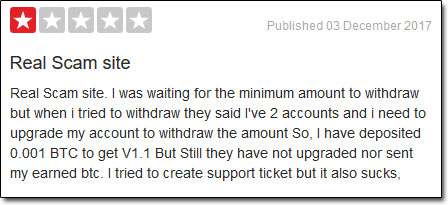 It seems that whilst BTCMiner does indeed allow you to sign up and start earning for free, they then tell you when you try & withdraw your money that in order to do so you must upgrade. The minimum cost to upgrade is 0.001 BTC.
Anyway, that itself is not the end of the world – after all, you wouldn't mind upgrading if you are going to get some free BTC back for it (more than you paid to upgrade) however here is the problem… According to several reviews, BTCMiner is not paying its members.
There are 2 pages of reviews on TrustPilot (27 in total) all of which state that BTCMiner has failed to pay them.
This is actually the first time I've seen a Bitcoin mining opportunity just completely failing to pay people. Usually, these sites pay people but don't actually have a mining operation going on like they claim they do (meaning it's actually a Ponzi scheme & will ultimately collapse).
Based on the reviews BTCMiner definitely looks like bad news indeed. At least with the other companies, despite them still not being legit you have a "chance" of making your money back before they collapse, here with BTCMiner it seems they have literally just set up purely to take your money from you & that you have absolutely no chance of making money.
You Might Also Like:
Is BTCMiner a Scam?
There is no way that I personally am going to try out BTCMiner to see whether or not it is a scam – as I often say, you don't have to get scammed to figure out something is a scam… Here with this system, I think the evidence is already clear.
To be honest, even if BTCMiner was paying its members, there is no way that the operation could be legit because the promised ROI's are just way too high. Take the "Version 1.4" package that's advertised on their website for example.
This particular package claims that it will pay you a total of 1 BTC per day & that you can access this package for just 0.5 BTC. So let's look at that in today's money… Today that would mean if you invested ~$4,000 for "Version 1.4" that from here onwards you would be making $8,000 per day without actually doing anything.
I'm sure you can see that that's just a completely ridiculous claim & that there's no way such a return could be physically possible or sustainable. It looks like they're just promising the world but delivering nothing in return… A typical get-rich-quick scam.
Anyway as you can imagine I am not going to be recommending this website to you because it looks like nothing but bad news. The likelihood is that if you invest money with BTCMiner you are never going to see it again.. You are certainly not going to make money as they promise.
If you do happen to have any further questions or comments don't hesitate to leave them below, but hopefully this review provided you with the insight that you were looking for into this system.
A Better Alternative
The sad truth is that unfortunately most of the programs promising to help you make money online are scams. I can say that confidently after exposing over 500+ of them here on this blog.
But the good news is that even though most of them are indeed scams, there are actually some very good programs in amongst them - some programs that can truly help you to earn money.
And out of all of the legit programs I've seen, the one I would recommend the most to anybody looking to get started online is Commission Academy. In my own opinion, that's the best place to start.
At Commission Academy, you'll be provided with everything you need (including the training & tools) to begin earning real money by promoting products or services for companies like Amazon online.
The best part is that there's literally no limit on the amount you can earn with it & the process is pretty simple which means that it's absolutely perfect for people that don't have much experience.
Some wealthy affiliates even earn as much as 5-figures per month... Or more!


I mean don't get me wrong, that kind of money won't just fall into your lap without doing any work... But the harder you're willing to work at it, the more you stand to earn with it.
So if you're looking to get started but don't know which route you should go down or which program you should join (and don't want to waste money on bogus things that don't actually work), then I'd highly recommend checking out Commission Academy first. You can learn more about it here.