Justin Tyler's Bulletproof Profits system invites you to allegedly discover how you can make as much as $3,750 per day online (from the very same day that you get started) with just 7 so-called "simple clicks"…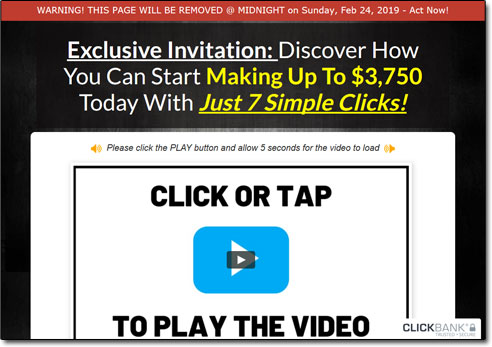 You're basically led to believe that everything's been done for you & Justin Tyler the creator even promises to guarantee your success… But it all sounds a bit fishy if you ask me, so what's the truth? Is it really legit & can you truly make money with it or is Bulletproof Profits a scam to avoid?
Well thankfully you've happened to land in exactly the right place to find out as I myself have personally taken a closer look into this system & in this honest review I'll be uncovering everything you need to know, including how it all really works and whether or not you'll actually find yourself earning anything with it.
What Is Bulletproof Profits?   |   How Does Bulletproof Profits Work?   |   The True Cost   |   Exposing The Lies   |   Is Bulletproof Profits a Scam?   |   A Better Alternative
What Is Bulletproof Profits?
Essentially Justin Tyler claims that his Bulletproof Profits system is a fully done-for-you money making system that apparently leverages what he calls a "little-known online goldmine" to grab you a cut of its profits…
He says that the goldmine he's referring to generates profits of 675 billion year after year & that if you get into his system you'll be able to get a slice of the pie & begin earning as much as $50,000 for yourself…
All you have to do (according to him) is complete a few setup steps & then after that you'll allegedly begin making money entirely on autopilot.
But what is it you'll actually be doing? And where will the money be coming from?
Well funnily enough in typical get-rich-quick scam fashion Justin Tyler doesn't mention any of that & instead he pressures you into handing over your credit card details to pay him $9 to find out more…
What he does tell you though is that it apparently doesn't involve cryptocurrency, Shopify, or anything illegal…
But right from the off I can tell you that the fact that he wants you to pay him to find out more is pretty suspicious. After all if his method is so great & easy like he claims then why is he interested in getting a mere $9 from you?
Is he really just making himself rich at your expense by telling you lies & tricking you into handing over your cash? I suspect that's the case but nevertheless let's take a closer look into it to find out for certain what's going on…
How Does Bulletproof Profits Work?
Well the first thing I can say after taking a closer look into this system is that my suspicions were immediately confirmed & the truth is there's no way you're going to find yourself earning as much as $3,750 per day with this thing…
In fact to be honest you'd be lucky to find yourself making as much as a single dollar with it. Instead you'll more than likely just find yourself spending money on it rather than actually making it.
But why is that? How does it work?
Well basically the Bulletproof Profits system is loosely based around something called affiliate marketing, and in itself affiliate marketing is actually legit. It's actually the same way I make over $10k/month.
Affiliate marketing basically involves you connecting people with the products they're looking for online & getting paid commissions in return (as shown below) & it's definitely a very good way to make money: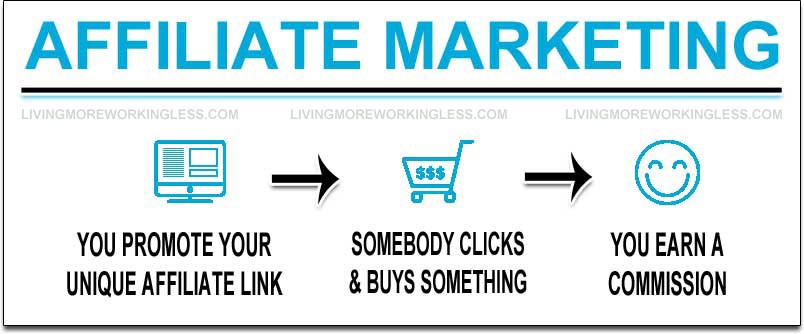 The problem here though is that whilst there are some legitimate places you can start with affiliate marketing like Commission Academy, the Bulletproof Profits system itself is NOT one of those legitimate places.
Instead this particular system is set out to do 1 thing & 1 thing only, which is to make its creator wealthy at your expense.
He (or she) – whoever is really behind it – doesn't care about your success at all.
And that's the reason the true creator has chosen to hide behind the fake identity of Justin Tyler. That's right – Justin Tyler as pictured in the Bulletproof Profits video doesn't exist & I can prove that because I found that the video of him has just been taken from a stock video website as shown below: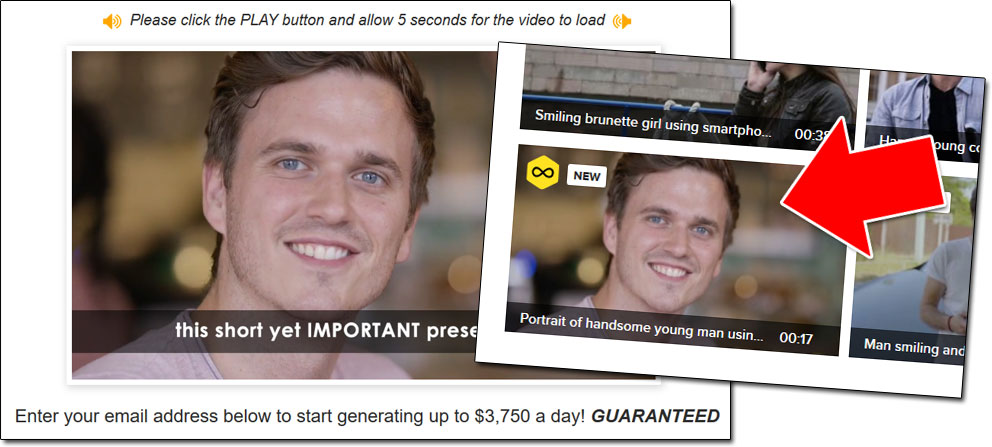 So basically the whole Bulletproof Profits system is just built on lies & false promises. It leads you into believing that you'll be able to make a ton of money really easily then asks for some of your cash for you to get started but then fails to deliver on the other side.
I mean yes, you do get access to SOME affiliate marketing training on the other side – but the material you get access to (in my opinion) isn't worth the money & won't really help you get started.
Like I said above there are legitimate places where you can get started like Commission Academy (which is also actually free) – but in short the Bulletproof Profits system is just hands down not one of those places.
The True Cost Uncovered
For a seemingly mere $9 you might still be thinking "what the heck, I'll try it out anyway" even after reading my review… So for that reason I want to highlight here that $9 is not really the true cost… It's nowhere near.
Instead the small $9 fee is basically just a trick to get you through the doors & for them to get a hold of your credit card details. From there you'll be bombarded with upsell & after upsell & since they've now got your card details all you'll need to do is make one click & you'll be charged.
So that "small $9" could quite quickly turn into hundreds if not thousands of dollars before you even get access to the program.
And I can tell you that regardless as to how much you spend (even if it's just the $9) you'll still almost certainly find yourself disappointed with what you receive on the other side as it's truly nothing but junk.
You Might Also Like:
Exposing The Lies
Honestly almost everything you're told via the Bulletproof Profits website is a lie. I mean I personally have exposed literally hundreds of these types of scams to date but I was truly shocked at the sheer amount of tricks used by this system.
For example firstly, the creator claims that the secret goldmine he talks about apparently has a limitation & he allegedly doesn't want too many people knowing about it because it'll mean reduced profits for everyone.
So ask yourself this… Why on earth has he created this website to share the "goldmine" with people in the first place?
And if he truly doesn't want too many people in then why is he himself PAYING other people to promote it?
That's right folks, as shown below the Bulletproof Profits system itself has an affiliate program which means the creator is paying people commissions for getting people to sign up:

This alone hands-down proves it doesn't work as promised because if it did then affiliates wouldn't waste their time trying to promote it in return for commissions, instead they would just "sign up & profit with 7 clicks"… LOL.
But the lies don't end there – oh no, there's plenty more, including the fake "LIVE social feed" shown below:

None of the comments are actually coming from a Facebook feed, instead the developer of the website has just created his own private feed which is designed to look like Facebook & he's just filled it with fake images & comments.
That's proven above as I used Google to run a reverse image search on the images & they have all been stolen from other people's profiles or stock photo websites.
And on top of that all of the people shown in the video claiming to have made profits with the system are all fake too. They're all actors that are selling their services through the website Fiverr.
So yeah, it's safe to say that there's a LOT of trickery involved with this system which brings me onto…
Is Bulletproof Profits a Scam?
I appreciate that you do get some training in return for your money through Bulletproof Profits & as a result our opinions might differ here, but in my opinion it IS a scam because I believe it's totally misleading & that there's no way you'll see yourself earning anywhere near the amounts promised…
As far as I'm concerned it's been built solely with the creator in mind & rather than being set out to truly help you like it claims it is I believe that instead it's just set out to take money from you so that the creator can earn at your expense.
For those reasons there is simply no way I'll be recommending the Bulletproof Profits system to you and like I said earlier in this review if you truly want to start with affiliate marketing then you could just go to a legitimate place such as Wealthy Affiliate which has a proven track record of helping people succeed.
On top of that though don't forget that there are actually several other great ways you can make money online too..
But whatever you decide to do I just sincerely hope that my honest review of Bulletproof Profits here has given you a good insight into how it all really works & hopefully you can now see why it's not quite as great as it may initially seem.
If you do happen to have any further questions or comments though then of course don't hesitate to leave them below & as always I will do my best to respond back to you as quickly as I can. 🙂
A Better Alternative
The sad truth is that unfortunately most of the programs promising to help you make money online are scams. I can say that confidently after exposing over 500+ of them here on this blog.
But the good news is that even though most of them are indeed scams, there are actually some very good programs in amongst them - some programs that can truly help you to earn money.
And out of all of the legit programs I've seen, the one I would recommend the most to anybody looking to get started online is Commission Academy. In my own opinion, that's the best place to start.
At Commission Academy, you'll be provided with everything you need (including the training & tools) to begin earning real money by promoting products or services for companies like Amazon online.
The best part is that there's literally no limit on the amount you can earn with it & the process is pretty simple which means that it's absolutely perfect for people that don't have much experience.
Some wealthy affiliates even earn as much as 5-figures per month... Or more!

I mean don't get me wrong, that kind of money won't just fall into your lap without doing any work... But the harder you're willing to work at it, the more you stand to earn with it.
So if you're looking to get started but don't know which route you should go down or which program you should join (and don't want to waste money on bogus things that don't actually work), then I'd highly recommend checking out Commission Academy first. You can learn more about it here.