My Cash Flow Secret is an online training program that claims to give you access to a proven $4,000 per day method which it says anyone can profit from even if they have no previous marketing experience…
The program even claims that you'll be able to learn how to do it for free – but is it actually legit or is My Cash Flow Secret a scam that's simply out to somehow part you with your cash?
I've took a closer look into it & in this review I'm sharing what I've found…
What Exactly Is My Cash Flow Secret?
My Cash Flow Secret is an online marketing training program that's been put together by a guy named Paul Birdsall & it basically teaches you how you can promote Paul's other products through ClickBank.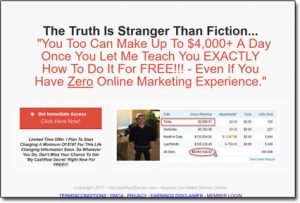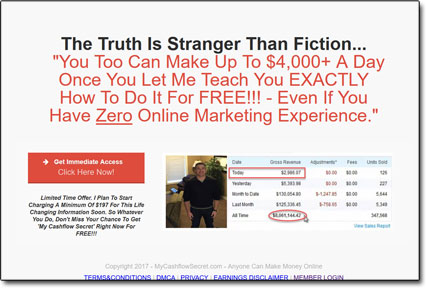 The product that it primarily teaches you how to promote is a product named Legit Flex Jobs Academy which is something I recently reviewed on this blog & found to be rather misleading.
The Legit Flex Jobs Academy program claimed to provide people with an opportunity to earn money by filling out simple worksheets online but in reality it was actually just selling people into the same marketing training program that you are provided with through My Cash Flow Secret.
So essentially it was a case of you buying into the Legit Flex Jobs Academy program then learning how to promote the exact same program onto other people & earning commissions by "tricking" them into purchasing something completely different to what they were promised.
How Does My Cash Flow Secret Work?
Basically when you sign up to the My Cash Flow Secret program (which I don't recommend you do) you'll be given access to a bunch of training videos that teach you how to promote ClickBank products (mainly the Legit Flex Jobs Academy product).
Here is a screenshot of what the members area looks like: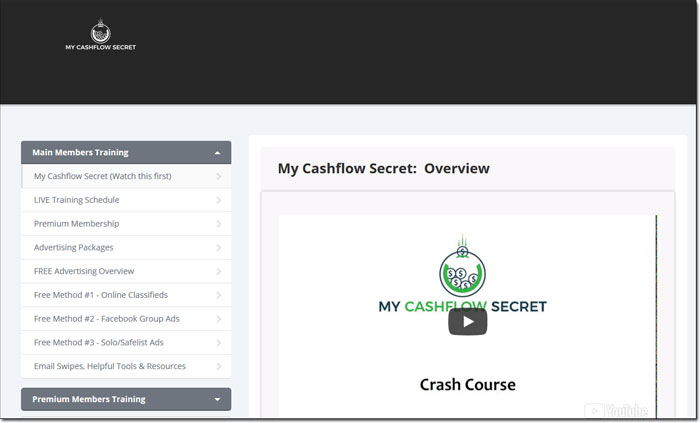 Don't get me wrong some of the training is actually OK – you'll get a fairly decent insight into what "niches" are & how affiliate marketing works, but you'll be heavily pushed into upgrading for the "real stuff".
You see as a free member the traffic-getting strategies that you're provided with are pretty rubbish – you're simply told to post your links on job classified websites & Facebook & use solo ads to promote your links via email.
Frankly those methods suck & the chances of you making any money as a result of promoting via those channels will be very slim – in fact you'll probably end up with your accounts banned before any clicks even start coming through because essentially you're being told to spam those platforms (which of course they don't like).
Solo ads is pushed by Paul as being a really great method but in truth it's not – whilst it might have worked several years ago these days solo ads will give you very poorly results & certainly won't give you a good return of investment. Basically you'll just be pouring money down the drain.
So as a free member of the My Cash Flow Secret program you'll find yourself pretty stuck & to have any chance at all of succeeding through the program you'll need to purchase the premium membership which costs $37 per month.
The premium membership gives you training on using pay-per-click advertising & creating high-converting custom sales pages to help increase the amount of affiliate sales you can generate.
To be honest I'll admit this training is better but frankly in my opinion it is still not worth the price, especially when you can get high-quality affiliate marketing training for free elsewhere at places like Wealthy Affiliate.
The big downside for me is that the My Cash Flow Secret program heavily focuses on using paid advertising but in my opinion that is not the best way to start because it involves a lot of trial & error which you will see you spending a LOT of money right off the bat before you even get the ball rolling.
The Real Problem…
Essentially it's clear to me that Paul has created this program in an effort to try & get more people promoting his other programs whilst making money at their expense at the same time.
But the trouble with this is that the main product it focuses on teaching you how to promote is the Legit Flex Jobs Academy product which in my opinion is completely misleading & it's something you can't really promote with integrity.
As far as I'm concerned the Legit Flex Jobs Academy product sells the program on a complete pack of lies because there is no "paid homeworker job" like it makes out there is, it's all just a ploy to get people to part with their cash…
And basically as a member of the My Cash Flow Secret program these are the types of programs that you will be learning how to promote – so essentially do you really want to be scamming people?
I should think not.
Yes there is some training you might find useful, yes you could potentially make money as a result of following it, but ultimately you are not being taught how to start a real business you are just being taught how to promote low-quality "scammy" type programs.
My Verdict – Is My Cash Flow Secret a Scam?
Well it's not really a scam because you do get some training in return for your money but it's certainly not something I would recommend because if you bought into it I think you would find yourself disappointed.
Yes you can learn a bit from the training but in my opinion compared to training found elsewhere it's very basic & I think it's unlikely that you'll make any real money even if you were to follow it to the letter.
The other issue is that once you're in the program you'll find yourself facing upsell after upsell as you will be promoted new products that claim to give you the "missing component" to help you succeed.
The truth is you'll just end up burning through a load more cash until you eventually realize that the training is just leading you on a wild goose chase & that the creators are just trying to make as much money as they can from you.
So whilst there is some real training inside this program I won't be recommending it to you because overall I believe it's very low-quality & if you bought into it I believe you'd most likely be disappointed as what you received.