One thing the internet isn't short of is paid survey companies, some of which pay more than others & some of which are a complete waste of time.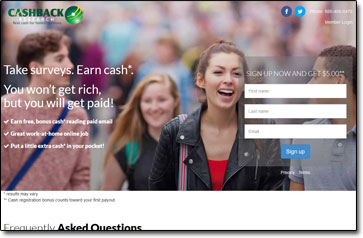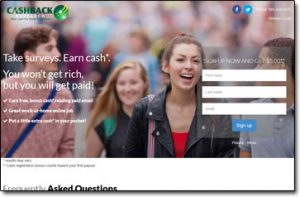 Today I'm going to be taking a look at one of the newer survey companies named Cashback Registration to find out first if it's actually legit & secondly whether or not you can actually make any decent money with them.
So if you've come across Cashback Registration & you're wondering if you should bother joining then you can rest assured you've landed in the right place to find out – and it's also worth pointing out that I'm not an affiliate so don't worry, I've got no interest in pushing you into signing up… I'm just going to be giving you the facts.
How Does Cashback Research Work?   |   Multiple Earning Opportunities   |   Can You Actually Make Money?   |   Should You Join?   |   A Better Alternative
How Does Cashback Research Work?
Cashback Research operates in a similar way to the majority of other paid survey companies in the sense that they basically as the middlemen between you & the companies that want to hear your opinions.
These companies value your opinion so much that they're actually willing to pay for it & Cashback Research take a cut of the money for providing the platform to make it happen whilst paying you the remainder.
So the idea is that you sign up with Cashback Research, complete a profile & then every so often Cashback Research will send you an email notifying that there's a survey ready for you to complete which could potentially pay you money if you're able to complete it.
The more surveys you complete the more money you can make, and I'm not gonna lie the surveys are pretty easy, to be honest… Though some of them can turn out to be a little time-consuming.
However in my opinion after trying out Cashback Research first hand is that there's a big problem, and that's the fact that paying surveys (once that you're actually able to complete & earn money for) are few & far between.
Yes, you're invited to take part in quite a lot of surveys which at first made the company look promising to me, but unfortunately 9 times out of 10 I got half-way through the survey only to be presented with a message that read something along the lines of "You're not eligible to continue".
Which meant I didn't get paid (or get any credit at all) despite answering what felt like half of the survey.
This does happen at other paid survey companies too but I've never seen it happen as frequently as it does with Cashback Research – plus many of the other companies at least give you some kind of credit if you do happen to get booted out of a survey midway through.
Multiple Earning Opportunities
On top of the surveys, Cashback Research also offers something that they call "Bonus Cash Offers" & at a glance, this seems like quite a lucrative opportunity but in reality, it could see you massively out of pocket.
Basically, these "Bonus Cash Offers" will see you being asked to sign up for things & you'll be paid a fixed amount for each thing you sign up for. Some of them are free trials (which will charge you if you forget to cancel) & others are things like credit cards that you'll need to apply for.
An example of the two "Bonus Cash Offers" I was presented with can be seen below: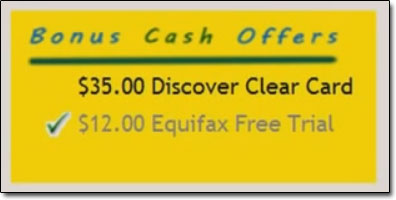 Whilst the offer of $12 to sign up for Equifax's free trial might initially seem enticing it would see me getting charged $19.95 per month if I happened to forget to cancel which could certainly be easy to do if you are regularly partaking in these offers.
Can You Actually Make Money With Cashback Research?
Ultimately the answer is yes you can, but in my opinion, it's absolutely not worth your time. Whilst I completed around 10 surveys I only managed to get paid for one of them & the payout barely even equated to a dollar.
I suppose the one good thing about them though is that at least they're honest. As you can see in the screenshot below the homepage of the website clearly states that you shouldn't expect any great deal of earnings from this company so it's hardly like they're setting you up on a false promise.

So as a member of Cashback Research you'll no doubt be seen giving them a lot of your time but barely reaping any sort of real reward in return. In my opinion, there are several much better ways to make money online.
But if you do manage to make any money with Cashback Research then you'll be able to redeem it either as gift cards (though the shops are unspecified) or cash sent via PayPal.
The other strange thing about Cashback Research is that to begin earning money they actually require you to join 10 other different paid survey sites first. This isn't a major hardship but it's a sure-fire way to leave your inbox flooded with spam.
You Might Also Like:
Should You Join Cashback Research? My Final Verdict
Paid survey sites are popular among people who have a job & are looking to making a little bit of extra money over the year without any real commitment but the reality is that you'll only ever be able to make a very small amount of money through these types of sites.
Over the course of a year, you could devote hours & hours to these surveys yet see yourself earning less than £50-100 in total, especially if you are a member of only one paid survey website (and possibly even less through Cashback Research as I struggled to find surveys I was actually eligible for).
If you are serious about your surveys & you are looking to join as many companies as you can then Cashback Research seems to be legit so could be a good addition, but if you are just looking to make a bit of extra money then personally I wouldn't recommend wasting your time with them as you will be very poorly paid.
Once upon a time, I used to partake in paid surveys myself when I was first starting out but like many others, I found that there was a better way to make money.
Admittedly the way I personally use takes more time to setup & maintain but overall you are rewarded much better for your time – in fact like I have done myself you even have the opportunity to turn it into your full-time job. It's definitely better than paid surveys for sure.
A Better Alternative
The sad truth is that unfortunately most of the programs promising to help you make money online are scams. I can say that confidently after exposing over 500+ of them here on this blog.
But the good news is that even though most of them are indeed scams, there are actually some very good programs in amongst them - some programs that can truly help you to earn money.
And out of all of the legit programs I've seen, the one I would recommend the most to anybody looking to get started online is Commission Academy. In my own opinion, that's the best place to start.
At Commission Academy, you'll be provided with everything you need (including the training & tools) to begin earning real money by promoting products or services for companies like Amazon online.
The best part is that there's literally no limit on the amount you can earn with it & the process is pretty simple which means that it's absolutely perfect for people that don't have much experience.
Some wealthy affiliates even earn as much as 5-figures per month... Or more!

I mean don't get me wrong, that kind of money won't just fall into your lap without doing any work... But the harder you're willing to work at it, the more you stand to earn with it.
So if you're looking to get started but don't know which route you should go down or which program you should join (and don't want to waste money on bogus things that don't actually work), then I'd highly recommend checking out Commission Academy first. You can learn more about it here.