Affiliate marketing has helped thousands of marketers across the globe to boost their passive income. A number of affiliate programs claim to make things fairly easy for the marketers and the CB Affiliate Magic app claims to be one of the best in this regard.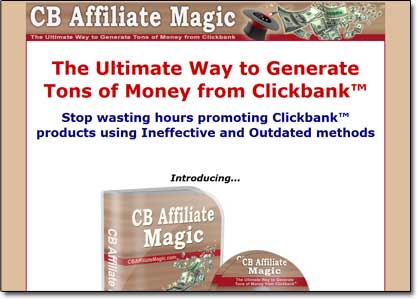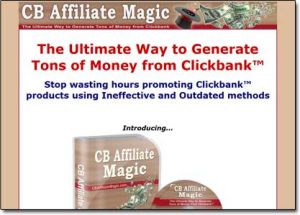 But does this app really perform as well as advertised? It's certainly something really interesting and I've gotta admit I loved searching for reliable facts and information to ensure the credibility of this third-party CB Affiliate Magic review.
With so many products and apps available online – most of them unable to serve their purpose – it is only natural to doubt new online income generating offers, especially since there are some CB Affiliate Magic scam rumours on the web. Like always, I'll begin with the introduction to this affiliate marketing app & then we'll take a look into whether or not it can really help you make money.
What Is CB Affiliate Magic?   |   How Does CB Affiliate Magic Work?   |   Is CB Affiliate Magic a Scam?   |   A Better Alternative
What Is CB Affiliate Magic?
CB Affiliate Magic is a single-page website advertising a promising affiliate marketing app available just for $27 & the tag-line right at the top suggests that it deals with the promotion of Clickbank products. It tells you to stop messing around with outdated affiliate methods and encourages you to utilize this new app which apparently consists of the latest and most updated affiliate marketing techniques.

In short, CB Affiliate Magic is basically an application which helps you to create catalogues for the Clickbank marketplace – "The first and only catalogue creator app which creates a catalogue in no more than 60 seconds".
And as per the website's claim, CB Affiliate Magic features over 189 niches from Clickbank. This app also generates HTML code which you can use for pasting on your blog, Facebook page or website so that the catalogue is ready to display in less than a minute.
An example of what one of those catalogues looks like can be seen below: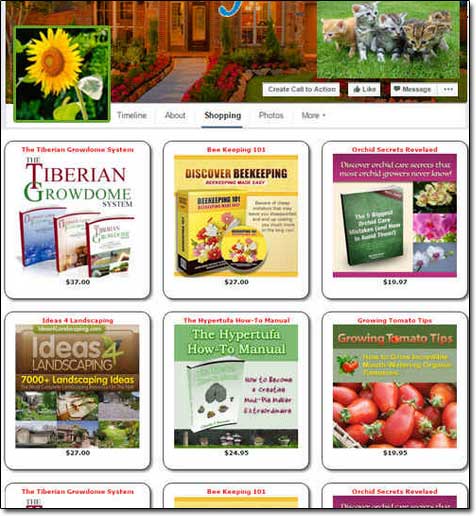 Easy As You Like!
Admittedly it is very easy to use, bears no complications, and even newbies to online marketing can use it like an expert. The surprising aspect is that the CB Affiliate Magic program doesn't require to any setup or installation process because it doesn't require installation. The app is also compatible with Windows OS as well as MAC & it'll just run right away as soon as you open it.
Unlimited Catalogues
The program doesn't restrict the number of catalogues you can use at any given time. Moreover, the catalogues produced by it are supported by Facebook pages, WordPress websites, and WordPress blogs. You simply need to generate the HTML code – which is done in less than 60 seconds – and copy it to the website, blog or Facebook page.
In addition to the product catalogue, you can also embed videos to attract more potential customers & you also have the option to update the product reviews.
The CB Affiliate Magic website also boasts a demonstration video to prove the software's legitimacy claiming that the system really works. The video also claims a certain user managed to make over $23,000 in just one month thanks to the software. However right below the video, it also states that the beginners may not earn as much as the experts do. This is a fair statement and I'm happy that they clarified the fact rather than turning it into an unrealistic pitch.
How Does CB Affiliate Magic Work?
Upon purchasing the $27 package you'll gain access to the application in addition to the app guide and tutorial videos. You'll also be eligible for free yearly software updates. The offer also promises technical support and 60-day money-back guarantee.
But Does CB Affiliate Magic Really Work?
If you are not yet an experienced affiliate marketer then I suggest you first join a legitimate training program like Wealthy Affiliate. Remember that CB Affiliate Magic is for those affiliate marketers who already have a bit of experience & who are actually looking to specifically promote Clickbank products.
Secondly, traffic generation is the major factor that determines the success level of any affiliate marketing plan. In my opinion, it is more about the traffic on your website, blog or Facebook page. Catalogue creation is another aspect but it has nothing to do with traffic generation. You rely on getting more and more visitors to your online platforms to ensure sufficient revenue from affiliate marketing.
In short, this app perhaps is not going to determine the rise or fall in sales. The number of sales has always been primarily dependent on the number of visitors to your promotions. We need not associate revenue with CB Affiliate Magic app. This app simply facilitates you with the quick creation of catalogues.
Yes, as a beginner, the video tutorials and guides can help you address the issues and eliminate the mistakes while improving your affiliate marketing campaign but as far as the number of sales are concerned, things are still determined by the volume of traffic.
And that's why I suggest that if you don't yet know about affiliate marketing or haven't yet had success you sign up to Wealthy Affiliate first so that you can find your feet… And then you can later determine whether or not you need the CB Affiliate Magic app after going through the basics.
The good news though is that as it's sold through ClickBank itself you do get access to their 60-day money-back guarantee. So overall with that in mind CB Affiliate Magic application is fairly good but only really for the experienced affiliate marketers who are wanting to promote Clickbank products.
Update: The product is now being sold through JVZoo instead & as a result the money-back guarantee has been dropped to just 30 days.
Is CB Affiliate Magic a Scam?
Well, it's not a scam at all, but ultimately the CB Affiliate Magic program isn't going to make you rich or anything like that… Literally all it does is set you up with HTML ClickBank catalogues that you can add to your websites.
So you'll still need traffic to be able to make any sales & sadly the CB Affiliate Magic program doesn't really help you a great deal with that side of things, so if you're brand new (or don't have any traffic) don't expect to just sign up to CB Affiliate Magic & earn a ton of cash.
I mean if you're specifically looking to create a catalogue of ClickBank products then for a measly fee of $27 I guess the CB Affiliate Magic program isn't too bad of a product to help you do that whilst saving some time… But other than that it doesn't really have a great deal of use… And personally I can't see many circumstances where a "catalogue" of ClickBank products would be all that useful.
My verdict, therefore, is that yes, it's legitimate in the sense that it does create catalogues as promised… But I'm not going to be recommending it because personally I don't see any real use for it. Also like I say if you're expecting for it help you start making money it really isn't going to do that at all.
Overall I'd just recommend you join up to Commission Academy instead because it's there that you'll get all of the training & tools you need to properly profit from affiliate marketing – and you'll find the better ways to promote stuff online than creating so-called catalogues.
If you do happen to have any questions about it though that you feel I haven't covered or if you'd like to add any additional comments to my review here then don't hesitate to leave them below & I'll get back to you as soon as possible.
A Better Alternative
The sad truth is that unfortunately most of the programs promising to help you make money online are scams. I can say that confidently after exposing over 500+ of them here on this blog.
But the good news is that even though most of them are indeed scams, there are actually some very good programs in amongst them - some programs that can truly help you to earn money.
And out of all of the legit programs I've seen, the one I would recommend the most to anybody looking to get started online is Commission Academy. In my own opinion, that's the best place to start.
At Commission Academy, you'll be provided with everything you need (including the training & tools) to begin earning real money by promoting products or services for companies like Amazon online.
The best part is that there's literally no limit on the amount you can earn with it & the process is pretty simple which means that it's absolutely perfect for people that don't have much experience.
Some wealthy affiliates even earn as much as 5-figures per month... Or more!


I mean don't get me wrong, that kind of money won't just fall into your lap without doing any work... But the harder you're willing to work at it, the more you stand to earn with it.
So if you're looking to get started but don't know which route you should go down or which program you should join (and don't want to waste money on bogus things that don't actually work), then I'd highly recommend checking out Commission Academy first. You can learn more about it here.