So the CB Cash Code (which stands for ClickBank Cash Code) is a brand new product that's just launched in the ClickBank marketplace & it promises to be able to provide you with a way to start generating as much as $8,122.24 per day online, even if you have absolutely no experience.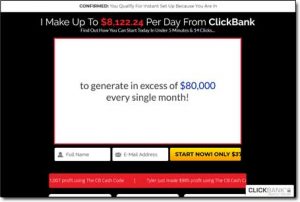 The program claims it will show you everything you need to know & that you can get started within just 5 minutes & 14 clicks…
But obviously that's an extremely bold claim, so what's the deal?
Is it actually legit… Or is the CB Cash Code a scam that'll just end up costing you more money than you ever manage to make?
Thankfully you've landed in exactly the right place to find out as I've taken a closer look into it & in this honest review I'll be uncovering the real truth about how it all works, as well as outlining whether or not you can really make any money with it.
What Is CB Cash Code?   |   How Does CB Cash Code Work?   |   Fake Profits   |   Is CB Cash Code a Scam?   |   A Better Alternative
What Is CB Cash Code?
So as I briefly mentioned above the CB Cash Code stands for ClickBank Cash Code, and in case you don't already know – basically, ClickBank is one of the largest marketplaces for digital products online.
You can sign up to ClickBank as either a product vendor (which means you create products & want to sell them via ClickBank) or you can sign up as an affiliate (which means you want to promote products & earn money).
And the latter of the two is what the CB Cash Code primarily focuses on…
The whole thing has been put together to supposedly teach you how to make lot's of money as a ClickBank affiliate by promoting products in their marketplace – and the creator of the CB Cash Code promises that his method's capable of generating as much as $8,122.24 per day.

Obviously, that's an extremely bold claim, and whilst I do know that it is indeed actually possible to generate as much as $8,122.24 per day through affiliate marketing (as I've seen people do it), can this $37 CB Cash Code product REALLY give you everything you need to help you do it?
I'm not gonna lie I'm pretty sceptical – especially because I've seen a lot of very similar products listed on ClickBank lately which turned out be borderline scams like the Paid Surveys At Home & Income League systems…
But don't worry, I'm not just gonna brush it off so easily – instead, let's check out how it all works to see whether or not we really can earn any money with it like the creator claims. 🙂
How Does CB Cash Code Work?
Well, what I can confirm from the off after taking a closer look into the CB Cash Code product is that whilst it is technically legit, and the methods taught are indeed based on real working methods… If you do buy into you will likely find yourself pretty disappointed, and there are a couple of reasons for that…
Firstly the main reason is that the whole thing is just WAY too overhyped. Okay, the creator of the product has had huge success – he has managed to generate a big income online, and he has boasted the statistics all over the CB Cash Code page… But that absolutely doesn't mean that you're going to generate the same results, in fact, you're actually very unlikely too & that's why he's also included the following disclaimer:
"THERE IS NO GUARANTEE THAT YOU WILL EARN ANY MONEY USING THE TECHNIQUES AND IDEAS IN THESE MATERIALS. THE STATEMENTS OF EARNINGS MADE ARE EXAMPLES OF THE SUCCESS THE AUTHOR HAS HAD IN USING THE TECHNIQUES OUTLINED IN THE PRODUCT THEY ARE SELLING."

How can I say so confidently that you likely won't achieve those results I hear you ask… Well, basically the CB Cash Code primarily focuses on teaching the affiliate marketing side of things – which involves promoting other people's products in return for commissions… However, the creator of the product has primarily made most of his money through product creation, not affiliate marketing!
Don't get me wrong though you can indeed generate good money through affiliate marketing – in fact, I actually make a living from affiliate marketing myself (which you can find out more about here). But is it best to learn affiliate marketing from somebody who now makes most of their money from product creation? Probably not!
A better option to learn about affiliate marketing would just be to go through a proven & legitimate program like Commission Academy instead. A program that's stood the test of time & has helped thousands of people find success.
But anyway, with that aside – there's another problem I noticed, which is the upsells.
I don't like upsells!
You see, you're led to believe prior to getting involved with the CB Cash Code program that it just costs $37, and so all you expect to pay is $37. After all, if that's what they tell you why would you expect to pay more?

It's not like you walk into a shop, pick up a pair of socks costing $5 & then get a call from the store a month later asking for more money… The price you see should be the price you pay – but not with CB Cash Code.
Instead after handing over the initial $37 to get in you're merely left to find out that in order to actually get access to the "full" program you have to purchase several additional upsells inside which could run you into hundreds of dollars.
How do I know that?
Simple – I took a look inside the ClickBank marketplace, found the CB Cash Code listing & discovered that they're paying affiliates on average a commission of $55.85 for each person that they refer.

So how can they afford to pay out $55.85 per person to affiliates when the product only costs $37? They can't! Which means the product clearly costs more than $37 overall & that's why they're paying affiliates so much.
Call me old-school but I just don't like hidden costs – and once again there are no hidden costs over at Commission Academy, which is why in my opinion if you want to make money with affiliate marketing that's the better program to with.
You Might Also Like:
Fake Profits!
Honestly, the CB Cash Code isn't the worst ClickBank product I've ever seen… And there is actually some decent training to be found inside… However, there is no way I could ever recommend a program that boasts FAKE profits.
Yes, that's right, fake.
There's a scroller on the homepage that constantly goes along & boasts how much people are making with the CB Cash Code system (as shown below) but the problem is that it's 100% fake.

Firstly, if the program was really as good as promised then why would they need to boast fake testimonials to draw people into it? And secondly, could you really trust a program that lies to you like that just to trick you into signing up? I know I couldn't… And wouldn't!
But anyway that brings me nicely onto…
Is CB Cash Code a Scam?
I can't go as far as to call it a scam for the simple fact that you do actually get provided with some training in return for your money, however, what I will say is that in my opinion, it's extremely misleading & way overhyped.
I mean from my experience I can clearly see that the primary interest of the program isn't in helping you make money as it claims, it's just in helping the creators get wealthy at your expense… Which isn't good.
So for that reason, there's just no way I can recommend the CB Cash Code to you because I honestly believe that if you do sign up to it & pay the joining fee that you'll just find yourself disappointed at what you receive.
And like I mentioned earlier in this review I feel that there are already much better places you can go to get started with affiliate marketing, with Commission Academy (my all-time top recommended program) being one of them.
Hopefully, though, you came to my review here first before signing up & hopefully I've helped you save some money & get a better idea as to how it all really works… If you do still happen to have any further questions though then of course don't hesitate to leave them below & I'll do my best to get back to you as soon as I can.
A Better Alternative
The sad truth is that unfortunately most of the programs promising to help you make money online are scams. I can say that confidently after exposing over 500+ of them here on this blog.
But the good news is that even though most of them are indeed scams, there are actually some very good programs in amongst them - some programs that can truly help you to earn money.
And out of all of the legit programs I've seen, the one I would recommend the most to anybody looking to get started online is Commission Academy. In my own opinion, that's the best place to start.
At Commission Academy, you'll be provided with everything you need (including the training & tools) to begin earning real money by promoting products or services for companies like Amazon online.
The best part is that there's literally no limit on the amount you can earn with it & the process is pretty simple which means that it's absolutely perfect for people that don't have much experience.
Some wealthy affiliates even earn as much as 5-figures per month... Or more!


I mean don't get me wrong, that kind of money won't just fall into your lap without doing any work... But the harder you're willing to work at it, the more you stand to earn with it.
So if you're looking to get started but don't know which route you should go down or which program you should join (and don't want to waste money on bogus things that don't actually work), then I'd highly recommend checking out Commission Academy first. You can learn more about it here.