The Paid Surveys At Home website promises to provide you with access to super high-paying surveys that will supposedly be able to help you earn enough money to quit your job & begin working from home full-time instead.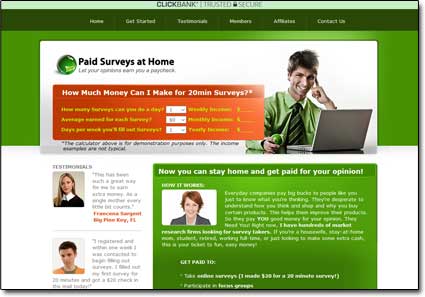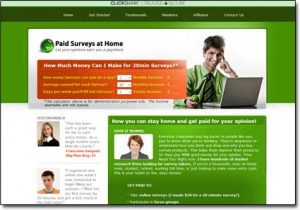 And just completing 1 single 20-minute survey per day is said to be able to bank you as much as $225 per week…
But is it really legit or is Paid Surveys At Home a scam that you actually just avoid?
I'm certain you'll be sceptical about it but don't worry because you've landed in exactly the right place to find out the TRUTH about it all. I've taken a closer look into it & in this honest review, I'll be uncovering everything you need to know, including whether or not you can really make any money with it.
What Is Paid Surveys At Home?   |   How Does Paid Surveys At Home Work?   |   Is Paid Surveys At Home a Scam?   |   A Better Alternative
What Is Paid Surveys At Home?
So basically as the name suggests Paid Surveys At Home is a paid surveys site – but unlike typical paid survey sites which tend to generally pay very little, the Paid Surveys At Home site claims to be able to help you earn enough money from surveys so that you can actually quit your job & do them full-time…

However, as I mentioned at the start of this review you're probably pretty sceptical about that & rightly so. After all paid surveys are super easy to do, and so why would any companies be willing to pay you as much as $45 per 20-minute survey like the guys behind this site claim?
Well, I can tell you right from the off that the truth is they won't. The reason I can say that so confidently is because the Paid Surveys At Home website is just a re-hashed version of the Take Surveys For Cash scam which launched a few years ago.
They make the whole thing sound really great & easy, but then in order to get access to the so-called high paying surveys, they require you to hand over some money first… And then surprise surprise once you do (which if you haven't already I don't recommend doing) you'll just be left to find out the hard way that there aren't really any super high paying surveys after all.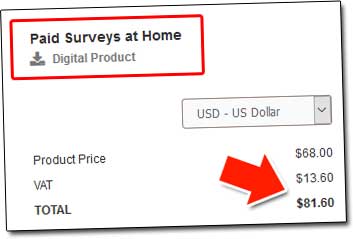 Instead, the whole thing is just a way to make the creators of the scheme rich at your expense, rather than actually helping you to find a legitimate job that you can work from home as they promise.
Obviously, I'm not expecting you to just take my word for all that because I appreciate that you might have been really excited about the potential "amazing" opportunity that you've discovered & you might have been hoping it was going to really help you work from home…
So instead let me show you how it all works first hand so that you can see for yourself what's really going on here…
How Does Paid Surveys At Home Work?
So rather than being an actual paid surveys site like it makes out to be, the Paid Surveys At Home website is actually just a website selling an educational product via the ClickBank network – and an overhyped one at that.
As a visitor to the site, you're basically led to believe that you'll be able to sign up & begin completing surveys through their site to start making money, as you would with any other legitimate paid surveys site… But that's simply not the case.
Instead after handing over your money to sign up to the site all you actually get access to is some so-called "training" information on how to make the most money from paid survey sites… And alongside that, you also get access to a list of paid survey sites, but the sites listed are nothing special (or super high paying) and they can be easily found elsewhere online for free with a quick Google search.

Many of them can even be found here in my own free list of paid survey sites.
Oh, and the "training" that they give you access to basically states that in order to make more money from paid surveys you should simply sign up to as many sites as possible… Well, durrrr!
However, the problem is that in reality, it doesn't matter how many paid survey sites you sign up to – you still won't find yourself making good money & the reason for that is because they simply pay SO low in return for your time. That's why that as a general rule of thumb I don't recommend them because I personally believe there are much better ways to make money online instead.
I once worked it out and the average survey site earnings overall equated to less than $1 per hour if you were to put it in terms of hours… Meaning if you worked a whole 24 hours per day on them you would still only make $24… And that obviously doesn't even leave room for sleep.
If you were to work a 12 hour day on them (leaving time for sleep & other things) you would only come out with $12… And that is on the basis you are getting provided with survey after survey each time you complete one, which if you've ever done paid surveys you'll know doesn't happen.
So ultimately the "opportunity" is totally naff, which brings me onto…
Is Paid Surveys At Home a Scam?
Well from a technical point of view I guess no it's not really a scam – since in the small-print they do state that you'll just be getting access to some training material & a list of survey sites… However, in my personal opinion I believe that yes, it is a scam & the reason I say that is because the whole thing's extremely misleading.
I mean the whole thing is geared towards making you think that you're going to be able to work full-time from home filling in paid surveys online but that just ain't gonna happen. Instead, you'll just hand over your money & find yourself disappointed at what you actually receive… Meaning you'll likely just end up out of pocket rather than actually making money.
So yeah, in my opinion, it is a scam & I'm obviously not going to be recommending it to you. Like I said earlier in this review if you want to fill in paid surveys then you can check out my free list of survey sites here, but to be honest I personally believe there are much better ways to make money online.
One of the best ways that I've personally come across (which is the same way I make most of my own money online) is something called affiliate marketing, and if you're interested in learning more about that then you can do so over at Commission Academy. It's a method that in the long run will definitely reward you for your time much better than paid surveys will, and affiliate marketing is something you can indeed take full-time.
Alongside that, there's also a whole bunch of other ways you can make money online too which you can find out more about here… So I hope those pages help you, and I also hope this review helped you save your cash. If you do still have any questions or comments about Paid Surveys At Home though then don't hesitate to leave them below & I'll get back to you as quickly as I can.
A Better Alternative
The sad truth is that unfortunately most of the programs promising to help you make money online are scams. I can say that confidently after exposing over 500+ of them here on this blog.
But the good news is that even though most of them are indeed scams, there are actually some very good programs in amongst them - some programs that can truly help you to earn money.
And out of all of the legit programs I've seen, the one I would recommend the most to anybody looking to get started online is Commission Academy. In my own opinion, that's the best place to start.
At Commission Academy, you'll be provided with everything you need (including the training & tools) to begin earning real money by promoting products or services for companies like Amazon online.
The best part is that there's literally no limit on the amount you can earn with it & the process is pretty simple which means that it's absolutely perfect for people that don't have much experience.
Some wealthy affiliates even earn as much as 5-figures per month... Or more!


I mean don't get me wrong, that kind of money won't just fall into your lap without doing any work... But the harder you're willing to work at it, the more you stand to earn with it.
So if you're looking to get started but don't know which route you should go down or which program you should join (and don't want to waste money on bogus things that don't actually work), then I'd highly recommend checking out Commission Academy first. You can learn more about it here.