Okay so you've came across the Take Surveys For Cash website (found at TakeSurveysForCash.com) which has supposedly been created by a guy named Jason White & now you're wondering whether or not it's legit… Am I right?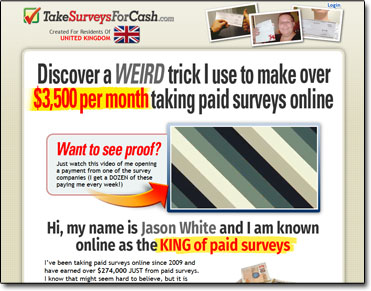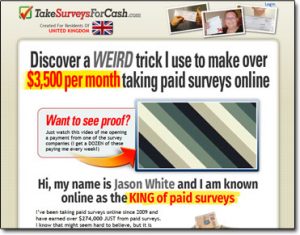 Well trust me you'll be glad that you decided to do your research before joining (at least I hope you haven't joined yet) because in this here Take Surveys For Cash review I'll be outlining why I believe this particular program to be nothing but a big fat scam!
I'll be showing you exactly how it works, or should I say doesn't work, I'll be showing you what you get in return for handing over your cash & I'll also be showing you what you need to do if you happen to have already signed up…
So basically just keep reading & you'll find out literally everything you need to know about this scam, *ahem* I mean program.
What Is Take Surveys For Cash?   |   The Red Flags   |   What Do You Actually Get?   |   Is Take Surveys For Cash a Scam?   |   A Better Alternative
What Is Take Surveys For Cash?
Jason White's Take Surveys For Cash website isn't actually a survey website, so if you're expecting to sign up & be able to start completing high-paying surveys through the website then think again.
Instead the Take Surveys For Cash website is merely an "information product" that claims to show you a weird trick that you can utilize to start making upwards of $3,500 per month by completing paid surveys online… Which by the way is complete BS.
I've reviewed several paid survey companies right here on this blog such as Global Test Market, American Consumer Opinion & Fusion Cash and I can tell you that there's literally NO way you can generate this kind of money through paid surveys, regardless as to what "weird tricks" you might have…
The only trick here is the lies they are telling you to get you to part with your cash… Yes, in total including upsells this Take Surveys For Cash program could see you spending around $100 & after spending that cash you'll have almost nothing to show for it except for some junk information.
You see on average the legitimate paid survey websites only pay you around $0.50 to $3 per survey, and the only way to earn money is by signing up to even more companies & completing more surveys. It is entirely possible with a lot of work that you could see yourself earning over $100 per month from paid surveys but you would have to be working a LOT of hours… So many in hours in fact that you're time would be better spent with other legitimate make-money opportunities.
The reality is that paid surveys pay much, much less than minimum wage & the reason for that is because there are so many people all over the world willing to do them, some of them who are in extremely desperate situations & willing to work hours on end for just a couple of dollars.
Jason White claims that he has access to companies that will pay you $500 per survey instead of the usual $3 but as I mentioned above this is total BS. I have seen such companies claiming to pay large amounts for surveys but they too have turned out to be total scams, like DollarTell & DollarZip for example.
There are NO legitimate high-paying paid survey websites, there never has been & there never will be.
Jason White is right when he says that you can make a full-time income online however you'll never be able to do it through completing paid surveys, it's simply not possible – they're fairly good for extra cash & that's about it.
The Red Flags
It's 100% clear to me that this product has been launched with the pure intention of taking advantage of people who are new to making money online – people who may not even have known it was possible to make money online prior to landing on Jason White's website, however you might not be willing to just take my word for that…
Maybe you are still drawn to this program & to be honest I don't blame you if you are – it would be great if you really could make that kind of money that Jason White promises just by completing paid surveys, so I'll give you some solid proof that it's a scam…
If you scroll right down to the bottom of the Take Surveys For Cash website you'll see a little link that says "affiliates", if you click on this link then you'll see how much the creator of this program is paying affiliates to get people to sign up to it…
You'll also see a full breakdown of the costs involved as shown below:

You'll see that after you buy the initial product you'll find that there are 3 additional upsells, and as you can see from the image above these are "1 click upsells" which basically means that just from the click of a mouse your card will be charged those amounts… So in just 3 clicks of your mouse you could find yourself being charged an additional $85!
Here's another bit that you'll probably find interesting from their "affiliates" page:
when you send a visitor to our product, and they do not purchase it right away, we send them several follow up emails, convincing them to join.
So basically this means that if you enter your name & email address into the Take Surveys For Cash website you'll find yourself bombarded with spam emails from Jason White (or some other alias) trying to convince you to join.
This program is blatantly set up purely so that the creator & the affiliates that are promoting it can earn money at your expense. It is not really designed to help you, but your only left to find this out after handing over your money – of course from there they make it very difficult for you to get any of back.
So What Do You Actually Get?
Honestly, not a great deal, and surprise surprise there's no "weird trick" like Jason claims there is. If you were to hand over your money & buy into Jason White's program (which I obviously don't recommend you do) then you'd get a guide consisting of the following 6 chapters
Ultimately you're just paying for information that you can find elsewhere on the web for free, but because Jason is clearly so kind he's thrown a few BS chapters in too – such as the "how to make $593 per day" one…
Basically the product SUCKS & in my opinion it's a flat out scam.
You Might Also Like:
Is Take Surveys For Cash a Scam?
This program is clearly a scam that's been purely designed to make the creator wealthy (and the affiliates promoting it) at your expense. Hopefully you can see what a pile of junk this program really is.
In my opinion the affiliates that are promoting these things are just as bad as the creators really because essentially although they have nothing really to do with the product they're still profiting from other peoples expense.
To be honest I could probably make a lot of money myself by promoting this program but I wouldn't do it because I just feel that it's completely wrong to push people into a program that doesn't work – especially when there's plenty of good programs out there that will actually benefit people looking to make money, like Commission Academy for example.
But some people obviously just get blinded by the money & forget about their morals… Sadly often the people looking into these programs are often the most desperate & they are the people that these seemingly small scams will have such a huge effect on. That's why I always do my best to try & expose scams here on this blog, to help people keep a hold of their hard earned cash instead of handing it over to these crooks.
Regardless, hopefully you found this Take Surveys For Cash review useful & most importantly I hope you were able to avoid it. If you weren't & you happened to sign up prior to finding this review then I'd highly recommend you ignore any emails sent from them as it's likely that they'll go on to try & push you into other scams too (like Digital Altitude for example). This is where things could quickly get worse as those particular scams could see you losing out on over $50k!
A Better Alternative
The sad truth is that unfortunately most of the programs promising to help you make money online are scams. I can say that confidently after exposing over 500+ of them here on this blog.
But the good news is that even though most of them are indeed scams, there are actually some very good programs in amongst them - some programs that can truly help you to earn money.
And out of all of the legit programs I've seen, the one I would recommend the most to anybody looking to get started online is Commission Academy. In my own opinion, that's the best place to start.
At Commission Academy, you'll be provided with everything you need (including the training & tools) to begin earning real money by promoting products or services for companies like Amazon online.
The best part is that there's literally no limit on the amount you can earn with it & the process is pretty simple which means that it's absolutely perfect for people that don't have much experience.
Some wealthy affiliates even earn as much as 5-figures per month... Or more!


I mean don't get me wrong, that kind of money won't just fall into your lap without doing any work... But the harder you're willing to work at it, the more you stand to earn with it.
So if you're looking to get started but don't know which route you should go down or which program you should join (and don't want to waste money on bogus things that don't actually work), then I'd highly recommend checking out Commission Academy first. You can learn more about it here.