So you've come across the website DollarTell.com & now you've landed here. Well, it's a good job that you did (and hopefully you haven't joined DollarTell yet) because in this DollarTell.com review I'm going to outline exactly why I believe it's nothing but a big scam.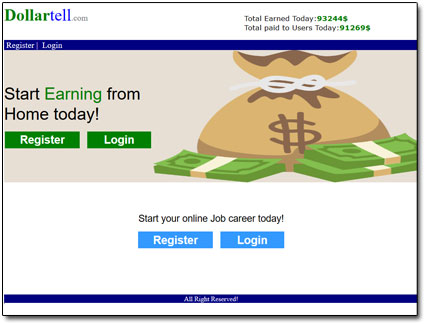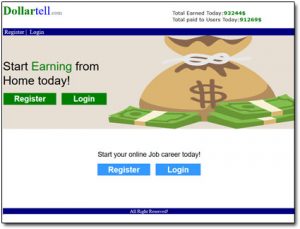 I'll be outlining exactly what it is, how it all works (or should I say doesn't work) and showing you why I strongly believe it's not legit. I'll also show you what you need to do if you've already signed up to prevent you from getting scammed.
Plus on top of that, I'll also show you some legitimate alternatives so that if you still want to learn how to make money then by the end of reading this review you'll be able to do exactly that.
What Is DollarTell?   |   How The Scam Works   |   A Warning About The Offers   |   What If You've Already Signed Up?   |   The Bottom Line   |   A Better Alternative
What Is DollarTell.com?
DollarTell.com is actually just a rehashed version of a previous scam I've come across. It's launched before under several different names & it seems to be a really big scam going around at the moment so the scammers behind it are likely making a lot of money from it (at your expense).
Some of the names it's previously launched under include Teens Earn Cash, PayTime & 1 Dollar Tasks. Take note that none of them are legit – they are actually just the exact same program as this one disguised under different names & different website designs.
Basically, all of these websites promise you money in return for completing similar tasks through their platform. Some of the tasks include filling in surveys, signing up for trials & referring new members…
They are portraying themselves as legitimate GPT websites (which stands for Get-Paid-To websites) because there are indeed some websites that will pay you money for doing these kinds of things. The difference with DollarTell.com is that they claim to pay you a heck of a lot more money than all of the other legitimate ones!
This is obviously done in an attempt to suck you in – but if DollarTell's claims were true then it would make them one of the highest paying websites in the world. The funny thing is though that according to the registration records the website is only a couple of weeks old LOL.
It also looks like it's been put together by a 2-year-old…
Do we really believe DollarTell is one of the highest paying websites in the world? Heck no, it's a SCAM!
Here's How The DollarTell Scam Works…
You might be shocked because the scam isn't actually all that technical – it's mainly just very deceitful. Basically, this scam has been created by some computer programmer (who I think is from India).
He (or she) has put together a website that contains a whole bunch of offers. He or she then claims that if you sign up & complete these offers you will get paid lots of money. The average task is said to pay around $10 to $20, and they only take a minute or two to complete… So the opportunity can seem very attractive.

As you complete the offers your account balance will increase inside of DollarTell so it looks as if the program is legitimate and that you are actually making money, but I can tell you that you are not – these earnings that you see are fake.
Yes, the creator of DollarTell is making money as you complete these offers – but will he or she pay you when you come to withdraw? NOPE.
How can I be so sure? Well for one there are thousands of comments online from people who have been drawn into this scam & the previous scams created by this person who has discovered that the site doesn't pay.
And the other reason is that I have reviewed hundreds of similar scams right here on this blog (such as Bitcoins Wealth Club) and I have picked up the knowledge to know how to detect a scam.
Basically, with this one, it comes down to the good old saying that if it sounds too good to be true it probably is… In this instance, it definitely is too good to be true.
Here Is The Cunning Part…
What I have noticed is that all of these fake paid survey scam sites seem to be gathering a lot of attention very quickly & I was wondering how this was happening but after taking a look inside it became quite clear.
The creator of these scams is basically leveraging the members to bring people into the scam for him (or her). DollarTell claims to pay you massive amounts just by bringing new people to the program, so naturally, you are likely to share the program with your friends.
As a result of many people doing this essentially, these programs are going viral – so the creator is making a lot of money very quickly & then shutting them down shortly after people find out that they don't really pay.
A Warning About The Offers
I know that despite reading this review many people will likely still be hyped up about this company & will try it out anyway just to be sure, but I want to give you a big warning because you need to be very careful of the offers promoted through DollarTell.
Because this is not a legitimate website, many of the offers that you're told to complete are not legitimate either. After completing them you'll likely find out that you've been subscribed to various "free" trials which will eventually start billing you & then you'll find it very difficult to obtain the sources who are billing you to cancel the subscriptions.
I had seen a comment from somebody who had completed over 50 offers inside of one of the previous DollarTell scams & then shortly after they found themselves being billed for over $800 monthly!
So please be very careful with this program – you really should just take my advice & avoid it altogether.
You Might Also Like:
What If You Have Already Signed Up?
If you have already signed up then you should be careful when opening emails because the person who has put this program together will likely start sending you various emails trying to get you to sign up to other scams so he (or she) can make even more money at your expense.
Some of the programs I've seen the creator pitching are Digital Altitude & MOBE, if you sign up to those they can potentially see you losing around $50k+ so you can probably see why it's so important to be careful. If you receive any emails from the creator of DollarTell just delete them, don't even open them.
The Bottom Line
It's clear as day that DollarTell.com is a scam & therefore my advice to you is to completely avoid it. As I mentioned above if you have already signed up then you should not open further emails sent to you from the program because they will likely be trying to push you into even more scams (such as future fake paid survey sites that they create).
It will seem like you are making money when you first start out but I can tell you with 100% certainty that DollarTell does not pay its members – the site is simply set up to make the creator wealthy at the expense of others.
The worst part is that whilst I have exposed it here, it's likely that the creator will just launch the site under another name to dodge this negative DollarTell review so that he (or she) can continue scamming even more people. Be alert!
Oh and if you are still looking for legitimate ways to make money online then be sure to check out this blog post here for over 72+ of them.
A Better Alternative
The sad truth is that unfortunately most of the programs promising to help you make money online are scams. I can say that confidently after exposing over 500+ of them here on this blog.
But the good news is that even though most of them are indeed scams, there are actually some very good programs in amongst them - some programs that can truly help you to earn money.
And out of all of the legit programs I've seen, the one I would recommend the most to anybody looking to get started online is Commission Academy. In my own opinion, that's the best place to start.
At Commission Academy, you'll be provided with everything you need (including the training & tools) to begin earning real money by promoting products or services for companies like Amazon online.
The best part is that there's literally no limit on the amount you can earn with it & the process is pretty simple which means that it's absolutely perfect for people that don't have much experience.
Some wealthy affiliates even earn as much as 5-figures per month... Or more!


I mean don't get me wrong, that kind of money won't just fall into your lap without doing any work... But the harder you're willing to work at it, the more you stand to earn with it.
So if you're looking to get started but don't know which route you should go down or which program you should join (and don't want to waste money on bogus things that don't actually work), then I'd highly recommend checking out Commission Academy first. You can learn more about it here.