In this review I'm going to be taking a closer look at the 1 Dollar Tasks website which claims to pay you for completing simple tasks such as downloading free apps, filling in surveys, signing up for trials & sharing posts on Facebook.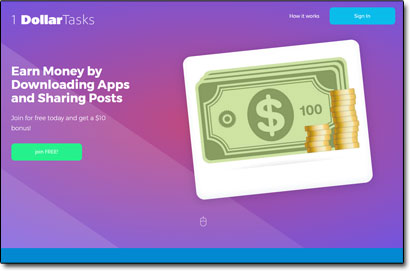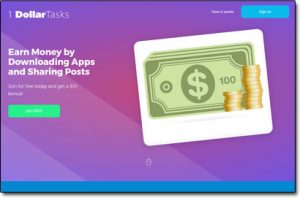 They claim their service provides a really easy way for people to make money online & despite their name they actually claim to pay up to $200 per task but is it actually legit? Or is 1 Dollar Tasks a scam?
That's exactly what I'm going to be getting to the bottom of right here in this 1 Dollar Tasks review where I'll be uncovering what it's all about, how it all works & whether or not you can really make money.
What Is 1 Dollar Tasks?   |   How Much Can You Earn?   |   Is It Legit?   |   Does 1 Dollar Tasks Actually Pay?   |   The Big Problem   |   Is 1 Dollar Tasks a Scam?   |   A Better Alternative
What Is 1 Dollar Tasks?
1 Dollar Tasks is what's known as a Get-Paid-To website, but whereas typically these websites tend to pay out very small amounts in return for tasks completed 1 Dollar Tasks stands out from the crowd because despite their name they actually claim to payout up to $200 per single task – which is quite a substantial amount.
Especially considering that in order to earn that amount of money they say that all you need to do is fill in a survey or sign up for a free trial… Which actually makes me a little bit sceptical, to be honest.
You're also told that when you join 1 Dollar Tasks you'll be assigned a personal account manager that will work closely with you to make sure that you earn "solid income per day" (their words, not mine).
And after digging a little bit more through the website it appears that this "solid income per day" they speak of equates to around $100 per day, which is a suspiciously large amount of money being paid out for completing such simple, menial tasks.
So is it really true? Can you really earn $100 per day with 1 Dollar Tasks?
How Much Can You Earn With 1 Dollar Tasks?
In just a moment I'll run through whether or not 1 Dollar Tasks actually pay out the amounts they promise you or not, but before I do that let me just give you a breakdown of what they claim to pay you…
$2-$20 in return for downloading a free Android or iOS app.
$5-$200 for each survey completed or free trial signed up to.
$0.50 for each post shared on Facebook.
$1 for each friend referred to 1 Dollar Tasks.
I think you'll agree that at a glance this all seems very lucrative indeed, but the real question is whether or not their claims actually hold true… Or is 1 Dollar Tasks a scam that's feeding you a pack of lies?
Let's take a look…
Is 1 Dollar Tasks Legit?
In order to find out once & for all whether 1 Dollar Tasks is legit or a scam, I decided to personally create an account & try it out first-hand for myself. Apparently, they'll give you $10 just for signing up.
To my surprise when I logged in I actually had $10.50 in my account, so I was kinda confused as to where the extra $0.50 come from but it turns out they apparently pay you $0.50 for logging in each day too.
Take a look:

Now things are definitely starting to get a little bit crazy, I mean $0.50 just for logging in – where the heck is this money coming from? It's almost starting to look like the Teens Earn Cash scam that launched a few weeks ago.
However, so far I guess things were as promised – but there seemed to be a few small changes to the amount you'd be able to earn. Instead of being able to earn up to $200 they now claimed the limit was $100.
There was also some additional "Instant Tasks" which claimed would pay $4 apiece so I decided to start out by taking a look at those. Sadly this is where it started looking even more like a scam.
Take a look at some of the "tasks" I was presented with:

These are the exact same types of things that were shown within the Teens Earn Cash scam that I mentioned above, and they are basically what's known in the marketing world as CPA offers.
Unlike other, legitimate surveys each of these basically requires you to sign up to some kind of trial which initially is made out to be free. However, after looking through the small print you'll see that if you submit the information you'll actually be signed up to some sort of subscription which will begin charging you a monthly or even weekly fee.
Aside from those "tasks" shown above, there is no other way to earn money through 1 Dollar Tasks other than by referring people to the program or "sharing posts on Facebook" as they call it.
They're basically telling you to spam a whole bunch of Facebook groups related to making money with their promotional banners. Then you're told to take screenshots of your spam & upload them so that they can verify it & pay you…

This is something that will see you very quickly getting your Facebook account shut down.
Does 1 Dollar Tasks Actually Pay?
After signing up to 1 Dollar Tasks you will get your $10 credit as promised, you will also get $0.50 added for logging in & then as you complete the tasks (which I don't recommend you do) your balance inside the program will increase accordingly.
However 1 Dollar Tasks have set a payout threshold of $80 which is very high for this type of website, generally, the withdrawal limit on Get-Paid-To websites like this is set at around $10.
My assumption is that the company have set such a high limit knowing that you will either have to complete a whole bunch of offers or refer a whole bunch of people to the program before you can withdraw.
And generally, when companies do this it's so that they can get as much out of you as possible before they let you find out that they don't really pay up – similar to what we saw happen at Teens Earn Cash.
You Might Also Like:
The Big Problem
It's clear to me that this program is completely unsustainable as it seems they're just offering out money for the fun of it, which as you probably guessed is the common trait of a scam to get you hooked.
There's a reason why most of the other legitimate Get-Paid-To websites don't pay money like this & it's because they can't afford to. If a company is willing to pay you $200 for completing a "survey" then it's clear to me that they are getting money out of you somehow (like the hidden trials that I mentioned above).
The 1 Dollar Tasks program reminds me of the good old saying that "if it seems too good to be true, it probably is".
Paying $0.50 per day just for logging in for example – what if all you did was log in & out each day? They are earning nothing from you & they are going to pay you $15 each month? I don't think so!
Is 1 Dollar Tasks a Scam?
In my opinion yes, 1 Dollar Tasks is a scam. The "tasks" that are found inside the member's area are very dodgy & several of them discreetly try & sign you up to paid subscriptions without your knowledge.
Whilst you can indeed accrue money inside of your 1 Dollar Tasks account, due to the dodgy practices on their website I highly doubt that when it comes to withdrawing they would pay any money out to you.
And on top of that, another major red flag is that they actually claim to pay you in return for spamming various Facebook groups related to making money in order to promote their program for them.
This is something that will see your Facebook account quickly getting shut down & if the program does turn out to be a scam as I suspect then you will be held responsible for referring those people.
Therefore as you can probably guess I will be giving this website a huge thumbs down and I certainly won't be recommending it to you as it seems the owner is just looking to make money at your expense.
A Better Alternative
The sad truth is that unfortunately most of the programs promising to help you make money online are scams. I can say that confidently after exposing over 500+ of them here on this blog.
But the good news is that even though most of them are indeed scams, there are actually some very good programs in amongst them - some programs that can truly help you to earn money.
And out of all of the legit programs I've seen, the one I would recommend the most to anybody looking to get started online is Commission Academy. In my own opinion, that's the best place to start.
At Commission Academy, you'll be provided with everything you need (including the training & tools) to begin earning real money by promoting products or services for companies like Amazon online.
The best part is that there's literally no limit on the amount you can earn with it & the process is pretty simple which means that it's absolutely perfect for people that don't have much experience.
Some wealthy affiliates even earn as much as 5-figures per month... Or more!


I mean don't get me wrong, that kind of money won't just fall into your lap without doing any work... But the harder you're willing to work at it, the more you stand to earn with it.
So if you're looking to get started but don't know which route you should go down or which program you should join (and don't want to waste money on bogus things that don't actually work), then I'd highly recommend checking out Commission Academy first. You can learn more about it here.