Teens Earn Cash (found at teensearncash.com) claims to provide the number 1 way for teens to make money online & new members are said to be able to make up to $500 per day just by downloading apps or completing surveys.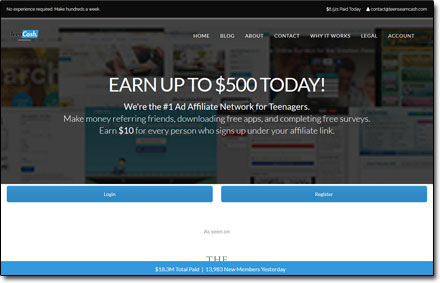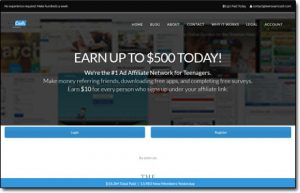 Obviously, I think you'll agree that those are some pretty bold claims, so what's the deal? Is it really legit?
Or is Teens Earn Cash a scam that's out to part you with your time & hard-earned cash?
That's exactly what I'm going to be looking at here in this review where I'll also be uncovering exactly what it's all about, how it actually works & whether or not you can really make money with it.
What Is Teens Earn Cash?   |   How Does Teens Earn Cash Work?   |   The Truth   |   Is Teens Earn Cash a Scam?   |   A Better Alternative
What Is Teens Earn Cash?
Whilst Teens Earn Cash claims to be a website that launched way back in 2008 providing teenagers with a revolutionary way to earn money online, in reality, it didn't & that's nothing but a lie.
If you check it out on the Internet Archive you'll see that somebody did indeed purchase the domain name back in 2008, but not a thing happened with the website until the 1st of September 2017.

So essentially despite claiming to be 9 years old, the site is actually less than a month old… LOL.
Anyway, Teens Earn Cash is a website that claims to be the number 1 advertisement affiliate network & as the name suggests they're targeting teenagers who're looking to boost their income by earning extra money online.
But the interesting part about Teens Earn Cash is the fact they claim that their members can earn such humongous amounts just by completing very simple tasks such as referring friends, completing surveys & downloading apps.
Essentially they're saying that basically anybody can sign up for free & start earning around $500 per day without a great deal of work. I don't know about you but that certainly leaves me feeling very sceptical.
Especially if you line it up against the average paid survey company which generally only pays out around $1 to $2 per survey.
So somehow Teens Earn Cash is claiming to pay over 100x more than what you'd usually be able to earn through a legitimate company like Global Test Market or Survey Junkie for example.
How Does Teens Earn Cash Work?
Teens Earn Cash states that all you need to do is sign up, then bring friends to the site & you'll be paid $10 for each one that signs up… and that they too will be able to earn $10 for each friend they get to sign up as well.
They claim that their revenue comes from their advertising partners and that whilst originally when they first started out they would have only paid small amounts to their members they have built strong relationships with their partners & are now able to pay out much larger amounts.

Don't get me wrong this almost sounds believable, except for the fact that we already know Teens Earn Cash hasn't been running for 9 years at all, and that's it's actually been running for less than a month.
Here's How It Really Works…
I'm not gonna lie I was pretty curious as to what was actually going on here so I decided to create myself an account at Teens Earn Cash to check it out first hand & it quickly became apparent what was going on here.
Upon creating my account I was immediately presented with a "$25 bonus" just for signing up – though I couldn't withdraw it because the minimum withdrawal limit was $125 (an usually high limit for this sort of website).
Teens Earn Cash reassured me though by telling me that this could be easily achieved by just referring 10 people – but here's what I didn't understand… I had just signed up & done nothing, so if I brought 10 more people to the company who also did nothing like me… Where the heck is Teens Earn Cash getting the money from in order to pay me my commissions?
It doesn't add up!
But after just a couple of minutes browsing the member's area, when I stumbled across the "Survey Bank" it all became clear. Unlike legitimate paid survey websites the Teens Earn Cash website basically sends you off to numerous scam offers which claim to be free but utilize sly tricks to part you with your cash.

These offers are undoubtedly making the creators of this website a lot of money, but it will be at your expense as each of the offers tries to trip you up by getting you to sign up for some sort of "free trial" which if you forget to cancel will see you being regularly billed substantial amounts.
And that explains the overly large withdrawal limit…
It's clear to me that the owners of Teens Earn Cash have absolutely no intention of paying you any money, they just want to make money from you.
Therefore if their withdrawal limit was set at around $10 like it is with most other paid survey companies then you'd only need to sign 1 friend up before you realized it was fake so their scam wouldn't really be very effective – hence the unusually high withdrawal limit of $125.
You Might Also Like:
Is Teens Earn Cash a Scam?
Yes, I am going to say that this website is indeed a scam. There is no way on earth that you could earn such substantial amounts of money for completing such easy tasks online. If there was then everybody would be doing it.
The truth is that it's definitely possible to make money online but if you want to make real money (ie $500 per day as claimed by Teens Earn Cash) then you would need to put in a lot of work to do so.
There are various opportunities online that require less work, but as you can imagine they also pay less too. So ultimately what I'm saying is that sadly there is no easy way to riches like Teens Earn Cash claims.
Therefore I won't be recommending you become a member because it's blatantly not legitimate & the only person who is going to be making money through this scheme is the creator of the website, not you.
A Better Alternative
The sad truth is that unfortunately most of the programs promising to help you make money online are scams. I can say that confidently after exposing over 500+ of them here on this blog.
But the good news is that even though most of them are indeed scams, there are actually some very good programs in amongst them - some programs that can truly help you to earn money.
And out of all of the legit programs I've seen, the one I would recommend the most to anybody looking to get started online is Commission Academy. In my own opinion, that's the best place to start.
At Commission Academy, you'll be provided with everything you need (including the training & tools) to begin earning real money by promoting products or services for companies like Amazon online.
The best part is that there's literally no limit on the amount you can earn with it & the process is pretty simple which means that it's absolutely perfect for people that don't have much experience.
Some wealthy affiliates even earn as much as 5-figures per month... Or more!

I mean don't get me wrong, that kind of money won't just fall into your lap without doing any work... But the harder you're willing to work at it, the more you stand to earn with it.
So if you're looking to get started but don't know which route you should go down or which program you should join (and don't want to waste money on bogus things that don't actually work), then I'd highly recommend checking out Commission Academy first. You can learn more about it here.