In this review I'm going to be taking a Global Test Market, arguably one of the worlds largest paid survey companies to firstly see if it's actually legit & secondly to find out if you can really make decent money by completing their surveys.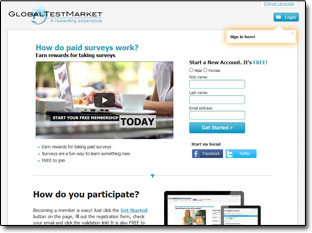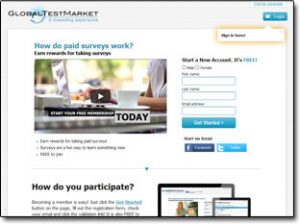 So if you've come across Global Test Market & have been thinking about signing up you can rest assured that you've landed in the right place to find out everything you need to do before you do.
And it's worth pointing out that I'm not affiliated with Global Test Market meaning you'll be getting an unbiased honest review (I'm not interested in getting you to sign up to earn a commission).
What Is Global Test Market?   |   How Does Global Test Market Work?   |   Is It Worth It?   |   How Do You Get Paid?   |   My Final Verdict   |   A Better Alternative
What Is Global Test Market?
Global Test Market is a company that clearly values opinions as they claim to be willing to pay their members in return for completing short surveys about various products & services.
So it really legit & can you actually make money with Global Test Market?
The answer to both those questions is yes – yes it's legit & yes you can actually make money (though admittedly not a great deal). The reason I can say that so confidently right off the bat is that my own Mum has actually been a member of Global Test Market for several years & each year she gets sent a small paycheck to the sum of around $60.
As I say the earnings you'll be able to generate through Global Test Market (or other paid survey companies) won't equate to any sort of life-changing amount by any means, but if you've got a bit of spare time & you're just looking to build an extra income then paid surveys can be a pretty easy way to do it.
Personally, I recommend affiliate marketing over paid surveys as that gives you the opportunity to earn much more money, but if you're not looking for anything crazy & just looking to kill some then paid surveys is still a legit way to make a little bit of extra cash.
How Does Global Test Market Work?
Global Test Market is basically a middleman connecting companies who want opinions with people who are willing to give opinions & wanting to earn a little bit of extra cash on the side.
They work with a huge panel of companies, some of which are major brands that you'll immediately recognize, others which are just small startups looking to get some thoughts on their new business ideas.
These companies basically approach Global Test Market telling them how much they're willing to pay for their surveys to be completed & what type of people they want to complete them. Global Test Market then basically pass these surveys on to members which meet the criteria (which could be you) & upon completion you'll be awarded a percentage of the money, with Global Test Market keeping a little bit for themselves for acting as the middleman.
The amount you'll earn per survey isn't all that great but it can add up & depending how many surveys you're offered you could see yourself earning around $10+ or more (but probably not much more) per month.
Is Global Test Market Worth It?
Well, it's actually free to join Global Test Market so I guess there's no harm in trying it out but in my opinion, paid surveys aren't really worth it unless you're in a really bad financial situation and NEED the money… otherwise, you'll find yourself very poorly paid for the amount of time you end up putting into the surveys.
The other problem for me is the fact that you can often find yourself halfway through a survey (which could have taken you 5 to 10 minutes) only to be told that "you're not eligible to continue" – so the survey will close & you'll only be credited 5 points for your time. I suppose it's better than nothing though as many other survey companies don't even credit you anything for "abandoned" surveys.
I would say though that if you're really set on joining a paid survey company (even though I'd recommend this instead) that Global Test Market is probably one of the best companies to join.
The good thing about Global Test Market is that whilst you do get booted out of surveys now & on they do send you new surveys quite frequently. I've been a member of some other survey sites (like Cashback Research) where I've only been given 1 or 2 surveys each month after joining which certainly isn't going to see you making any real money.
How Do You Get Paid?
Basically, when you complete surveys you don't get paid in cash, you get paid in points which is then redeemable once you manage to collect 1000 points (which equates to around $50).
You can opt to get the actual money sent to you via cheque (and I believe they now added PayPal too) but you'll be pushed into going through their rewards catalogue & choosing gift cards instead.
To give you an idea of how long it would take you to generate 1000 points let me tell you that each survey will pay you between 5 & 50 points, with each survey taking on average around 20 minutes to complete & you'll probably get sent 1 or 2 per week.
So if ALL of your surveys were the high paying 50 point ones it would still take you around 10 to 20 weeks before you earned $50… Not that great in my opinion!
You Might Also Like:
The Bottom Line – My Final Verdict
Firstly I want to clear up the Global Test Market scam rumours by saying that Global Test Market is a legit company as far as I'm concerned because I know my Mum has been getting paid from them for many years.
However whilst Global Test Market might be legit it is not a company I'm going to be recommending to you unless you are in a dire financial situation where you are desperate for cash because you'll be very poorly paid in return for your time.
This isn't just at Global Test Market though, paid surveys, in general, are very low paying and that's why I recommend people avoid them because in my opinion, they are just not worth your time.
The other downside is that even if you've been completing surveys for years you won't see yourself getting any sort of pay rise, so you'll have spent all that time & will still be earning the same small amount. That's why I recommend people build an affiliate marketing business instead which is something that can be built up over time, and potentially in 6 months or a couple of years you could turn it into a full-time income (unlike paid surveys).
So yes, Global Test Market is a legit company that does payout for their surveys but in my opinion, the money you'll be paid as a result of completing the surveys simply isn't the worth the time you'll spend doing them.
A Better Alternative
The sad truth is that unfortunately most of the programs promising to help you make money online are scams. I can say that confidently after exposing over 500+ of them here on this blog.
But the good news is that even though most of them are indeed scams, there are actually some very good programs in amongst them - some programs that can truly help you to earn money.
And out of all of the legit programs I've seen, the one I would recommend the most to anybody looking to get started online is Commission Academy. In my own opinion, that's the best place to start.
At Commission Academy, you'll be provided with everything you need (including the training & tools) to begin earning real money by promoting products or services for companies like Amazon online.
The best part is that there's literally no limit on the amount you can earn with it & the process is pretty simple which means that it's absolutely perfect for people that don't have much experience.
Some wealthy affiliates even earn as much as 5-figures per month... Or more!

I mean don't get me wrong, that kind of money won't just fall into your lap without doing any work... But the harder you're willing to work at it, the more you stand to earn with it.
So if you're looking to get started but don't know which route you should go down or which program you should join (and don't want to waste money on bogus things that don't actually work), then I'd highly recommend checking out Commission Academy first. You can learn more about it here.