At a glance PayTime seems like the perfect website – they offer you a $10 bonus just for joining & claim to pay you fairly decent sums of money in return for completing small simple tasks on their website.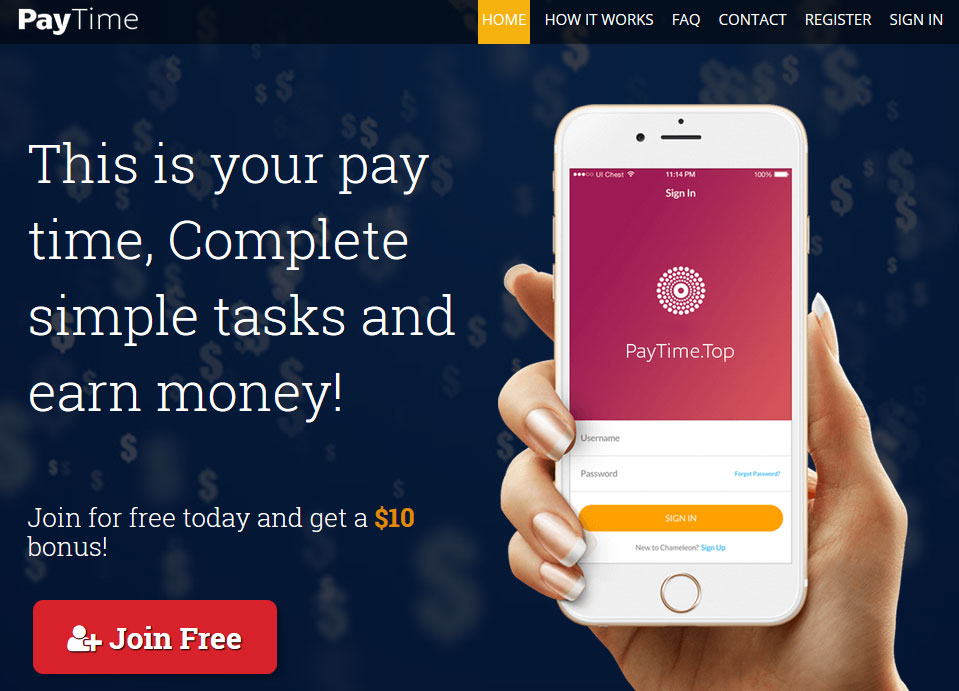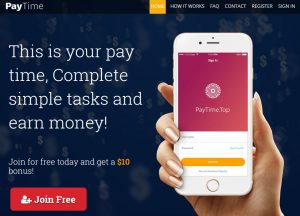 But sadly, it's not quite as legit as it seems.
In this PayTime review, I'll be taking a closer look at the company, showing you how it really works & explaining why I believe this company is nothing but a flat out SCAM. Plus if you've already signed up I'll be showing you what you need to do to prevent yourself getting scammed.
What Is PayTime?   |   How Does PayTime Work?   |   The Biggest Problem   |   Is PayTime a Scam?   |   A Better Alternative
What Is PayTime.top?
PayTime.top passes itself off as a legitimate Get-Paid-To website, which is basically a website that pays you in return for completing simple tasks online (such as filling in surveys, watching videos & installing apps)…
There are some legitimate websites that pay you for doing these types of things (such as Global Test Market & Daily Rewards) but generally because the tasks really are so simple these companies tend to only pay very small amounts of money in return for you completing the tasks…
The pay these legitimate companies offer you is usually so low that unless you're really desperate to make extra cash they're kind of a waste of time… At least, in my opinion, they are because I know there are better ways that you could utilize your time to make more money.
Now the difference with this PayTime company is that they claim to pay you much larger amounts for the tasks which naturally has got a lot of people excited… And I don't blame them, because PayTime leads you into believing that you could generate a full-time income online just by working through their website…
But guess what?
Sorry to burst the bubble but it simply isn't true.
Despite it actually looking very convincing, PayTime is in fact a scam, yes, there I said it… And it's not a new scam either, it's just a re-hashed version of a scam I previously reviewed named 1 Dollar Tasks.
It's also possible that the people behind these 2 scams are operating the scam named Teens Earn Cash as this works in a fairly similar way (and it looks pretty much the same too) but to be honest that bit's just speculation on my part.
The reason they've relaunched under a different name is likely because I previously wrote a review exposing the 1 Dollar Tasks scam on this blog & a few other websites did the same. Usually, when dodgy companies like these get a handful of negative reviews they just launch a similar site under a different name to continue parting people with their cash.
How Does PayTime Work?
To be honest, the scam isn't all that technical – basically the website PayTime.top just sucks you in on a whole bunch of hyped-up claims but when it comes to you trying to withdraw your money you'll find that your request gets ignored. That's because the website has been purely set up to earn the creator a whole bunch of money by leveraging YOUR efforts.
It's a classic case of "if it sounds too good to be true, it probably is"… There's no way any advertising companies would pay such huge amounts for such simple tasks – the reason for that is because it's extremely easy to find somebody else online who'd be willing to do it cheaper.
So essentially why would they pay you $5 to complete a 30-second survey when they could get somebody else to do it for $0.50 instead? That's why 99% of the legitimate Get-Paid-To companies pay stupidly low amounts.
Anyway… Here's how it works…
Basically, the creator of this website has affiliated himself with an advertising company, this means that if he (or she) can get people to complete various surveys & click on various adverts then he (or she) will earn money in return.
The money they get paid generally won't be anything "crazy", but it could be anywhere between $1 to $20 per click or per survey filled in, so if they can get enough people to do it then they'd definitely be able to earn a fair chunk of change.
So this is where the scam comes into play…
Basically, this person has come up with the cunning idea of creating the PayTime.top website – a website that promises people will earn handsome amounts in return for completing pretty darn easy tasks (like clicking ads, completing surveys & referring new members).
But here's the deal… NOBODY is getting paid! The site has been purely set up to earn the creator money… They don't care about paying any of the members (hence why they're boasting exaggerated payouts because it's completely make-believe).
Once they've earned enough money & people start realizing it's a scam they'll just close it down & relaunch it again under yet another name.
The Biggest Problem
The PayTime.top is already bad enough as it is, but the worst part is that the creator is sneakily trying to get you to bring other people into the scam so that he (or she) can earn even more money.
You see we've already established that the PayTime website is fake, but many people still don't realize this (because they haven't read this review). Sadly they think that they are actually earning money by referring people to this program, but instead, all they're doing is getting their friends & family to sign up to a scam.
And I don't blame them for doing it because PayTime claims to pay huge amounts to you for getting new people to sign up… But again the problem is they don't – because the whole thing is fake!
Featured In The News?
Well yeah that's what they claim on their website, but take it from me – no it hasn't. If you take a look at any of those news websites that this PayTime program claims to have been featured on you'll quickly see that they're lying.
Just take a look at the image below for proof:

I searched the entire Huffington Post website for the keyword "PayTime" & it only returned 1 result which had absolutely nothing to do with this PayTime.top company. It's a common trick used by scams to try & make them seem legitimate… They just hope that you won't actually search for it.
Withdrawal Problems
PayTime really does seem like a superb website, in fact, many of the members are probably overjoyed & shocked at how much money they seem to be earning through the site. It's not hard to rack up a few hundred (even a few thousand) dollars in a couple of days, but the problem is that none of this money will ever be getting paid to you.
You'll find that out the hard way when you go to withdraw – but this will take you a little while as the creator of PayTime isn't stupid. They've set a large withdrawal limit so that you'll be forced to complete a whole load of offers & refer a whole bunch of friends before you realize it's a scam.
My advice: Don't get caught up by the big numbers appearing in your PayTime account – it's not real! They're just faking the numbers to get you excited so that you'll keep on completing offers & referring friends so that they can earn money at your expense.
Is PayTime a Scam?
Honestly, this is just a flat out waste of time, it's a complete scam but unfortunately, the guys behind this scam have done a pretty decent job of making it look convincing so I wouldn't blame you for getting drawn in.
However, this is the important part – if you happen to have already signed up to their website then you should ignore any of the emails that they send to you. Don't even open them! The reason for this is because the creator of the system is likely going to try & draw you into even more scams, some of which could potentially see you losing thousands (like the MOBE scam they often push on you).
There's not much more to say about it to be honest, it's just a totally fake site which the creator has built purely to "use" you so that he or she can earn a whole bunch of money at your expense.
And if you're still thinking about "trying it out" (which unfortunately I know many of you will be, even after reading this review) be very careful. Many of the "easy tasks" that you're told to complete will see you signing up for product/service trials which if you forget to cancel could see you being billed from various different companies.
The bottom line – just take my advice & avoid it.
A Better Alternative
The sad truth is that unfortunately most of the programs promising to help you make money online are scams. I can say that confidently after exposing over 500+ of them here on this blog.
But the good news is that even though most of them are indeed scams, there are actually some very good programs in amongst them - some programs that can truly help you to earn money.
And out of all of the legit programs I've seen, the one I would recommend the most to anybody looking to get started online is Commission Academy. In my own opinion, that's the best place to start.
At Commission Academy, you'll be provided with everything you need (including the training & tools) to begin earning real money by promoting products or services for companies like Amazon online.
The best part is that there's literally no limit on the amount you can earn with it & the process is pretty simple which means that it's absolutely perfect for people that don't have much experience.
Some wealthy affiliates even earn as much as 5-figures per month... Or more!

I mean don't get me wrong, that kind of money won't just fall into your lap without doing any work... But the harder you're willing to work at it, the more you stand to earn with it.
So if you're looking to get started but don't know which route you should go down or which program you should join (and don't want to waste money on bogus things that don't actually work), then I'd highly recommend checking out Commission Academy first. You can learn more about it here.