In this review I'm going to be taking a closer look at a company named Daily Rewards which is a Canadian "Get-Paid-To" website through which people can earn money & claim rewards by completing small tasks such as taking surveys, playing games & watching videos.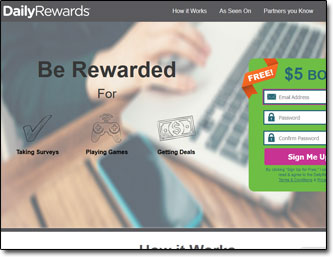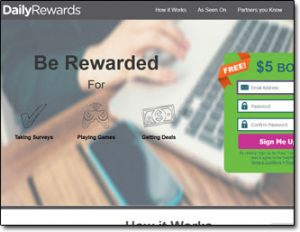 I'm going to be finding out how it all works, how much they pay, if it's actually worth your time & whether or not there's any truth behind the Daily Rewards scam rumours that have been circling the web.
Meaning if you've come across Daily Rewards & have been thinking about joining then you can rest assured that you've landed in exactly the right place to find out everything you need to know before you hit the sign-up button.
What Is Daily Rewards?   |   How Much Does It Cost To Join?   |   How Much Can You Earn?   |   Is Daily Rewards a Scam?   |   A Better Alternative
What Is Daily Rewards?
Daily Rewards is a Canadian based Get-Paid-To website which pays you money in return for completing small tasks such as watching videos, filling in surveys & even playing games.
Understandably the fact that they're willing to pay you in return for playing games or watching videos may make you a little sceptical, so if you're thinking is Daily Rewards a scam then let me tell you the answer is no – it's a legitimate website that really does pay you money for doing those small tasks & let me explain how it works to give you a better understanding…
Basically, Daily Rewards act as a middleman between companies who are looking for peoples opinions (and willing to pay for them) and people who are looking to earn a little bit of extra cash at home (and willing to share their opinions).
When you join Daily Rewards you'll be asked to fill in a short profile where they ask you a few questions about yourself, such as what you work as & what you like doing. They then use this information to match you with relevant advertisers from their panel & then whenever an advertiser has a task for you you'll be sent an email & you'll have the opportunity to make a little bit of money by completing it.
Now "a little bit of money" is the keyword as there is no way completing tasks through Daily Rewards (or other Get-Paid-To websites) isn't ever going to make you rich but it could potentially see you earning about an extra $5 to $10 each month which isn't bad if you're just looking to make a little extra without too much commitment.
If you're looking to make more money online then you could try out something different altogether (such as affiliate marketing which could potentially generate you a full-time income) or you could boost your earnings by joining multiple Get-Paid-To websites, some of which I've listed below:
Again joining multiple Get-Paid-To websites isn't going to see you getting rich either but you could potentially bump your earnings up from around $5-10 to somewhere around $50 per month instead which still isn't fantastic, but if you have the time then it's definitely better.
How Much Does It Cost To Join?
The good thing about the Daily Rewards website is that it's completely free to join & at the moment they're even running a promotion through which you can get your account credited with $5 just for signing up.
One thing you have to be careful of though is whilst their service is entirely free, they do regularly offer you the opportunity to earn extra money by signing up to various additional offers which cost money or have trial periods that could see you being charged if you forget to cancel.
You don't have to sign up to these additional offers if you don't want to as they're purely there for you to be able to earn more money but as I say above if you do decide to then you just need to tread carefully & read the small-prints.
How Much Can You Earn?
Daily Rewards offer a variety of different tasks that you can complete to make money & some of them are quite high-paying at around $0.50 to $2 per single task but the reality is there isn't really any life-changing money going to be made through a Get-Paid-To website like this.
Overall based on the time taken to complete the tasks & the amount earned you will see yourself earning much less than minimum wage, but you'll never be able to generate anything even close to a part-time income from this website because the frequency of the offers coming through is too low.
As I mentioned above you could see yourself boosting your income by joining multiple Get-Paid-To websites but overall you will see yourself paid very poorly in return for your time. If you're purely only looking for a little bit of extra cash & really are only willing to put in the minimum amount of work possible then these Get-Paid-To websites are just the job, but if you're looking for more then I'd recommend something like this instead.
You Might Also Like:
Is Daily Rewards a Scam?
Well, Daily Rewards certainly isn't a scam, it's a legitimate Get-Paid-To website through which you can earn money by completing small tasks. Admittedly the money isn't going to be anything fantastic but since it's completely free to join & there's no commitment involved there's no harm in giving it a try if you're looking for a little bit of extra cash.
The only thing I'd like to stress is that you really do need to be careful when they send you the additional offers which are supposed to help you generate more income as some of these require payments & if you don't read the small-print carefully they could see you getting charged.
I wouldn't say Daily Rewards is amazingly better than any of the other Get-Paid-To websites I've come across to date but similarly, it's no worse so it's a pretty good starting point if you're new to this sort of thing or a good addition if you're looking for more companies to join.
Ultimately though it is what it is, it's a Get-Paid-To website that pays out similar amounts to the others I've reviewed in the past. They don't pay exceptionally higher than anybody else & they don't send you an insane amount of tasks – overall I'd say Daily Rewards is pretty average, but the $5 credit just for signing up is a pretty nice sweetener.
A Better Alternative
The sad truth is that unfortunately most of the programs promising to help you make money online are scams. I can say that confidently after exposing over 500+ of them here on this blog.
But the good news is that even though most of them are indeed scams, there are actually some very good programs in amongst them - some programs that can truly help you to earn money.
And out of all of the legit programs I've seen, the one I would recommend the most to anybody looking to get started online is Commission Academy. In my own opinion, that's the best place to start.
At Commission Academy, you'll be provided with everything you need (including the training & tools) to begin earning real money by promoting products or services for companies like Amazon online.
The best part is that there's literally no limit on the amount you can earn with it & the process is pretty simple which means that it's absolutely perfect for people that don't have much experience.
Some wealthy affiliates even earn as much as 5-figures per month... Or more!


I mean don't get me wrong, that kind of money won't just fall into your lap without doing any work... But the harder you're willing to work at it, the more you stand to earn with it.
So if you're looking to get started but don't know which route you should go down or which program you should join (and don't want to waste money on bogus things that don't actually work), then I'd highly recommend checking out Commission Academy first. You can learn more about it here.