Lately, I've been taking a closer look at a few of the popular online survey/rewards companies to find out if they're actually legit & if you can really make any money with them.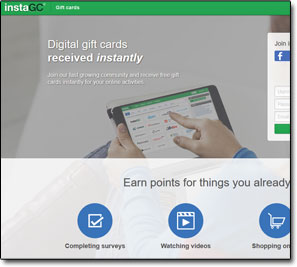 Today I'm going to be looking at a site named InstaGC & in this InstaGC review I'm going to uncovering everything you need to know about the company, so if you've been thinking about joining you can rest assured that you've landed in exactly the right place to find out if it will be worth your while.
And I know there are already quite a few other reviews of InstaGC online but many of them contain biased information because they've been written by affiliates who are getting paid a commission for getting you to sign up – there's none of that here because I'm NOT affiliated with them so you'll just be getting the honest truth.
What Is InstaGC?   |   Is InstaGC Legit?   |   How Does It Work?   |   Who Can Join & How Much Does It Cost?   |   How Much Can You Earn?   |   How Do You Get Paid?   |   Final Verdict   |   A Better Alternative
What Is InstaGC?
InstaGC is what's known in the world of making money online as a GPT or Get-Paid-To website which simply means they'll pay you in return for completing small tasks such as answering surveys, watching videos & surfing the web.

Whilst initially it sounds like the ideal position, unfortunately, these types of companies generally don't pay out a great deal in return for the week & as a member you'd see yourself earning much, much less than even minimum wage.
So if you started thinking about quitting your job & working from home watching videos for InstaGC then I'm sorry but that ain't gonna happen. You could probably expect to earn about an extra $10 or month or something but that'd be about it – if you're looking for something that will pay you a little more (and potentially could turn into a full-time gig) then I'd recommend this instead.
And it's worth pointing out that InstaGC isn't the only GPT website out there, in fact, there are actually quite a few. Some of the other big names I've recently reviewed include the likes of Global Test Market, Cashback Research & American Consumer Opinion.
Is InstaGC Legit?
When it comes to these Get-Paid-To survey/rewards websites one thing you've got to watch out for is scams because sadly when it comes to these types of websites it seems that there's a heck of a lot of them.
Thankfully though InstaGC does seem to be legit – they offer redemption proof on their website & they are active on social media with many seemingly real users thanking them for their recent withdrawals.
Therefore, in my opinion, InstaGC is not a scam – the company seems to be above board & unlike several of the other survey/rewards companies, it looks like they have a good track record of issuing payments promptly & on time based on other member reviews.
How Does InstGC Work?
If you've never come across one of these types of websites before you might be curious as to how it all works, and a little bit sceptical about the fact that a company is willing to pay you just for watching videos… So let me explain…
Basically, InstaGC acts as a middleman between companies needing your opinion (and willing to pay for it) and people looking to make a little bit of extra money (and willing to undertake a few small jobs).
So a company might reach out to InstaGC and say "hey, we need a group of people to watch our new TV advert to see what they think of it & we're willing to pay each person $X amount for their time"…
Then InstaGC passes this job on to the appropriate members on their panel (based on the demographic criteria that the company specified) & then once the members complete the task InstaGC will pay them whilst taking a small cut for themselves for acting as a middleman.
You're happy, InstaGC is happy & the company is happy.
Who Can Join & How Much Does It Cost?
InstaGC is currently open to residents of Australia, Canada, UK, and the US so if you reside in any of those countries then you'll be able to create yourself an account at InstaGC (but you might not want too – I'll explain why in a moment).
The good thing about InstaGC is that the signup process is completely free too – there's absolutely no membership costs involved so you can simply sign up & if you don't like just close your account without having to be worried about billing.
How Much Can You Earn With InstaGC?
Don't get me wrong InstaGC is pretty good for frequently providing you with quite a lot of tasks to get on with but the problem is that like other survey/rewards companies they pay very poorly for your time.
To give you an idea, the tasks at InstaGC generally credit you between 10 & 100 points but whilst a 100 point task might take you 20+ minutes to complete it only equates to around $1 when it comes to cash out.
That would mean even if you were going really hard & completing task after task you'd only see yourself earning around $3 per hour which is substantially less than minimum wage.
In my opinion, unless you were in an absolutely dire financial situation or really didn't value your time it's not worthwhile such low paying tasks, especially when there are much better ways to make money online like this.
You Might Also Like:
How Do InstaGC Pay You?
Primarily InstaGC encourages to convert your earned points into gift cards, but they do have a PayPal withdrawal option too (though I do feel like they kinda try & hide this from you).
Whilst withdrawing gift cards through other companies can be a bit of a mess around because they usually take a couple of weeks to come through the post (and often end up "getting lost") InstaGC kinda have a handle on that side of things as they send theirs electronically, meaning you receive them instantly… Pretty cool!
The other important thing is that there's no activation fees or charges on their gift cards so the credit that they put on it is the credit that you have available to use.
Final Verdict – Should You Join?
Being completely honest, whilst InstaGC is a pretty legit way to earn a bit of extra income it's not something I'd personally recommend you should join simply because they pay so poorly for your time.
If you worked flat out, and I mean flat out at InstaGC then the chances you'd even be able to earn as much as $3 per hour is pretty slim which is quite shocking. I mean don't get me wrong it's not too bad if it's purely extra income but even still you'll see yourself passing up a heck of a lot of your time for very little reward.
In my opinion, there are many other much betters way to make money online which will pay you much better for your time. Still, though, InstaGC is completely free to join so there's no harm in trying in out.
A Better Alternative
The sad truth is that unfortunately most of the programs promising to help you make money online are scams. I can say that confidently after exposing over 500+ of them here on this blog.
But the good news is that even though most of them are indeed scams, there are actually some very good programs in amongst them - some programs that can truly help you to earn money.
And out of all of the legit programs I've seen, the one I would recommend the most to anybody looking to get started online is Commission Academy. In my own opinion, that's the best place to start.
At Commission Academy, you'll be provided with everything you need (including the training & tools) to begin earning real money by promoting products or services for companies like Amazon online.
The best part is that there's literally no limit on the amount you can earn with it & the process is pretty simple which means that it's absolutely perfect for people that don't have much experience.
Some wealthy affiliates even earn as much as 5-figures per month... Or more!


I mean don't get me wrong, that kind of money won't just fall into your lap without doing any work... But the harder you're willing to work at it, the more you stand to earn with it.
So if you're looking to get started but don't know which route you should go down or which program you should join (and don't want to waste money on bogus things that don't actually work), then I'd highly recommend checking out Commission Academy first. You can learn more about it here.