Lately, I've seen a lot of mixed reviews about the paid survey company American Consumer Opinions so I've decided to take a closer look myself to find out once & for all whether or not it's actually legit (and worth your time).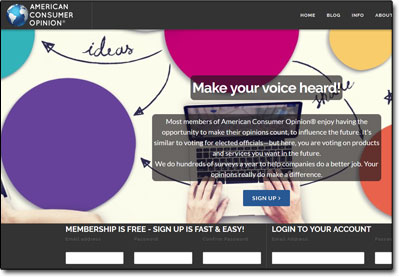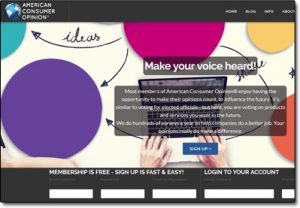 So if you've come across American Consumer Opinion & have been thinking about creating an account with them you can rest assured you've landed in the right place to find out everything you need to know about them before you do.
And it's worth pointing out that I'm not affiliated with them meaning I have no interest in getting you to sign up, I'm just going to be giving you the unbiased & honest truth so that you can make up your own mind.
What Is American Consumer Opinion?   |   The Problem   |   How Does It Stack Up?   |   An Additional Way To Earn   |   Is American Consumer Opinion Worth It?   |   A Better Alternative
What Is American Consumer Opinion?
American Consumer Opinion is a paid survey company, which means that if you're willing to take 10 or 20 minutes out of your day to complete some short surveys for them then they'll pay you in return (though the pay won't be anything spectacular).
Despite their name American Consumer Opinion actually operates throughout most of the world, so even if you don't live in the USA chances are you'll still be able to join & earn through them – but don't go rushing into signing up just yet because there are some important things you'll probably want to know first.
American Consumer Opinion isn't the only paid survey company out there, in fact, there are several with one of the largest being a company named Global Test Market who I just also recently reviewed.
But one thing I want to make clear though is that generally paid surveys are very low paid & if you're expecting that you'll be able to generate a full-time income (or even anything close to a part-time income) then you'll most likely find yourself disappointed.
On average around $10 per month would be seen as "good" earnings when it comes to paid surveys.
And yes you can join multiple companies to boost your earnings but even if you traded your entire day doing surveys you probably still wouldn't generate that much cash as often they only pay out around $1 (or sometimes less) per survey & they can take 20 mins to complete. That's $3 per hour!
But as a member of multiple companies, it's unlikely that you'd be provided with that many surveys anyway as usually, you'll only receive 1 per week or maybe 2 if you're lucky which kinda sucks.
The Problem With American Consumer Opinion
Before I get too deep into this review there is one thing I want to bring to your attention & that's the fact that there seems to be a large number of complaints from people claiming they haven't been paid by American Consumer Opinion.
I mean don't get me wrong there are many positive reviews of the company too but the volume of complaints about lack of payment is still quite alarming, I mean take a look at the 2 I've screenshot below for example:

The majority of these reports do seem to be from 2016 though so maybe American Consumer Opinion have cleaned up their act & sorted it out but unfortunately, that's not something I can 100% confirm – I just wanted to bring it to your attention because I don't want to be recommending a company to you that turns out to be a non-payer, therefore, I want you to be informed prior to joining.
How Does American Consumer Opinion Stack Up?
Realistically paid survey companies are paid survey companies & there are only 2 main variables which would make one better than another. Those are how much they pay per survey & how frequently they send out new surveys…
So how does American Consumer Opinion stack up against the others?
Well like many other paid survey companies American Consumer Opinion works on a point-based system, so for each survey you complete, you'll be awarded a number of points between 100 & 5,000.
You can then redeem these points into cash & at American Consumer Opinion 100 points equate to $1 so that means on average you'll be paid at least $1 per survey – unless it's what they call a "screener survey".
The screener survey is basically just a short survey of 20 questions or less which is designed to get an update on your personal profile so that they can continue sending you the most relevant surveys. The screener surveys will only award you 10-50 points but it is recommended that you complete them as whilst they pay less it could result in you getting more surveys sent through.
In order to cash out you'll need to earn a minimum of $10 which equates to 1,000 points, so at the lowest payout level that would require you to complete at least 10 surveys & at their average rate of 1 per week that would take you 10 weeks.
Cash can be sent by check, withdrawn through PayPal or donated directly to a charity.
You Might Also Like:
An Additional Way To Earn
In addition to being able to earn money by completing surveys American Consumer Opinion also give you the opportunity to earn extra income by referring new people to the company.
Many of the other paid survey companies also run similar programs, but I have to say that in comparison to the others, American Consumer Opinion's referral program is actually quite poor.
Most other companies will award you a fixed number of points per referral or a percentage of their earnings, whilst American Consumer Opinion simply enters you into a monthly prize draw for the chance to win 5,000 points.
Yes, that equates to $50 which is certainly good if you win, but you could refer 100 people into the program & there's still absolutely no guarantee that you'll earn a single penny for doing so which in my opinion is pretty bad.
Edit: Affiliate Consumer Opinion now also run an affiliate program (which is kept a little low-key) but through this, you'll earn a guaranteed $0.50 for every new person you introduce to the company. In my opinion, it's a better deal that the prize draw program but in order to get access to the affiliate marketing program you'll need your own established website.
Is American Consumer Opinion Worth It?
Well, it's free to join American Consumer Opinion so there's certainly no harm in trying it out, but ultimately you're not going to be able to make any sort of life-changing money through paid surveys so realistically I'd only recommend them if you're in dire need of extra cash as you'll be very poorly rewarded for your time. Personally, I believe this is a better way to make money.
At around $1 per survey American Consumer Opinion does seem to be one of the higher paying survey companies however there's been several members complaining that overall they don't send you many surveys. So whilst you might be getting paid more per survey you might see yourself earning less than you would at another company (like Cashback Research for example) because of the lack of new surveys.
Overall I'd say American Consumer Opinion seems fairly legit & there are many positive reviews but do tread carefully because as I mentioned above there are several members who've also complained about lack of payment.
A Better Alternative
The sad truth is that unfortunately most of the programs promising to help you make money online are scams. I can say that confidently after exposing over 500+ of them here on this blog.
But the good news is that even though most of them are indeed scams, there are actually some very good programs in amongst them - some programs that can truly help you to earn money.
And out of all of the legit programs I've seen, the one I would recommend the most to anybody looking to get started online is Commission Academy. In my own opinion, that's the best place to start.
At Commission Academy, you'll be provided with everything you need (including the training & tools) to begin earning real money by promoting products or services for companies like Amazon online.
The best part is that there's literally no limit on the amount you can earn with it & the process is pretty simple which means that it's absolutely perfect for people that don't have much experience.
Some wealthy affiliates even earn as much as 5-figures per month... Or more!

I mean don't get me wrong, that kind of money won't just fall into your lap without doing any work... But the harder you're willing to work at it, the more you stand to earn with it.
So if you're looking to get started but don't know which route you should go down or which program you should join (and don't want to waste money on bogus things that don't actually work), then I'd highly recommend checking out Commission Academy first. You can learn more about it here.