Chances are you've landed on this blog post because you've searched Google to find out is DollarZip.com a scam.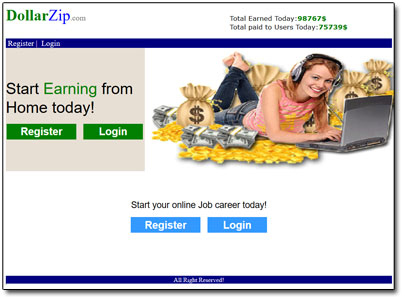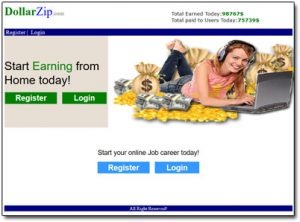 Well, in short, the answer to that question is heck yes, it most certainly is – but if you're interested in finding out exactly how it works (or should I say doesn't work) then keep reading this review to find out.
I'll be uncovering exactly what it's all about, why it doesn't work & how it scams you – I'll also be going over what you need to do to prevent yourself getting scammed if you've already signed up (but hopefully you haven't).
What Is DollarZip?   |   How Does DollarZip Work?   |   What If You've Already Signed Up?   |   Is DollarZip a Scam?   |   A Better Alternative
What Is DollarZip.com?
To be honest, DollarZip is nothing new – it's just a rehashed version of a paid survey scam that I've seen floating about over the past couple of months. It's actually a complete clone of DollarTell which I recently exposed on this blog – they've just changed the name a little bit to try & dodge the negative reviews in the hope that they can continue scamming people…
Prior to that, the scam has also operated under several different names including Teens Earn Cash, 1 Dollar Tasks & PayTime. Despite the different names & different designs, it's exactly the same scam operated by exactly the same person.
Sadly I don't have details as to exactly who that person is, but my research has shown that they're all running from the same network & they seem to be coming out of India, so it's likely an Indian computer programmer that is launching them.
The DollarZip website makes out as it pays you in return for completing short simple tasks such as filling in surveys, watching videos or even playing games. At a glance, it appears to be a legitimate Get-Paid-To website (like Global Test Market), but I can tell you that it's not.
The biggest giveaway of it being a scam is the ridiculous amounts that they claim to pay you in return for completing such simple tasks. They reckon they'll pay you between $10 & $20 for completing a short survey which just takes a minute or two, and they claim that you can complete as many of these as you'd like per day.
They also claim to pay you huge amounts for referring your friends to the website or sharing the site on Facebook so effectively they're trying to use you to draw other people into the scam – and don't be fooled, they won't really pay you for doing this either.
According to their website, the average daily earnings accrued by their members totals up to around $98,767. If that were true then that would mean DollarZip is one of the highest paying make-money sites in the world, but the funny thing is that according to the web records the site has only been active a couple of weeks… LOL.

The other laughable thing is that despite claiming to be one of the highest paying websites in the world, DollarZip looks like it's been designed by a 2-year-old.
How Does DollarZip Work?
The idea is that you sign up to DollarZip, they provide you with various tasks, you complete them & then as you do so you accrue funds into your account which you can then later withdraw as cash once you've reached a certain threshold…
But the big problem is that DollarZip doesn't pay their members!
The other big problem is that many of the "tasks" will see you signing yourself up to various so-called free trials which will then later see you being billed large monthly recurring payments for hidden subscriptions. Some of the members claim that the following month after completing what were supposedly free offers they found themselves being charged hundreds of dollars from companies they'd never heard of…
It turned out that hidden in DollarZip's small-print was details of recurring subscriptions that they didn't see. But the problem didn't end there because these transactions were almost impossible to trace back to a company which was said to have made cancelling the payments very difficult indeed.
The bottom line here is that DollarZip has been designed to make the creator rich at the expense of others. He (or she) is basically leveraging others to complete "offers" and in return, he (or she) will be getting paid large commissions from advertisers. Legitimate Get-Paid-To websites like Daily Rewards, for example, would then pass a percentage of this money onto you, but not DollarZip.
The reason for that is simply because DollarZip is not legitimate. The website makes it seem like you are making money because your account balance increases accordingly (just like it did with DollarTell) however when you come to withdraw you'll find that your request just gets ignored.
But the owners of DollarZip aren't stupid, they set a ridiculously high withdrawal threshold so you'll be forced to either complete a huge bunch of offers or recruit a huge number of other people into the scheme before you can withdraw.
And that's how these schemes have been blowing up so quickly as of late – it's because the majority of the people who are joining them are then promoting them because they think they are earning money by doing so. They are not, they are just drawing more people into the scam! Potentially friends and family too…
So take note – definitely do not refer anybody to DollarTell (or any of its associated websites) because they are flat out scams.
You Might Also Like:
What If You've Already Signed Up?
If you've already signed up then be aware it's likely that the creator of DollarZip will try & pitch further scams to you via email, so I would recommend not opening & deleting any emails received from DollarZip.
Whilst the DollarZip opportunity is free to join (but contains very risky paid offers), the scams that they then push onto you via email could cost you up to $50k. Yes, that is not a typo.
The reason for that is because the scams they pitch to you are what's known as high-ticket opportunities, they include things like Digital Altitude, MOBE & Tecademics. You can potentially make money through these programs, but it's very difficult & they require a LOT of investment before you can even get the ball rolling.
The creator of DollarZip earns a commission for referring you into them so they're not really interested in your success, they just want to make money at your expense.
Is DollarZip a Scam?
Honestly, it's easy to see that this particular opportunity is a flat out scam – you don't even need to be an expert to see that, it's just a classic case of if it sounds too good to be true then it probably is… In this instance it definitely is.
The scam itself isn't all that technical, the creator of DollarZip is just luring you in by making you think that you can earn a lot of money quickly & easily knowing that everyone would love to do so… Sadly, in reality, it doesn't work like that. Yes it's possible to make money online, but it will take time & effort – it's not going to happen overnight & it's not going to be as easy as DollarZip makes out.
Take my advice & avoid this program altogether because honestly, it's nothing but bad news. If you're still looking for something legitimate then be sure to check out my list of over 72+ ways to make money online.
A Better Alternative
The sad truth is that unfortunately most of the programs promising to help you make money online are scams. I can say that confidently after exposing over 500+ of them here on this blog.
But the good news is that even though most of them are indeed scams, there are actually some very good programs in amongst them - some programs that can truly help you to earn money.
And out of all of the legit programs I've seen, the one I would recommend the most to anybody looking to get started online is Commission Academy. In my own opinion, that's the best place to start.
At Commission Academy, you'll be provided with everything you need (including the training & tools) to begin earning real money by promoting products or services for companies like Amazon online.
The best part is that there's literally no limit on the amount you can earn with it & the process is pretty simple which means that it's absolutely perfect for people that don't have much experience.
Some wealthy affiliates even earn as much as 5-figures per month... Or more!

I mean don't get me wrong, that kind of money won't just fall into your lap without doing any work... But the harder you're willing to work at it, the more you stand to earn with it.
So if you're looking to get started but don't know which route you should go down or which program you should join (and don't want to waste money on bogus things that don't actually work), then I'd highly recommend checking out Commission Academy first. You can learn more about it here.