If you've come across the Clever Container company – whether it be through a distributor, a home party, or you've just happened to stumble across it by accident then you might be left wondering what exactly it is, whether it's legit & whether you can actually make money with their opportunity.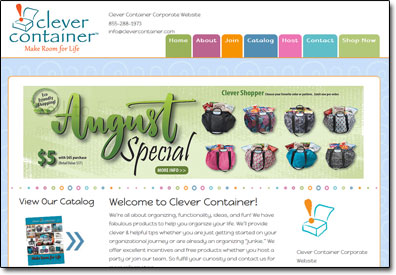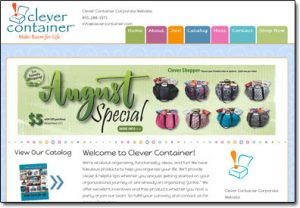 So for that reason, I've decided to put this Clever Container review together today to answer all of those questions once & for all, meaning if you were looking for more information about the company then you can definitely rest assured that you've landed in the right place to get it.
And I want to make it clear that I'm not affiliated with Clever Container myself so you don't need to worry about me trying to get you to sign up, I'll just be giving you my honest opinion about the company as a third party so that you can make up your own mind as to whether or not you really want to join.
What Is Clever Container?   |   What Are The Products?   |   The Business Opportunity   |   My Final Verdict   |   A Better Alternative
What Is Clever Container?
Clever Container actually reminds me of a company named Tupperware which I'm sure you'll have no doubt heard of. That's because Clever Container is a network marketing company specialising in selling items that aim to make storing things easier… Kind of like Tupperware.
However, they do have their differences which I'll go over in a moment but firstly let me give you a bit of background on the company so you know exactly what & whom you are dealing with.
The Clever Container company was actually launched as a "normal business" back in 2006 by two friends named Karen Eschebach & Jennifer Weaver but shortly after in 2007 they decided to restructure as a network marketing company – in a likely attempt to increase sales & profit (which seems to have paid off).
And if you're not quite sure what a network company is, it's basically a company structured in a way that gives people the opportunity to sell the products themselves but also to recruit others into the scheme and earn from their efforts too… Kind of like a pyramid scheme, but with products.
What Are The Products?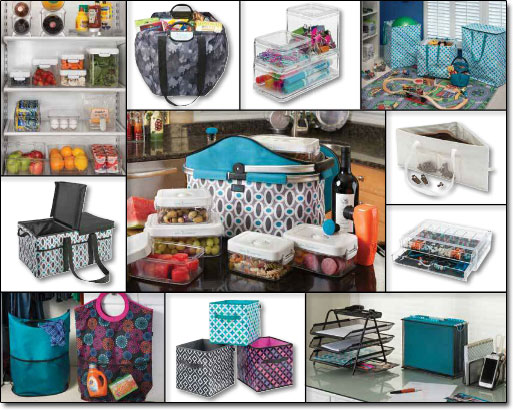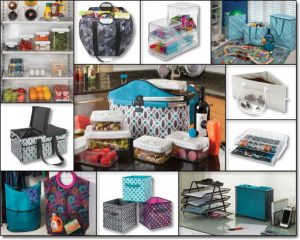 To be honest I was actually quite shocked at the sheer amount of products Clever Container actually sell. Usually, network marketing companies are renowned for only having very small, limited product lines but that's certainly not the case with Clever Container.
Now, whenever I review a network marketing company I go into detail on each of the products to see if they actually provide value but with Clever Container that would probably see me tied up until the end of the year because there's so many…
What I'm going to do instead is summarise their entire product line.
Overall I have to say I am quite impressed with the products they offer and I do believe they will definitely provide value to the customers that are buying them. There's a clear trend with their products & that's that they're all designed to help you get the most storage you possibly can out of a particular area.
An example of this would be their stacked fruit bowl – which sees multiple fruit bowls tiered on top of each other so that you can store more fruit without taking up more space on the table. It's a simple but practical idea & looks good too.
The downside though is that I've seen some similar products in shops & Clever Container seems to be charging an awful lot more for them in comparison. Of course Clever Container claim they are higher quality but since I haven't physically handled any of their products I can't confirm either way.
The Business Opportunity
So I've already established that Clever Container is a network marketing company & if you missed my explanation above this basically means they provide you with the opportunity to earn money by reselling their products, but on top of that they give you the opportunity to recruit other people into the business & earn money from their sales too.
Hopefully, that makes sense? It's true that the structure of a network marketing company resembles that of a pyramid scheme & that's why they get a lot of negative reviews however technically if there's a genuine product involved then this is what separates it from being classed as a pyramid in the eyes of the law.
It can still be very borderline though & that's why it's always very important to do thorough research before joining any sort of network marketing company because you could end up getting yourself involved with a scam.
How Do You Make Money With Clever Container?
Before you can even think about making money with Clever Container the first thing you'll need to do is purchase their Starter Kit which will set you back $149 (plus additional taxes & shipping costs).
The Starter Kit includes various items from their range along with some marketing materials to help you begin promoting your business & order forms so that you can process any sales you make.
You will earn 20% commissions on any sales you make personally, and if you begin generating a volume of $1,000 per month in sales then your commission will increase to 25% which isn't a huge amount but an extra 5% is better than nothing.
They also have what they call a Fast Start Bonus, so in your first 4 months (enrolment month + 3 consequential months after) you will earn an additional 5% of any sales you make over $1,000. This doesn't include the sales that contributed to the $1,000 – so for example if you made $1,100 in sales the additional 5% would only be paid out on the amount over the $1,000 threshold which in this example would be $100.
Then in typical network marketing fashion, you have the opportunity to earn a percentage of the sales your team makes too, so if you recruit people into the business who also go on to make sales you can make money from their efforts too… Here's how it looks:
5% commission on the people you directly sponsor (level 1)
4% commission on the people they sponsor (level 2)
3% commission on the people your level 2 team sponsor (level 3)
And if you make enough sale volume to reach what they call Director level then you will be eligible to earn an additional 2.5% in commissions on infinite levels through your downline.
Then on top of that, they have various different bonuses such as a Power Seller bonus which can see you earning additional 3-8% commissions if you hit certain sales volumes among a few others.
So overall it's not the highest paying compensation plan I've ever seen but at least it's fairly straight forward to understand. It's not uncommon for these network marketing companies to have absolutely crazy compensation plans that are almost impossible to understand, like that of Valentus for example.
You Might Also Like:
My Final Verdict – Should You Join Clever Container?
Whilst Clever Container does seem legit as far as network marketing companies go I'm not going to be recommending you join the company & there's a couple of reasons why which I'll explain below.
Firstly the initial investment you have to make is fairly high at $149, and with starting commission rates of only 20% it will see quite a lot of hard work just to recoup your initial investment alone let alone make a profit with the company.
And in typical network marketing fashion, it's clear that the "real" money comes from recruiting people into the business & building a team so you'll be encouraged to pester your family & post about your "amazing business" on social media.
But on top of all that I just don't like the idea of having to host home parties to make some extra cash – I mean that may have been a good way to build an extra income a few years ago but these days things have changed… Everybody is making money online instead.
If you're looking to make a bit of extra money or potentially a full-time income in your spare time then network marketing, in my opinion, is no longer the answer, affiliate marketing is – and it's very easy to get started.
It's actually how I personally generate an income myself & I'd definitely recommend it over opportunities like Clever Container. If you're interested in learning how you can get started yourself you can do so completely free here.
A Better Alternative
The sad truth is that unfortunately most of the programs promising to help you make money online are scams. I can say that confidently after exposing over 500+ of them here on this blog.
But the good news is that even though most of them are indeed scams, there are actually some very good programs in amongst them - some programs that can truly help you to earn money.
And out of all of the legit programs I've seen, the one I would recommend the most to anybody looking to get started online is Commission Academy. In my own opinion, that's the best place to start.
At Commission Academy, you'll be provided with everything you need (including the training & tools) to begin earning real money by promoting products or services for companies like Amazon online.
The best part is that there's literally no limit on the amount you can earn with it & the process is pretty simple which means that it's absolutely perfect for people that don't have much experience.
Some wealthy affiliates even earn as much as 5-figures per month... Or more!


I mean don't get me wrong, that kind of money won't just fall into your lap without doing any work... But the harder you're willing to work at it, the more you stand to earn with it.
So if you're looking to get started but don't know which route you should go down or which program you should join (and don't want to waste money on bogus things that don't actually work), then I'd highly recommend checking out Commission Academy first. You can learn more about it here.