The Crypto Revolution System claims that it can enable you to turn a mere $1 into a whopping $10,000 through online cryptocurrency investments, even if you have absolutely no experience with these new digital currencies at all.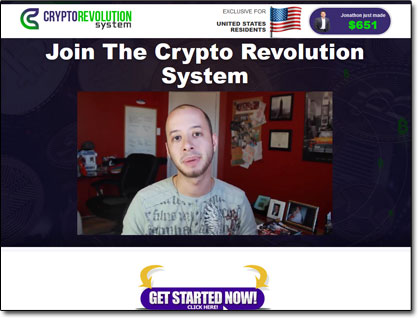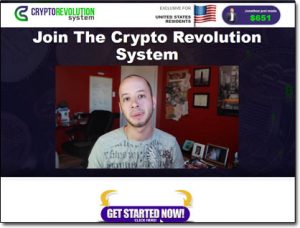 You're led to believe that you can simply sign up, follow some steps & begin making money… But since it actually costs money to get started you're probably wondering is it actually legit or is the Crypto Revolution a scam that'll just see you losing money rather than making it?
Thankfully though you've landed in exactly the right place to find out because I've taken a closer look into it all & in this review I'll be uncovering everything you need to know, including how it all works & whether or not you can really make money with it as promised.
What Is The Crypto Revolution System?   |   How Does The Crypto Revolution System Work?   |   Is The Crypto Revolution System a Scam?   |   A Better Alternative
What Is The Crypto Revolution System?
The Crypto Revolution System is a system targeted at people new to cryptocurrency investing & it claims it can provide you with a way to "cash in" on all of these new cryptocurrencies that are starting to launch (including the big one, Bitcoin).
You're led to believe that without any experience at all you'll be able to turn a mere $1 into a whopping $10,000 by following the 3 steps inside the system and if that wasn't good enough on its own you even get promised your own very coach to help guide you along the way.

Initially, the whole thing might seem like a dream come true and based on all the hype that's been surrounding cryptocurrency lately with people all over the world seemingly making money from it you might begin to think that it could actually be legit…
But don't go rushing into signing up just yet because there are a few things that immediately make me very sceptical about it…
I mean firstly, how can the system provide you with a personal coach if it only costs $9.95 to access? This alone doesn't add up & it makes me suspect further costs down the line (or a potential scam at work)…
And if you can really turn $1 into $10,000 so easily then why is the creator requesting an upfront fee for you to access the program? Surely it would make more sense for him to take a cut of the profits, right?
On top of that there's the worrying line in the income disclaimer that states the following:
"All results show in our presentation, website, or marketing literature are atypical results. Average results are unknown."
So can we really trust the Crypto Revolution System? Will it really help us make money as promised? Let's take a closer look…
How Does The Crypto Revolution System Work?
It's alleged that a guy named Jack Harper has created the Crypto Revolution System trading software & that he did this after speaking with James Altucher (a well known alleged crypto guru) at a trading event & discovering a profitable "secret".
James Altucher, by the way, is the guy who put together The Altucher Report which I recently reviewed on this blog & deemed in my opinion to be a misleading program potentially designed purely to make money at your expense (rather than help you make it as promised).
So that doesn't really make for a good start in terms of the Crypto Revolution System & there's also no proof of these 2 guys ever talking… In fact, there's no proof that Jack Harper, the guy supposedly behind the system is even a real person.
Which all makes for a very worrying start…
Anyway, in order to get access to the Crypto Revolution System, you'll need to first pay a $9.95 fee which might not seem too bad… You might be lulled into the false sense of security of thinking there's no harm in "just trying it out" and that's exactly what the creator wants…
The reason I say that is because as shown below if you actually read the full terms & conditions listed on their website you will see that once you submit your credit card details you'll be automatically enrolled in a $99 monthly recurring membership.

So 14 days after signing up & paying the seemingly small $9.95 fee you're card will be billed an additional $99 and this will continue every single month afterwards until you call up and cancel.
Very sneaky if you ask me!
And the other concerning thing is that the only contact details you're provided with is a phone number – this is a common trick used by scams as they then use the phone call as an opportunity to upsell you into other stuff.
I've seen people calling various programs with the intent of getting a refund only to be then pushed into spending thousands more… It's easy done since the people behind these programs are often so good at tricking people.
I'm not saying that's actually the case in this particular instance with the Crypto Revolution System but I want to make you aware of it so that you know what you could be letting yourself in for if you did decide to join.
You Might Also Like:
What Happens After Paying The Fee?
A fairly expensive $99 monthly subscription might lead you into believing that this program actually has some degree of substance, but don't be fooled because it's not really any different to the other trading systems I've come across before.
Once you're inside you're provided with access to a "1-on-1 coach" who you'll find out is just a salesperson & that they're merely there to encourage you to deposit with their recommended brokers (so that the creators of the program can earn a commission at your expense).
And on top of that, you're provided with a series of training videos which are again just intended on getting you to sign up with various different things so that the creator can earn even more commissions once more.
Realistically there is no chance you are going to be turning $1 into $10,000 with this program.. The likelihood is that it's just going to see you losing money rather than making it.
And that's likely why they've chosen to display fake testimonials on their website too – because it's likely none of their real members are actually making any profits for them to showcase.
For example, you're shown a picture of "Alex" & told he's allegedly just made $654 as shown below:

I noticed this was fake after carrying out a reverse Google image search on the photo of Alex. It's actually a photo of a man named Shingi Mutasa, one of Zimbabwe's richest men… And there's no chance Shingi could be using the system as it clearly states it's exclusive for residents of the USA.
Which brings me onto…
Is The Crypto Revolution System a Scam?
In my opinion yes, I do believe the Crypto Revolution System to be a scam. You're led to believe that you can make money quickly & easily with it but the likelihood is that ultimately it will just see you losing money rather than making it.
The whole thing is very misleading & the trickery they use to get you caught up in a $99 monthly subscription is just outrageous. Not to mention the fact that they use fake testimonials too… It just screams bad news.
To be honest these kinds of things are just preying on people who are looking to make lot's of money quickly & easily. I'll be honest & say that whilst it would be nice if things worked that way – in reality, they don't. Yes, you can actually make good money online but you should know that it's going to take work on your behalf… If something promises you money for nothing (or lot's of money very easily) it is likely just trying to scam you.
Therefore overall I am not going to be personally recommending the Crypto Revolution System to you because I just don't believe you'll find any real value from it & I think ultimately it will result in you just losing money.
If you do happen to have any further questions or comments about it though then don't hesitate to leave them below – as always I'll do my best to respond to them as quickly as I can.
A Better Alternative
The sad truth is that unfortunately most of the programs promising to help you make money online are scams. I can say that confidently after exposing over 500+ of them here on this blog.
But the good news is that even though most of them are indeed scams, there are actually some very good programs in amongst them - some programs that can truly help you to earn money.
And out of all of the legit programs I've seen, the one I would recommend the most to anybody looking to get started online is Commission Academy. In my own opinion, that's the best place to start.
At Commission Academy, you'll be provided with everything you need (including the training & tools) to begin earning real money by promoting products or services for companies like Amazon online.
The best part is that there's literally no limit on the amount you can earn with it & the process is pretty simple which means that it's absolutely perfect for people that don't have much experience.
Some wealthy affiliates even earn as much as 5-figures per month... Or more!


I mean don't get me wrong, that kind of money won't just fall into your lap without doing any work... But the harder you're willing to work at it, the more you stand to earn with it.
So if you're looking to get started but don't know which route you should go down or which program you should join (and don't want to waste money on bogus things that don't actually work), then I'd highly recommend checking out Commission Academy first. You can learn more about it here.