Crypto Trade Book claims to be the most advanced auto-trading system ever made & it boasts a win rate of up to 85%. You're led to believe that you can simply join, deposit & start making money on auto-pilot with just the click of a button.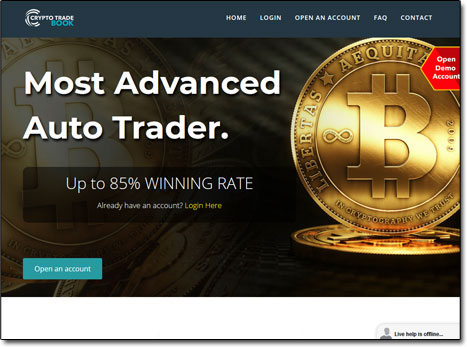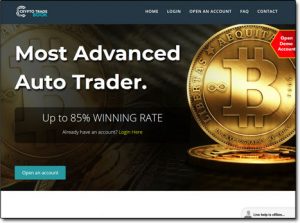 But I think you'll probably agree that the whole thing sounds a bit too good to be true – I mean after all if it's really as easy to make money as they make out then why isn't everybody doing it?
Is it actually legit or is Crypto Trade Book a scam?
Thankfully you've landed in exactly the right place to find out because I've done the digging & in this review, I'm going to be uncovering everything you need to know, including how it all works & whether or not you can really make money with this system.
What Is Crypto Trade Book?   |   How Does Crypto Trade Book Work?   |   The Red Flags   |   Is Crypto Trade Book a Scam?   |   A Better Alternative
What Is Crypto Trade Book?
Crypto Trade Book is an auto-trading system & the idea behind it is that it will make profitable trades on your behalf. So basically you're led to believe that all you need to do is sign up, make a deposit & that the system will then begin making money for you on complete auto-pilot.
The system is focused around cryptocurrency & it connects with a handful of different brokers – though the creators of the Crypto Trade Book system claim that it's so easy to use you don't even have to know a thing about cryptocurrency (or trading) to make money with it…
It certainly sounds good in theory, but sadly the reality of it all isn't quite so great. Whilst at a glance it might be easy to get fooled by this system, I can confirm that the whole thing is actually just a binary options scam.
The Crypto Trade Book system will NOT make you money like it promises it will – in fact, the only thing this system will do is help you lose money, and lot's of it… Something I'm sure you don't want to do.
But obviously I don't expect you to just take my word for that so instead, I'll show you how it all works so that you can see for yourself exactly how the scam operates & why it shouldn't be trusted…
How Does Crypto Trade Book Work?
Well firstly let me just clarify in case you happened to have jumped straight down to this section of the review that the Crypto Trade Book system does not work as promised – it will NOT help you make money.
The Crypto Trade Book system has actually been set up by somebody who has affiliated themselves with several binary options brokers. These brokers are ZoomTrader, TradeInvest90, Roiteks, PrimeCFDs & Ashford Investments.
So what does this mean?
Well, basically this means that the creator of the Crypto Trade Book system is earning commissions whenever he (or she) gets somebody to sign up & make a deposit with any of those brokers listed above.
And not just any old commissions either, oh no, these brokers are paying the creator of the Crypto Trade Book system massive commissions for each new member he (or she) refers to them.
The reason for that is because these brokers know that they'll be able to suck a whole load of cash from these people that sign up with them. Often people lose tens of thousands to these scams because of all the trickery involved.
But yeah anyway, the Crypto Trade Book system doesn't actually work as promised – in fact, binary options trading itself is nothing but a big scam. That's why several countries (including the USA) completely banned it altogether.
Basically the Crypto Trade Book website is just a ploy to make you think that you'll be able to profit to encourage you to sign up & deposit with one of the brokers – all just so that the creator can make money at your expense.
Once you've deposited (which I don't recommend you do) you'll find out that the system doesn't actually work as promised. Instead of profitable trades, you'll see nothing but losses… And if you think you'll be able to withdraw your money, think again.
That's "the catch"…
These fake auto-trader binary options scams just lull you into the false sense of security of making you think that you can simply try it out & get your funds back if it doesn't work as promised.
Unfortunately, it doesn't work like that – the brokers are in on it as well, many of which are unlicensed rogues.
The reality is that you will lose any & all of the money that you deposit into this system. The reason I know that is because I've seen these scams several times before – the Crypto CFD Trader is a similar example… Makes the same claims, operates the exact same scam.
Chances are it's been put together by the same people.
You Might Also Like:
The Red-Flags
In case this is the first time you've come across a scam like this then let me point out a few red flags…
1. Too good to be true
Plain and simple, the whole thing is too good to be true. The Crypto Trade Book promises that it has up to an 85% win rate, which means (if it were true) it's guaranteed to make you money on complete auto-pilot.
So if that was the case then why isn't everybody using this system? Why are people still working jobs? A system that could generate cash for people on auto-pilot like this would send the world into crisis. Sometimes you've just got to step back & think about the reality of it all, and if it sounds too good to be true then as the saying goes it probably is.
2. The use of a broker
You don't need a broker to trade cryptocurrencies, so if a company like the Crypto Trade Book is suggesting that you need a broker then it's easy to see that they're just wanting to make money from you in one way or another. All you need to trade cryptocurrencies is a wallet, like a CoinBase wallet for example.
3. Unlicensed
The Crypto Trade Book system is a company operating within the financial services industry. All companies in this industry are required by law to not only have a license, but to have details of their license displayed on their website.
I previously used to own a company within the financial sector & I know what a serious offence it is not to have details of your license publicly displayed, so I know no company would make the mistake of not showing those details… Unless of course they didn't have one.
Guess what? The Crypto Trade Book shows no license details… That alone is enough not to trust them. I would never, ever invest money or trade money via an unlicensed company as your funds are totally unprotected.
Is Crypto Trade Book a Scam?
The Crypto Trade Book is definitely a scam there's absolutely no doubt about that. I thought we had seen the last of these binary options scams back in 2015 but now they're back jumping on the cryptocurrency hype to try & part even more people with their cash.
And ultimately that's all these systems are out to do – part you with your cash. They're just to set to make the creators & the brokers associated with them rich at your expense so don't fall for it.
The truth is that whilst the internet provides many ways to make money, it's not magical & there is no method that's going to see you making money without you actually having to do anything. If you do want to make money though as I say there are legitimate ways to do it & the best program I've come across to date is Commission Academy which will show you exactly how you can get started online properly.
But yeah overall there is no way I'm going to be recommending the Crypto Trade Book program to you because it's obvious to me what this program is set out to do & that is to take your cash. Hopefully, you came to this review first & managed to dodge it before you deposited.
Anyway, that's all I've got to say about this program, but don't forget to check out Commission Academy if you're still looking to get started online. Also if you have anything to say feel free to leave a comment or any questions below.
A Better Alternative
The sad truth is that unfortunately most of the programs promising to help you make money online are scams. I can say that confidently after exposing over 500+ of them here on this blog.
But the good news is that even though most of them are indeed scams, there are actually some very good programs in amongst them - some programs that can truly help you to earn money.
And out of all of the legit programs I've seen, the one I would recommend the most to anybody looking to get started online is Commission Academy. In my own opinion, that's the best place to start.
At Commission Academy, you'll be provided with everything you need (including the training & tools) to begin earning real money by promoting products or services for companies like Amazon online.
The best part is that there's literally no limit on the amount you can earn with it & the process is pretty simple which means that it's absolutely perfect for people that don't have much experience.
Some wealthy affiliates even earn as much as 5-figures per month... Or more!


I mean don't get me wrong, that kind of money won't just fall into your lap without doing any work... But the harder you're willing to work at it, the more you stand to earn with it.
So if you're looking to get started but don't know which route you should go down or which program you should join (and don't want to waste money on bogus things that don't actually work), then I'd highly recommend checking out Commission Academy first. You can learn more about it here.