The Cryptocurrency Institute (alternatively known as the Cryptocurrency Codex system) is a website that promises that it can help you to see huge returns from small cryptocurrency investments, even if you're a complete newbie to the whole cryptocurrency scene…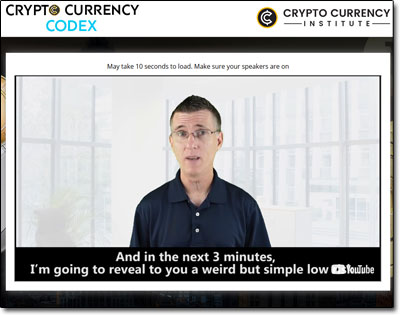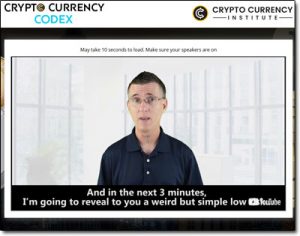 You're led to believe that the whole thing has been put together by a so-called "expert" named Nate Martin & that you can expect to see whopping returns of up to 10,000% within just a few weeks of getting started, but no doubt those bold claims have made you pretty sceptical about the whole thing.
So what's the deal – is it actually legit & can you really make money with it or is the Cryptocurrency Institute a scam that'll just see you spending money rather than actually making it?
Thankfully if that's what you've been trying to find out you can rest assured that you've landed in exactly the right place as in this review I'm going to be uncovering everything you need to know about it.
What Is The Cryptocurrency Institute?   |   How Does The Cryptocurrency Institute Work?   |   The Auto Trading System   |   Is The Cryptocurrency Institute a Scam?   |   A Better Alternative
What Is The Cryptocurrency Institute?
As I briefly touched on above the Cryptocurrency Institute is a website that's allegedly been put together by a guy named Nate Martin, and prior to being called the Cryptocurrency Institute the whole thing was actually called the Cryptocurrency Codex system which is why there are some references to that name still lingering around on the website.

The first thing I'll point out about it all though is that Nate Martin, the guy you see in the video is actually just an actor. The real person (or people) behind the whole thing keep themselves anonymous & "Nate Martin" is just an alias they've used to hide their true identity.
That's why at the very bottom of their website it states "Spokesperson portrayal used in video presentation"… And what you'll also notice at the bottom of their website is that there is no company name, no office address & no license number on display…
These 3 things are 3 things that companies operating in the investment/trading industry must display by law, and whenever I come across a new company it's always the first thing I look for. If they don't display those details then it's a major red-flag & often it's a sign that there's something untoward going on.
And in the case of the Cryptocurrency Institute (or Cryptocurrency Codex whatever you want to call it), there is indeed something untoward going on – the whole thing is actually just a scam that's been designed to part you with your hard-earned cash to make its creators wealthy at your expense.
So whilst you're promised easy riches in the video promoting the system, in reality, the truth is quite the opposite. The people behind it will take money from you but the chances of you making any back are slim to none… And you certainly won't find yourself generating the kinds of profits boasted in the hyped-up promotional video that's for sure.

The reason I can say that so confidently right from the off is because I've seen this exact same type of cryptocurrency scam before & I know exactly how it all works. Of course, I don't just expect you to take my word for it so instead I'll show you below so that you can see for yourself what's really going on. 🙂
How Does The Cryptocurrency Institute Work?
Okay so basically the first thing I want to reiterate just in case you happened to jump straight down to this part of the review is that the Cryptocurrency Institute system does not work as promised. Instead of being designed to help you make money as it claims, really the only person it's designed to make richer is it's creator (or creators).
In order to get access to the Cryptocurrency Codex "system" you'll first have to pay a one-time fee of $47. They claim to offer a 100% money-back guarantee but based on the other lies told via the Cryptocurrency Institute website I really wouldn't trust or rely on this guarantee because it's possible that they may not honour it.
Anyway, if you did happen to pay the fee (which I don't recommend) what you get access to is two things, you get training on making profitable cryptocurrency investments, and you get access to an auto-trading system.
The primary focus inside the members' area is put on the auto-trading system as this is how they end up getting more money from you (more on that in a moment) but as I say alongside that they do provide some training too.
However, the training is really hyped up & makes a lot of bold promises but in reality, it's pretty basic stuff. Some of the modules claim you can make 500% returns risk-free & claim to show you how you can make tens of thousands by mining cryptocurrencies at home but ultimately this isn't going to happen.

The reason I say it won't happen is that the training is more geared towards showing you what's possible but not actually showing you exactly how to do it. It's like me saying that you could make 1 million dollars by buying something cheap and selling it for double… The method works, but it doesn't really help you & it's kind of the same principle with the training inside the Cryptocurrency Institute.
You Might Also Like:
The Auto-Trading System…
Okay so you buy into the Cryptocurrency Institute for $47 & you get access to some low-quality training – sure you might be a little disappointed but I think you'll agree that it's not really the end of the world…
However, the real problem lies with the auto-trader system which is what you're heavily pushed into using right after you hand over the initial $47 to "get access" to the Cryptocurrency Institute.
The reason I say the problem lies with that is that the whole thing's a total phoney & it's been designed purely to make the creator of the whole thing wealthy at your expense. It will NOT make you any money & it will see you losing at least $250 (potentially a whole lot more).
You see in order to trade via the Cryptocurrency Institute's auto-trading system you must first deposit at least $250 with their "recommended" broker, and the reason they recommend this particular broker is because they're affiliated with them which means when you deposit, they earn a commission.
Sadly though the so-called "recommended" broker is a rogue & after depositing you'll be left to find out the hard way that the auto-trading system doesn't really generate profits like you're led to believe – instead it'll generate nothing but losses & then the broker will block or simply ignore you withdrawal requests when you try to get your money back.
So basically the whole thing is just a con to get your cash. The broker takes it & keeps it, and the creator of the Cryptocurrency Institute AKA Cryptocurrency Codex gets paid a commission. They are the winners & sadly you are just left to discover that you've been tricked.
Is The Cryptocurrency Institute a Scam?
Yes, in my opinion, the Cryptocurrency Institute system is a scam & the reason I say that (even though they do give you some training in return for your money) is because as far as I'm concerned the whole thing is very misleading & it's primarily been designed to part you with your cash, not help you make it.
The whole opportunity is super hyped up but in reality, there is simply no way you will make the levels of income that they promise you will & therefore I believe they're just "tricking" you into parting with your cash.
So therefore overall I won't be recommending it to you because I don't believe you'll find any real value from it. Instead, if you're still looking to make money online I'd recommend you check out a legitimate program like Commission Academy instead.
It's there that you'll get the proper training & tools that you need to learn how to build a real income so I'd definitely recommend that you check it out (plus it doesn't cost anything to get started with either).
But yeah, hopefully, this review gave you the insight you were looking for into the Cryptocurrency Institute program & more importantly I hope it helped prevent you from losing money to it. If you do however happen to still have any further questions or comments then of course don't hesitate to leave them below & I'll do my best to get back to you as soon as possible.
A Better Alternative
The sad truth is that unfortunately most of the programs promising to help you make money online are scams. I can say that confidently after exposing over 500+ of them here on this blog.
But the good news is that even though most of them are indeed scams, there are actually some very good programs in amongst them - some programs that can truly help you to earn money.
And out of all of the legit programs I've seen, the one I would recommend the most to anybody looking to get started online is Commission Academy. In my own opinion, that's the best place to start.
At Commission Academy, you'll be provided with everything you need (including the training & tools) to begin earning real money by promoting products or services for companies like Amazon online.
The best part is that there's literally no limit on the amount you can earn with it & the process is pretty simple which means that it's absolutely perfect for people that don't have much experience.
Some wealthy affiliates even earn as much as 5-figures per month... Or more!

I mean don't get me wrong, that kind of money won't just fall into your lap without doing any work... But the harder you're willing to work at it, the more you stand to earn with it.
So if you're looking to get started but don't know which route you should go down or which program you should join (and don't want to waste money on bogus things that don't actually work), then I'd highly recommend checking out Commission Academy first. You can learn more about it here.